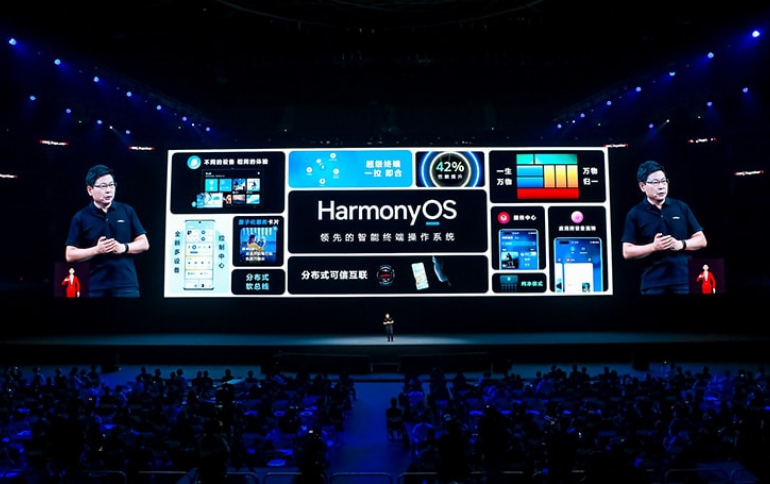 Huawei Unveils Brand New Developer Technologies Including HarmonyOS 3 Developer Preview at HDC 2021
The HUAWEI DEVELOPER CONFERENCE 2021 (Together) was held today at Songshan Lake. In the keynote speeches, Huawei released a collection of leading developer technologies, of which HarmonyOS 3 Developer Preview and HMS Core 6 were the major highlights, to help developers build innovative smart devices and apps more efficiently. Complementing the release of these technologies, Huawei also announced its four proposals and three commitments for consumer service security and privacy protection, reaffirming its promise to jointly build a secure, trusted digital world with global developers.
During the event (October 23 to 24), Huawei will host a total of 47 tech forums, engaging with hundreds of experts, who will share their technical expertise from a range of industries. During these two days, developers will participate in a number of technical-based activities, including the Lakeside Talks for sharing inspiring thoughts, breakfast meetings themed around smart home and fitness & health, Tech. Hour for face-to-face discussions with Huawei R&D experts, and hands-on coding competitions. On top of this, developers will also have the opportunity to experience the tailored AR game "Huawei Cyberverse" and will enjoy a spectacular music festival. For the first time ever, the conference was live streamed also in sign language through an AI-powered digital avatar, allowing developers with hearing impairments to keep up to date with the latest technology.
"Every rapid technological progress is driven by openness," said Richard Yu, Huawei's Executive Director, CEO of the Consumer Business Group, and CEO of the Intelligent Automotive Solution BU. "We have contributed all HarmonyOS basic capabilities to the OpenAtom Foundation, forming the OpenHarmony open source project. A good many industries now get access to the leading OpenHarmony digital base. The HarmonyOS ecosystem has taken an initial shape over the last three years. We welcome more developers and partners to join us and tap into the unprecedented benefits of the smart, all-connected era."
Huawei Unveils Brand New Developer Technologies Including HarmonyOS 3 Developer Preview at HDC 2021 Over 150 million devices have been powered by HarmonyOS
Booming HarmonyOS Ecosystem Shows Great Potential
So far, HarmonyOS has been used on more than 150 million smartphones, tablets, wearables, HUAWEI Vision, and other devices, serving as the digital hub for an intelligent, all-connected world. The HarmonyOS smart cockpit will be launched late this year or early next year. EulerOS, an open-source operating system (OS) oriented to digital infrastructure, will share capabilities and ecosystems with HarmonyOS to better serve all digital scenarios.
The rapid development of the HarmonyOS ecosystem provides more business opportunities for hardware and software partners. More than 16000 innovative atomic service services offer consumers one-step precise services. The new HarmonyOS Connect helps hardware partners provide an ultimate Super Device experience with seamless connections, service widgets, simplified interaction, and hardware assistance. To date, more than 4000 products from over 1,800 vendors have received HarmonyOS Connect certification. In 2021, the shipment of HarmonyOS Connect devices exceeded 60 million sets.
As well as the emergence of diversified devices and apps, the prosperity of the HarmonyOS ecosystem depends much on acquiring the right talent. Huawei cooperates with 17 well-known universities in China, such as Peking University and Tsinghua University, to provide HarmonyOS courses for students. On top of this, Huawei's Shining Star Program has offered incentives to more than 10000 HarmonyOS innovative apps. Moreover, Huawei provides a comprehensive HarmonyOS career certification program to further cultivate talent in the industry.
Huawei Unveils Brand New Developer Technologies Including HarmonyOS 3 Developer Preview at HDC 2021 Over 150 million devices have been powered by HarmonyOS
HarmonyOS 3 Developer Preview: Laying the Ground for an All-Connected World
HDCs mark important milestones for HarmonyOS. Today saw yet another milestone achieved as Huawei officially released the HarmonyOS 3 Developer Preview, which delivers a comprehensive upgrade to system performance and development tools thanks to continuous innovation centered on elastic deployment, Super Device, and one-time development for multi-device deployment.
With innovative tools, this new release helps developers create HarmonyOS apps and services across different devices more efficiently, and at a low cost. The new and visual automated elastic deployment tool allows device developers to tailor HarmonyOS components for easy assembly of an OS that best suits their hardware. The innovative heterogeneous networking technology enables the distributed system to support more diverse, higher performing devices, building a more robust foundation for the Super Device. Other noticeable technologies include the Harmony Design System, ArkUI 3.0, ArkCompiler 3.0, DevEco Studio 3.0, and HarmonyOS development suite.
HarmonyOS 3 Developer Beta is expected to go live in Q1 2022. Huawei dropped another major announcement by stating that it will release a newly developed programming language for HarmonyOS, completing the HarmonyOS ecosystem.
AI-Powered Smart, All-Connected Era Enables Smart Interactions Among People, Devices, and Services
We are already in the era of the intelligent connectivity of everything. With leading AI technologies, Huawei can better understand user needs and respond more accurately, creating a smart life experience for consumers across all scenarios.
The innovative AI sensor grid enables each connected device to act as a Super Device sensor, allowing devices to more accurately understand user intent. Mobile phones, watches, treadmills, and body fat scales, for example, can be used together to act as a virtual personal trainer, providing users with all-round physical and exercise data. Through parameter sharing, atomic services can accurately identify user-expected services to provide professional exercise advice based on combined services. As a smarter, more powerful interaction hub, Celia can serve as a unified portal for devices and a unified assistant for services, allowing users to enjoy the experience created by cross-device collaboration across all scenarios, without users even being aware of it.
Huawei also provides powerful development tools, helping developers and partners efficiently create HarmonyOS Connect products and atomic services. The HarmonyOS Connect software service package supports the development of more devices packed with screens and delivers a Super Device experience. The one-stop integrated development environment slashes the development cycle of lightweight devices from two months to two weeks, while the development cycle of devices with screens is expected to be shortened to less than two months in 2023. The development efficiency of atomic services doubles with the simplified development environment that integrates the distributed full stack. The expected developing time for an atomic service will be reduced to five persons per day in 2023.
HMS Core 6: Provides the Most Powerful Huawei Mobile Services Core Capabilities, Designed to Support Multiple Devices and OSs
The Huawei Mobile Services (HMS) ecosystem has 5.1 million developers worldwide, and is still growing rapidly, while more than 173000 apps have integrated HMS Core. HUAWEI AppGallery has acquired 332.2 billion app distributions in the first three quarters of 2021, increasing global developers' revenue by 62%, after collaborating with Huawei.
As the industry leader, HMS Core 6 provides unprecedented powerful capabilities in a range of scenarios for extensive devices running across different OSs, ensuring a consistent app experience. To build a fully connected, intelligent app ecosystem, HMS Core 6 incorporates 69 kits and 21738 APIs from 7 domains, including 13 kits that boast cross-OS capabilities. For the first time ever, the conference was live streamed also in sign language through an AI-powered digital avatar. This leverages SignPal Kit, which integrates advanced sign language techniques to convert text into natural sign language, with an accuracy of 90%+. Meanwhile, the 3D Modeling Kit automatically generates a 3D model with different textures for an object in just a few minutes, through multi-angle images shot with a standard smartphone. This service can be widely used in many industries, such as e-commerce and animation. It will even be able to work with 3D printing to overcome issues in telemedicine. Other new HMS Core 6 services include audio & video editing, copyright protection, and e-CNY payment.
Huawei also officially launched MacroVerse Application Platform as a Service (aPaaS) for its global developers by modularizing the industry's digital experience, offering search cloud services, network cloud services, Cyberverse cloud services, and development cloud services.
Four Security & Privacy Proposals and Three Commitments for a Safer Digital World
The global ecosystem featuring hundreds of billions of connections among a myriad of devices has thrown ecosystem security into the spotlight. Huawei considers cyber security and privacy protection as top priorities, and guarantees that it will never compromise cyber for commercial interests. Keeping to its word, Huawei announced the "four proposals" regarding the security and privacy protection of its Consumer Business, which involves adopting a top-down structure and process, formulating an airtight privacy and security framework, co-developing a security verification framework with industry stakeholders, and opening security and privacy capabilities to ecosystem partners.
On top of these proposals, Huawei Consumer Business has solemnly made three commitments, by assuring users that privacy is a fundamental user right, encrypting all user data, and guaranteeing that users always have complete control over their data. Huawei leverages technological innovation to safeguard user privacy and security, and has protected users in extensive daily scenarios, covering data security, payment security, permission management, social networking privacy, identity protection, and service security.
Huawei also officially released the HarmonyOS Connect Ecosystem Device Security and Privacy Protection Guide for ecosystem partners to follow when developing products.
Huawei recognizes the importance of security and therefore considers it as one of its key corporate social responsibilities, and also consistently invests in information accessibility, education and health, and environmental protection. Huawei envisions to benefit all with technology and embrace prosperity with trust.
Huawei will continue to drive the hardware and software ecosystem with HarmonyOS, HMS, and AI at its core, to realize more cutting-edge technologies and capabilities. It will also collaborate with global developers and partners to enrich the Harmony ecosystem, to usher in a smart, all-connected era.