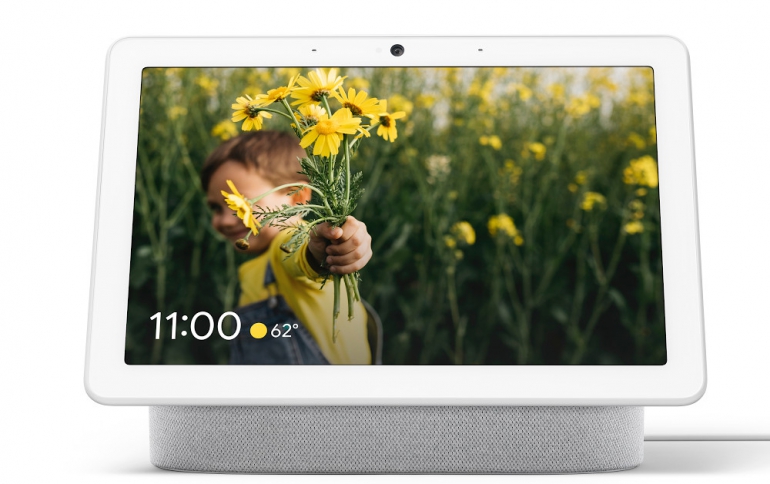 Google Introduces Nest Hub Max
Google is bringing the Home products under the Nest brand and introduced Nest Hub Max, the first product from the company's newly-formed team.
Nest Hub Max has all the features found in Nest Hub (formerly Google Home Hub). It has a digital photo frame powered by Google Photos and the home view dashboard, which gives you full control of your connected device. With a new display, you'll get a bigger 10-inch HD screen and a smart camera that helps you keep an eye on your home and keep in touch with family and friends.
With a subscription, Hub Max can stream your favorite live shows and sports on YouTube TV. Tell it what you want to watch, or if you need help deciding, just ask the Assistant. But unlike your kitchen TV, it can also teach you how to cook, play your music, and see who's at the front door. And you're getting full stereo sound, with a rear-facing woofer.
Nest Hub Max has a Nest Cam to help you keep an eye on things at home: you can turn it on when you're away and check on things right from the Nest App on your phone. Just like with your Nest Cam, it's easy to see your event history, enable Home/Away Assist and get a notification if the camera detects motion, or doesn't recognize someone in your home.
The camera on Hub Max also helps you stay connected to your family and friends, and video calling is easy with Google Duo. The camera has a wide-angle lens, and it automatically adjusts to keep you centered in the frame. You can chat with loved ones on any iOS or Android device, or on a web browser. You can also use Duo to leave video messages for other members of your household.
And now when the volume's up, instead of yelling to turn it down or pause the game, you can use Quick Gestures. Just look at the device and raise your hand, and Nest Hub Max will pause your media, thanks to the camera's on-device gesture recognition technology.
With Nest Hub, Google offered you the option to enable Voice Match, so the Assistant can recognize your voice and respond specifically to you. Today with Nest Hub Max, Google is extending your options for personalized help with a feature called Face Match. For each person in your family who chooses to turn it on, the Assistant guides you through the process of creating a face model, which is encrypted and stored on the device. Face Match's facial recognition is processed locally with on-device machine learning, so the camera data never leaves the device.
Whenever you walk in front of the camera, Nest Hub Max recognizes you and shows just your information, not anyone else's. So in the morning, when you walk into the kitchen, the Assistant knows to greet you with your calendar, commuting details, the weather, and other information you need to start your day.
There's a green light on the front of Hub Max that indicates when the camera is streaming, and Google says that nothing is streamed or recorded unless you explicitly enable it. In addition, you have multiple controls to disable camera features like Nest Cam, including a hardware switch that lets you physically disable the microphone and camera.
Later this summer, Nest Hub Max will be available in the U.S. for $229 on the Google Store and at Best Buy, Target, Home Depot and more. It'll also be available in the UK for £219 and in Australia for AUS$349.
Google is also bringing Nest Hub to 12 new countries—Canada, Denmark, France, Germany, India, Italy, Japan, the Netherlands, Norway, Singapore, Spain and Sweden. And Nest Hub will now be available in the US for $129. Finally, Google has updated pricing for our speakers, starting today Google Home is $99 and Google Home Max is $299.