1. Introduction
HIS X700 Pro IceQ TURBO - Page 01

The battle between NVidia and ATI for the best high-end GPU is all but decided with the X800XT producing the best, overall performance. Now both manufacturers gather their strength for the new, upcoming and more interesting war. Both manufacturers have recently released their new chipsets with their target set on domination of the mainstream market.
NVidia came up with a downgraded version of the 6800 chipset, named the 6600, whereas ATi is represented by its X700 chipset. Both technologies are very promising and according to pre-release benchmarks, seem to offer a lot of power for much less money than the more expensive, previous generation cards.
This time, we'll be taking a close look at the HIS X700 Pro IceQ TURBO edition.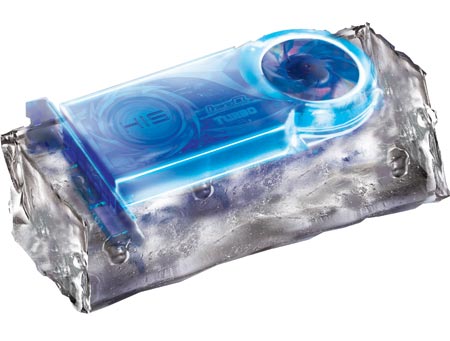 On the following table, you will find a summary of the major differences between the various versions of x700 based cards :
| | | | |
| --- | --- | --- | --- |
| | X700 | X700 Pro | X700 XT |
| core clock (MHz) | 400 | 420 | 475 |
| mem. clock (MHz) | 300 | 432 | 525 |
| on board memory (MB) | 128 | 256 | 128/256 |
| aprox. price (USD) | $150 | $200 | $200/$250 |
- Packaging - Bundle
The card ships in an icy-blue themed box symbolizing the card's unique (for the X700 series) arctic cooling. Two large emblems on the front are there to reassure us as to the excellence of the cooling power (-11C) and silent operation (<20dB) of the HIS X700 Pro IceQ.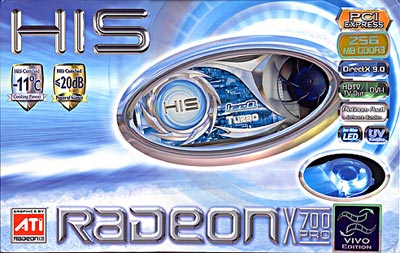 There are 2 versions of the HIS X700 Pro that the user should know about before making a purchase. A VIVO edition and a Dual DVI edition. The only difference between them is, as the name implies, that the latter offers two DVI output connectors instead of one, and one VGA.
The card ships with a complete set of both utilities and games included inside the package. The full software bundle is listed below:
Software Bundle:
- Counter Strike : Condition Zero
- PowerDVD
- VideoStudio 7 SE
- 3D-Album / PicturePro
- iTurbo Overclocking Tools
- HIS Excalibur - Bonus DVD (Game & Application demos)
- HIS Excalibur - Driver CD