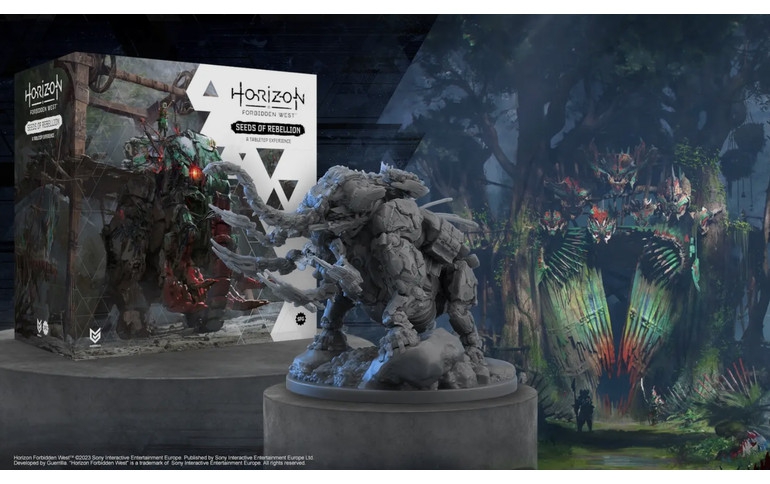 Horizon Forbidden West: Seeds of Rebellion – new gameplay and story details on the upcoming tabletop adventure
For just short of a year, Guerrilla has been working with the team over at Steamforged Games to bring you a fully cooperative, narrative-driven tabletop experience set in the world of Horizon.
Horizon Forbidden West: Seeds of Rebellion is launching on Kickstarter on November 21, and today, we wanted to give you a sneak peek at what this adventure will hold for players. Taking our learnings and feedback from Horizon Zero Dawn: The Board Game, Guerrilla and Steamforged Games have worked closely together to elevate what a Horizon board game experience can be.
Guerrilla's Senior Copy & Game Writer, Emil Cholich, sets the scene: "Seeds of Rebellion is set about six months before Regalla's attack on the Embassy in Horizon Forbidden West. The story puts you and your friends in the boots of newly minted Marshals tasked by Hekarro to investigate troubling reports of unrest among the Tenakth. This quest will take players across Red Blight-ridden Clan Lands, pit them against colossal machines, and allow them to uncover Regalla's Rebellion in its earlier days, a period players have yet to explore."
"By the time Aloy arrives in the Forbidden West, Regalla's rebels have established many strongholds across the Clan Lands. Seeds of Rebellions offers not only an insight into the formative days of this rebellion, but also the vengeful, hotheaded, or sometimes misguided young Tenakth that feel drawn to it."
This board game was created to be a deeper, more enriching experience for Horizon fans than its Zero Dawn predecessor. Players will have to work together to discover the truth and save many Tenakth lives in the process. "Seeds of Rebellion is a fully cooperative campaign game divided into 13 chapters. Each of which is split into two main gameplay sections – narrative and combat," says Steamforged's Product Owner Fraser McFetridge.
"During the narrative sections, players will experience the game's story via choose-your-own-adventure text entries. As they do, they will make decisions regarding which NPCs to speak to, how they'll trade their hard-won resources, and face all manner of challenges beyond the already thrilling combat. What's most exciting is that the players' decisions influence upcoming combat encounters, where they will place their unique miniatures onto encounter maps to take on enemy miniatures in a more zoomed-in setting."
Let's dive deeper into machine combat, something Horizon fans will know a lot about, in Seeds of Rebellion. "We've designed the narrative of Seeds of Rebellion in such a way that players could come across machines in a number of ways, depending on how they decide to explore," shares Fraser. "Things like sneaking through cover to ambush a Clawstrider; finding a way to trap a Tremortusk, so you can escape its devastating weaponry; or avoiding a charging Bristleback while it tramples anything in its path. Then, of course, there is the classic fight-to-the-death against a coiled Slitherfang."
Taking the intricate machines from the world of Horizon and creating them in miniature form is no easy feat. Steamforged tackled this head-on. "Of course, we can't ignore the Tremortusk in the room: the miniatures, which are highly detailed, mini representations of the machines fans know and love. Our sculpting team have forever imprinted the phrase 'most complex miniatures we've ever created' into my brain," says Fraser. "I'd go so far as to describe Forbidden West's machines as 'perfect' for tabletop translation, given the careful precision they're designed with, combining form and function. I'm told some of the sculpting references we received from Guerrilla were over a billion polys. I'm not a sculptor myself, but I'm assured that means they're extremely detailed!"
It's not just the machines that are important to translate well into board game form. "We've been working closely with Guerrilla to integrate memorable in-game locations and characters into the encounter maps and narrative," shared Fraser. "We've also taken great care in our game design to authentically recreate the experience of playing and exploring the Forbidden West. From stealthing your way through tall grass to precisely targeting a machine's components, weakening its attacks, and collecting its valuable scrap."
Enhancing the woven story has always been at the forefront of all Horizon experiences. "This is inherently a story of unity and teamwork," says Emil. "The player characters must work together to overcome increasingly slim odds against deadly machine and human threats. The co-op gameplay style and narrative engine developed by Steamforged gave us the room to bring the compelling characters Horizon's world is known for to the tabletop."
For those who also supported the Horizon Zero Dawn board game, Steamforged has good news. "Compatibility with the Horizon Zero Dawn board game is particularly important to us. That said, we are keeping details on this close to our chest (I am sure you'll understand our desire to avoid too many spoilers)," says Fraser. "What we can confirm right now is there'll be a backward compatibility pack, available at no extra cost for returning backers who pledged for Horizon Zero Dawn: The Board Game, which will let you take your Zero Dawn miniatures straight into the already-challenging lands of the Forbidden West."
Horizon Forbidden West: Seeds of Rebellion will be available to back on Kickstarter from November 21, and you can already sign up to be notified on launch at https://www.kickstarter.com/projects/steamforged/horizon-forbidden-west-...