Intel Cuts Prices of Core i9 Gaming Chips
Intel is slashing the prices of its high-end Core i9 processors as it refreshes an aging design and under the pressure from AMD.
With AMD's recent Zen 2 Ryzen 3000 series launch on 7nm earlier in the year, Threadripper 3 coming later this year, and Intel swinging another generation of 14++ into the high-end desktop market, Intel is going to have some tough times.
Intel has offered the first details of its 10th-generation Core X-series chips, and the flagship, 3GHz (4.8GHz turbo) Core i9-10908XE will pack 18 cores for $979. That's much better than the $2,000 you've had to pay until now. Other models are also decidedly more affordable, including the 10-core i9-10900XE ($590), 12-core i9-10920XE ($689) and 14-core i9-10940XE ($784).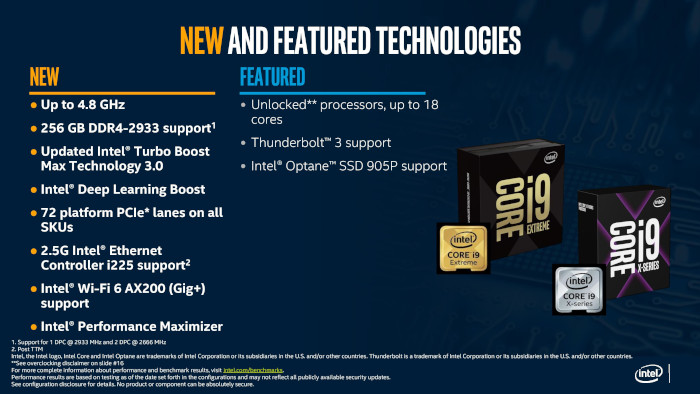 Intel shared prices only for customers buying in 1,000-unit quantities, not single-chip retail prices, so those prices aren't directly comparable.
The new Cascade Lake-X chips, coming in Novemer, are all unlocked. Here they are:
Core i9-10980XE Extreme Edition: 18 cores/36 threads; 3.0GHz base, turbo (Turbo 2.0: 4.6GHz, Turbo 3.0; 4.8GHz); $979
Core i9-10940X: 14 cores /28 threads; 3.3GHz base, turbo (Turbo 2.0: 4.6GHz, Turbo 3.0: 4.8GHz); $784
Core i9-10920X: 12 cores/24 threads; 3.5GHz base; turbo (Turbo 2.0: 4.6GHz, Turbo 3.0: 4.8GHz); $689
Core i9-10900X 10 cores/20 threads; 3.7GHz base; turbo (Turbo 2.0: 4.5GHz; Turbo 3.0: 4.7GHz) $590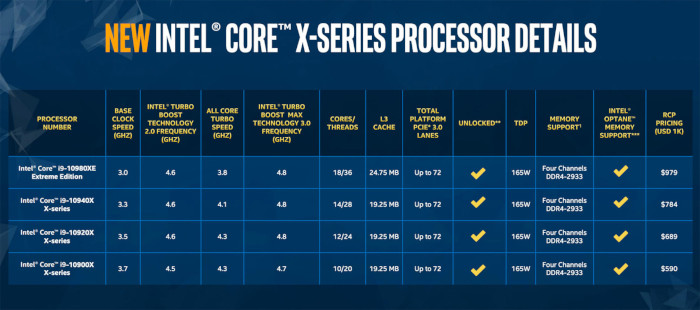 The 10980XE keeps the same 3.0GHz base clock speed, but it can rev a bit higher, to 4.8GHz, in turbo mode, compared with 4.5GHz with last year's 9980XE.
"People were stuck in the top part of the mainstream," unwilling to pay a lot more money for a bit more performance, said Frank Soqui, vice president of Intel's Client Computing Group. It's also cutting prices of the chips used in the related but more corporate high-end market: workstations. The price cuts are as deep as 50 percent, Soqui said.
AMD's Ryzen Threadripper processors have proved to be competitive for some high-end chores, particularly those with jobs that can run in parallel, and a third generation of those chips is also due in November.
Next month AMD is set to launch its 16-core Ryzen 9 3950X at $749, which will offer 16 PCIe 4.0 lanes for slots (+4 for M.2, +4 for chipset) and support for 128 GB of DRAM. So Intel will repspond with an also fast speed, but with more PCIe lanes and more memory support, leading to the 10980XE for $979.
All the new Intel CPUs will support 256 GB of quad-channel memory (up from 128 GB), and have 48 PCIe 3.0 lanes (up from 44). Memory speed support is listed as DDR4-2933 for 1 DIMM per channel, and DDR4-2666 for 2 DIMMs per channel. All these CPUs have a TDP of 165 W, and are supported in X299 motherboards.
Intel also lists Wi-Fi 6 and 2.5GbE support on these new processors , using external controllers. Intel stated that these controllers will be ready at a later date, and more information to follow.
Intel's new X-series chips also featyre Intel's Deep Learning (DLBoost) instructions for AI; Thunderbolt 3 support, and Optane 905P SSD support.
These CPUs will also have the same security mitigations as the Cascade Lake Xeon processors, with updated hardware mitigations for a number of side channel attacks.