Introducing the World's First WiFi Phones for Skype
Skype announced collaboration with hardware partners to deliver the first WiFi phones for Skype software, making Internet calling on the move a reality. "We want to give people the freedom to move around while talking and have access to Skype wherever they are - whether in front of a computer or while moving around the home or office," said Stefan Oberg, General Manager Hardware for Skype. "Now people can make wireless Internet calls and enjoy the great Skype cost savings and sound quality free of a computer."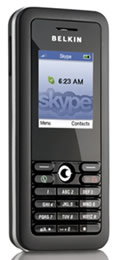 WiFi phones can be used with the WiFi access points in most homes, offices or campuses. With Skype software pre-loaded, Skype WiFi phones are easy to use and offer the freedom of Internet calling without being tied to a computer. With these WiFi phones, consumers can make Skype calls from open access points anywhere in the world at no cost or to traditional landlines and mobile phones at very low rates.
Skype software enables Internet calling on the four WiFi phones announced today:
Belkin WiFi Phone for Skype (F1PP000GN-SK);
Edge-Core WiFi Phone for Skype (WM4201);
NETGEAR WiFi Phone for Skype (SPH101); and,
SMC WiFi Phone for Skype (WSKP100).
The user interface and functionality available on these new WiFi phones is as familiar as using Skype on a computer. Skype users now have the ability to take Skype Contacts with them and see who?s available to talk.
The devices come with everything built-in to connect to Skype via any personal, business or free public WiFi access point that does not require browser authentication. The phones are easy to set-up and use with automatic synchronization to a Skype account and contacts. The devices support common WiFi encryption protocols including WEP, WPA, and WPA2 with PSK support.
The new Skype Certified WiFi phones will all be available in Q3 2006, from the Skype store at skype.com/store.