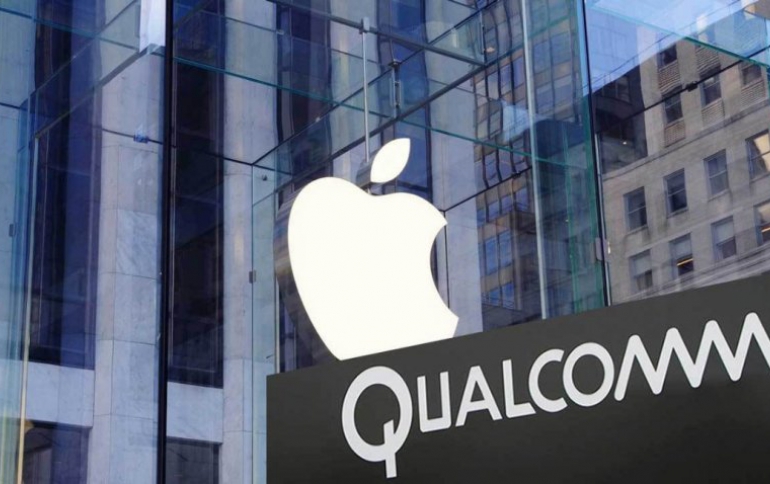 ITC Judge Found Apple Infringing Qualcomm's Patent But iPhones Won't Be Banned
Apple's iPhones shouldn't be banned from the U.S. even though they infringe a patent owned by Qualcomm, a U.S. International Trade Commission judge found Friday.
Judge Thomas Pender found that Apple infringed one of three Qualcomm patents in the case but declined to recommend the import ban sought by Qualcomm.
The judge's findings are subject to review by the full commission. But if the commission goes along, it would remove bargaining chip Qualcomm could use to push Apple into agreeing to pay license fees.
"Qualcomm has continued to unfairly demand royalties for technologies they have nothing to do with to protect their monopoly," Apple said in a statement. "We're glad the ITC stopped Qualcomm's attempt to damage competition and ultimately harm innovators and U.S. consumers."
Qualcomm is seeking an import ban of Apple's iPhones that have chips made by Intel.
"We are pleased the ALJ found infringement of our patented technology, but it makes no sense to then allow infringement to continue by denying an import ban," Qualcomm General Counsel Donald Rosenberg said in a statement, referring to the administrative law judge.
Qualcomm will look to the full commission decision and will pursue more than 40 other patent-infringement cases brought against Apple globally, he said.
During the trial, Apple argued it wouldn't be in the public's interest to have phones with Intel chips kept from the U.S. market.
Apple has phased out its use of Qualcomm chips and its latest phones. Its newest phones, the iPhone XS, XS Max and XR, use only Intel 4G chips.
Apple contends Qualcomm charges too much for its patents on fundamental telecommunications technology, and has directed its suppliers to stop paying royalties until a better deal can be reached.
There are some 100 legal proceedings around the world between Apple and Qualcomm, including patent challenges at the U.S. Patent and Trademark Office and lawsuits in China and Germany. Qualcomm also is facing an antitrust lawsuit filed by the U.S. Federal Trade Commission.