Japan Display Develops Quick Response LCD That Produces Video Images at Low Temperatures
Japan Display has developed a new liquid crystal display (LCD) with an estimated response speed of about two to three time higher in low temperature conditions, making it suitable for use in automotive devices, cameras, and other products that need to produce real-time moving images at freezing point temperatures. The new LCD comes with a new drive method that enhances the response speed, while keeping the well-received features of the in-plane switching (IPS) technology such as wide viewing angle, high contrast, and limited tone changes.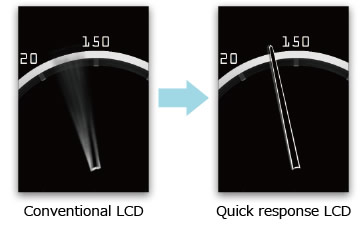 Existing LCDs are known for their slow response speed under very low temperature conditions, which most often causes them to produce afterimages.
JDI aims to start mass production of the new LCD by the end of fiscal year 2015.
Prototype specifications
For Automotive devices
Screen size (diagonal): 10.0-inch (25.4cm)
Number of pixels: 2,880(H) x RGB x 1,080(V)
Resolution density: 308 ppi
Response time:

tr+tf = 60+35ms @-30 degrees
tr+tf = 3.5+2.5ms @25 degrees
For Digital cameras
Screen size (diagonal): 2.95-inch (7.49cm)
Number of pixels: 720(H) x 480 x RGB(V)
Resolution density: 293 ppi
Response time:

tr+tf = 30+25ms @-20?
tr+tf = 5+5ms @25