Japan Display Develops Smart Helmet with HUD Technology, 5.5-inch Glasses-Free 3D Movie Display
Japan Display Inc. (JDI) has recently developed "A smart helmet with HUD" application concept, along with a 5.5-inch "Light Field Display" which dipslays natural-looking 3D video.
The smart helmet with a transparent Head Up Display projects various information (e.g., speed, GPS, incoming alerts etc.) on the helmet visor, allowing a motorcycle driver to keep his eyes on ther road all the time.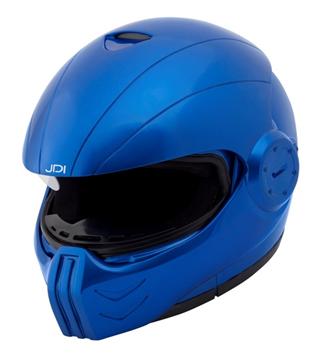 JDI foresees that this type of product may have application with huge potential in several other areas, including gaming, security, and construction, for example. The helmet could also allow people to enjoy new experiences in sky diving, winter sports, cycling, etc.
The 5.5-inch "Light Field Display" has been developed by JDI and NHK Media Technology, Inc. (NHK-MT).
JDI has already developed "Light Field Display" in 17-inch 8K LCD. This time, JDI has succeeded in developing a compact 5.5-inch size display, aiming to install a "Light Field Display" into IoT devices. The new display is said to offer natural 3D images and video.
In the real world, light travels in an infinite variety of directions, and we recognize our three-dimensional world by the way in which we see this light. A "Light Field Display" simulates this infinite light concept and enables stereoscopic vision by reproducing light emitted in many different directions.