Japan Display Showcases Prototypes for Tablet and Automotive Applications
Japan Display has developed new display prototypes for both tablets, including a 7.0-inch Wide-QXGA display with a resolution of 432ppi. The company has already started mass production of smartphone displays with a pixel density higher than 400ppi: The "WhiteMagic" 5.0-inch Full-HD (1,080 x 1,920 pixels) TFT LCD module and the "Pixel Eyes" 5.0-inch Full-HD TFT LCD module.
This year the company will showcase at FPD International 2013 in Pacifico Yokohama, Japan (October 23-25, 2013) a 7.0-inch Wide-QXGA (1,600 x 2,560 pixels) display for tablets. Accoding to JDI, the new display consumes 60% less power than conventional Red/Green/Blue (RGB) LCD panels, while it also has a narrow border of 1.0mm and it's just 1.17mm thick. The new "Pixel Eyes" display also includes integrated touch function and a smooth pen input (1.0mm diameter).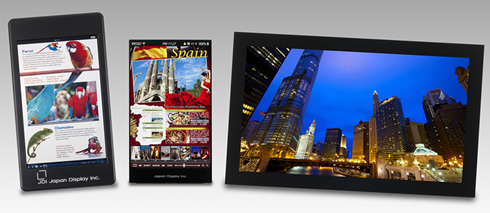 JDI will also have on display a reflective 7.0-inch Wide-UXGA (1,200 x 1,920 pixels) screen. Featuring a novel optical design, the display optimally scatters reflected light to enable comfortable to reading just like a paper. Full-color (26K) moving images can be displayed with ultra-low power consumption at a resolution of 321ppi.
Finally, JDI's first 12.0-inch curved touch display prototype has a resolution 2,560 x 1,440 pixels. The IPS-NEO display is sensitive enough to be touch-operated even when the user is wearing gloves.