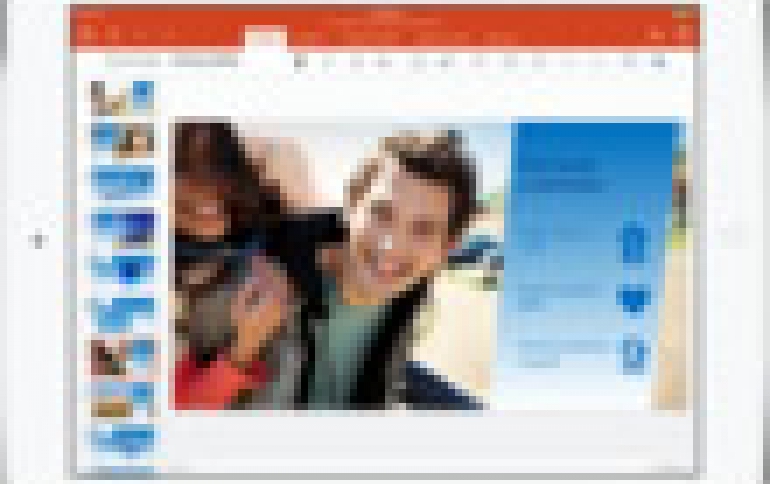 Microsoft Unveils Office for Apple's iPad
Microsoft on Thursday announced new and updated applications and services including Microsoft Office for iPad and free Office Mobile apps for iPhone and Android phones. The announcement marks a significant break with Microsoft's longstanding Windows strategy after new Chief Executive Officer Satya Nadella took over the company.
"Microsoft is focused on delivering the cloud for everyone, on every device. It's a unique approach that centers on people -- enabling the devices you love, work with the services you love, and in a way that works for IT and developers," said Satya Nadella, chief executive officer for Microsoft.
Starting Thursday, Office 365 subscribers will be able toadd an iPad as one of their chosen devices included in their subscription benefits, and can create and edit documents with Word for iPad, PowerPoint for iPad and Excel for iPad. These apps are available as free downloads from the App Store. Office for iPad brings full file fidelity across Office on PC, Mac, tablet and phone. Office for iPad apps have a familiar look and feel of Office but are built from the ground up for iPad, factoring in the nature of touch and functionality native to iPad.
An Office 365 subscription gets a user the Office for iPad apps installed on up to 5 tablets, but also 5 copies across Office for PCs and Macs.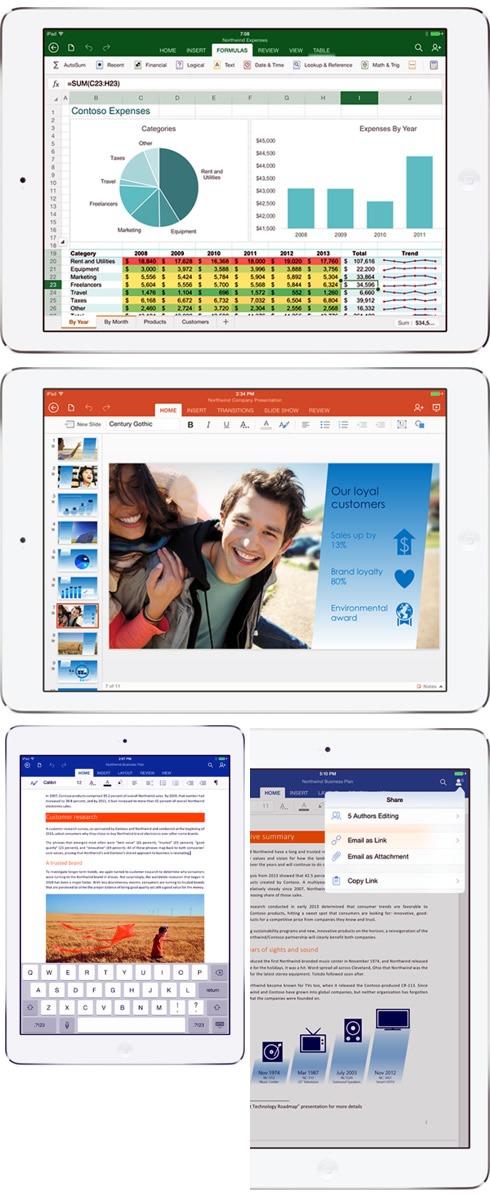 Microsoft Office for iPad is available Thursday in 29 languages. The apps require an iPad running iOS 7.0 or later.
In addition to Office for iPad, Microsoft also offers other iPad-optimized productivity applications, including OneNote, Dynamics CRM, Dynamics AX, Bing, Lync, Outlook Web Access, OneDrive, OneDrive for Business, Yammer and Skype.
Microsoft also announced the Enterprise Mobility Suite, a set of cloud services to help businesses manage corporate data and services on the devices people use at work and at home. In addition, the company announced the upcoming availability of Microsoft Azure Active Directory Premium and enhancements to Windows Intune.
The new Microsoft Enterprise Mobility Suite (EMS) provides device, identity and access management with data protection from the cloud. EMS includes Windows Intune, Azure Active Directory Premium and Azure Rights Management Services, to give IT the tools they need to help protect corporate assets and enable people to work on their own devices.
The new Azure Active Directory Premium delivers cloud-based identity and access management with single sign-on to over 1,000 software as a service (SaaS) applications, self-service tools for users, and machine-learning-driven security reporting and anomaly detection.
Microsoft also announced additional enhancements to Windows Intune, including support for the Samsung KNOX platform, Remote to My PC capability for Android and iOS devices, and support for the next update to Windows Phone.