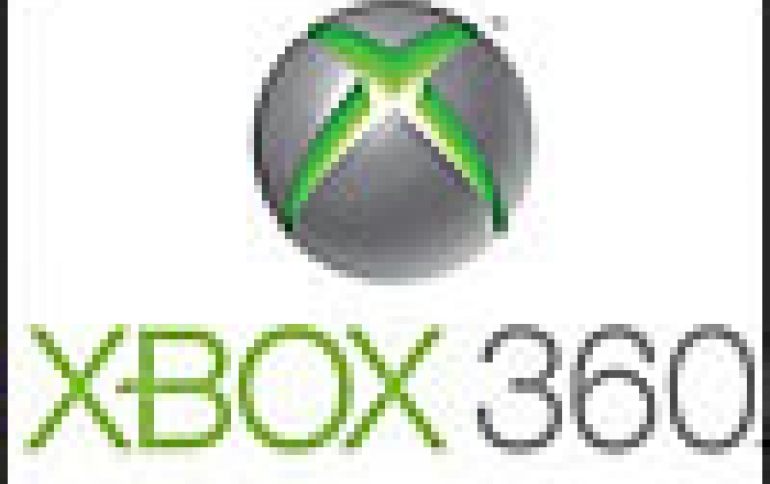 Microsoft's Xbox 360: Specifications
Following months of speculation, leaks and hype, Microsoft finally revealed its next generation Xbox 360 gaming console during a special pre-taped MTV broadcast Thursday night. Microsoft's new console will be called the Xbox 360 and be in the shops by Christmas, it has been revealed. Sony's PlayStation 3 and Nintendo's Revolution are not expected until next year.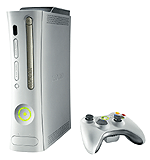 Microsoft has abandoned the black, boxy look of the Xbox for a far softer design, with curved edges and a clean white look. The front panel houses a disc drawer, two memory card slots, an infra-red receiver for an optional remote control, the power button and two covered USB ports.
Separate panels will be available to replace and customise the front of the console.
Highlights of Microsoft Corp.'s Xbox 360:
Storage
- 20-gigabyte detachable, upgradable hard drive. The original: 8-gigabyte nonremovable hard drive.
Processing Power
The technical make-up of the machine is largely what was expected. Under the bonnet, the 360 is powered by three IBM PowerPC 3.2GHz processors, with a custom ATI 500MHz graphics processor and 512Mb of RAM.
- Three Custom IBM PowerPC-based dual-core processors running at 3.2 gigahertz each. The original: 733 megahertz processor
- Two hardware threads per core; six hardware threads total
- VMX-128 vector unit per core; three total
- 128 VMX-128 registers per hardware thread
- 1 MB L2 cache
Graphics
Custom ATI Graphics Processor
- 500MHz processor
- 10 MB of embedded DRAM
- 48-way parallel floating-point dynamically scheduled shader pipelines
- Unified shader architecture
Polygon Performance
- 500 million triangles per second
Pixel Fill Rate
- 16 gigasamples per second fill rate using 4x MSAA
Shader Performance
- 48 billion shader operations per second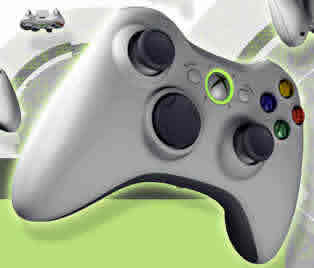 Memory
- 512 megabytes of GDDR3 RAM. The original: 64 megabytes.
- 700 MHz of DDR
- Unified memory architecture
Memory Bandwidth
- 22.4 GB/s memory interface bus bandwidth
- 256 GB/s memory bandwidth to EDRAM
- 21.6 GB/s front-side bus
Overall System Floating-Point Performance
- 1 teraflop
Audio
- Multichannel surround sound output
- Supports 48KHz 16-bit audio
- 320 independent decompression channels
- 32-bit audio processing
- Over 256 audio channels
- Three USB ports that can connect with digital cameras and portable music players. The original did not have USB ports.
- Two ports for 64-megabyte memory cards that can be used to save games, making customized content portable so it can be played on a friend's console. The original did not support memory cards.
- Can stand on one end or lie flat. The original could only lie flat.
Online gaming
- Subscribers to the online gaming service can buy custom game characters, cars, weapons, "skins" that let them change the color or texture of their screen or new game trailers. The so-called microtransactions will cost as little as 99 cents apiece at a virtual shop Microsoft is calling "Xbox Live Marketplace," which will be available only with Xbox 360. In addition, gamer profile for digital identity, voice chat to talk to friends while playing games, watching movies or listening to music will be supported through "XBox Live".
- Built-in extender for Windows XP Media Center, a version of Microsoft's flagship operating system. The current version can connect with Windows, but only with a separate extender.
- Built-in Ethernet port
- Wi-Fi ready: 802.11a, 802.11b and 802.11g
- Video camera ready (connection through USB 2.0)
Digital Media Support
- Doubles as a DVD player. The current version can play DVDs only if you buy a special attachment.
- DVD-ROM drive of 12 X
- Support for DVD-Video, DVD-ROM, DVD-R/RW, DVD+R/RW, CD-DA, CD-ROM, CD-R, CD-RW, WMA CD, MP3 CD, JPEG Photo CD
- Ability to stream media from portable music devices, digital cameras and Windows XP-based PCs
- Ability to rip music to the Xbox 360 hard drive ? Custom playlists in every game
- Built-in Media Center Extender for Windows XP Media Center Edition 2005
- Interactive, full-screen 3-D visualizers
High-Definition Game Support
- All games supported at 16:9, 720p and 1080i, anti-aliasing
- Standard-definition and high-definition video output supported
- Up to four wireless controllers can sit on the coffee table next to a TV remote. The original: Controllers have to be plugged into the console.
What is not known is if gamers will be able to play current Xbox games on the 360. Microsoft is aiming for what is called backwards compatibility but is facing technical difficulties.
Games for the 360 itself will be designed for widescreen high-definition screens and are expected to offer a dazzling level of graphical detail.