6. RW Writing Tests
Mitsumi CR-4808TE IDE CDR-W - Page 6
RW Writing Tests
We used Nero 5.5.3.5 for writing CDs in maximum RW writing speed for all the tested drives. The Mitsumi CR-4808TE supports partial (8X) the HS-RW format and as you have might expected, has the worse writing time: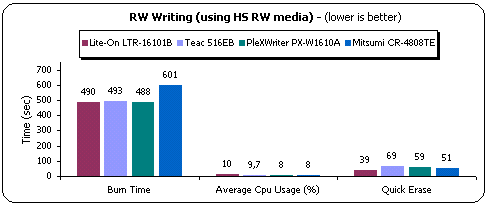 The Mitsumi -since it re-writes at 8X- has the longest writing time. The drive needs 601secs to finish the task. The erase time is the second best behind LiteOn LTR-16101B while the CPU usage is low, due to the lower recording speed.
- Packet Writing Tests:
We used Ahead InCD v2.26 for all Packet Writing tests. We used TDK HS-RW media and we formatted it. The formatted disc revealed 530mbs of free space. We copied a 403 MB file (403.147 kbs) from a Hard Disk (on the same PC as the writers) to the formatted RW media-using explorer (we dragged and dropped) and we completed the test twice to eliminate possible time measurement faults and user errors: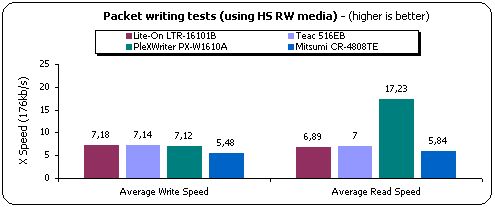 The Mitsumi CR-4808TE has the lower reading/writing performance from all four tested drives. The answer is obvious. Since the drive re-writes only at 8X it cannot compete the other drives. The reading performance is also slow. The LiteOn LTR-16101B is the leader in the writing performance but stays behind in the reading part. The PleXWriter PX-W1610 is the leader in the reading but stays third in the writing part.