New Sony Everspan Library System Delivers Reliable Optical Disc Archiving For Data Centers
Sony Optical Archive, a subsidiary of Sony, today unveiled the Everspan Library System, a scalable optical library system solution that delivers high-capacity archiving capabilities and could "threaten" tape leaders like Oracle and IBM. The optical library system utilizes Sony's 300 GB Archival Disc to store data. Sony claims that unlike tape or hard disk drives which need to be refreshed/replaced every 5-7 years, the Archival Disc can support data storage for over 100 years in data center environments and thus, Sony is offering 100 year warranty for optical media.
The core Everspan Library consists of a Base Unit "controller" that houses up to 64 of the Archival Disc (AD) drives, the Robotic Unit that moves media back and forth and an Expansion Unit that houses up to 12.9PB of optical media. Each of the Sony optical array drives (ADZ-D3) has an average transfer rate of 280 MB/s. Each drive uses four lasers per disc side that accelerate both reading and writing the data from the 300GB Archival Disc media.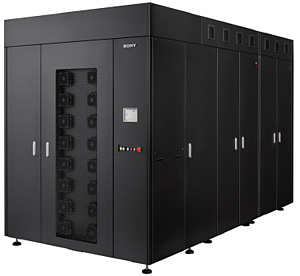 The system is scalable to allow up to 13 additional Expansion Units (14 total) to be added that will scale to 604,928 total discs, holding 181PB of data. Up to four systems can be connected in a single system, giving access to an astounding 724PB of total addressable storage. To give a sense of scale, if you were to envision one bit of data as the equivalent to one second, then 1PB is the equivalent of 285 million years.
Each library occupies around 500 square feet of datacenter floor space (fully expanded).
Everspan utilizes fully automated robotics, providing both high speed and efficiency between the stored media and optical drives. It is able to transfer almost 18 GB of data per second.
The system is designed with industry-standard system interfaces (S3, LTO, Optical drive Sony MMC-6 SCSI) for easy integration into existing applications and environments. Everspan software support includes the S3 object store as well as file system support. With these options, redundancy is provided through erasure coding. For those who prefer to create their own direct interface, Sony delivers an optical drive interface that leverages the Sony MMC-6 SCSI multimedia command set. Alternatively a tape drive interface allows for an easily transition from tape library to optical library.
Everspan tackles energy efficiency issues this with one of the most efficient power/storage ratios in the industry. The Base Unit and the Robotic Unit draw power but all of the additional Expansion Units draw miniscule power to keep the sensors and air filters running. This design allows for scaling up data storage, only marginally impacting the total system power. Sony says thtat in data center environments, at approximately 9kW for a typical 181PB system, Everspan is more efficient than conventional archive alternatives. When the system is idle power consumption drops to less than 2kW for a complete 181PB library.
The Everspan Library System is currently being evaluated by companies and institutions, including Los Alamos National Laboratory (LANL).

Specifications
Operating temperature/humidity
Temperature 41°F (5°C)
Humidity 95°F (35°C)
20% - 90% (no condensation)
Dimensions
Base unit:
Height: 94.5? (2400mm)
Width: 37.4? (950mm)
Depth: 73,9? (1876mm)
 
Robotic unit
Height: 94.5? (2400mm)
Width: 36.6? (930mm)
Depth: 73.9? (1876mm)
 
Expansion unit
Height: 94.5? (2400mm)
Width: 36.1? (916mm)
Depth: 73.9? (1876mm)
Optical Library System:
Row design for seamless data center integration
Configuration
Base unit: 1 per row and up to 64 300GB Archival Disc drives
Robotic Unit: 1 per row
Expansion Unit: 1-14 per row
Capacity
13PB to 181PB per row
Up to 13PB increments
1, 2 or 4 rows per system (724 PB total capacity)
Performance
280MB/s read transfer rate/drive (315MB/s peak)
140MB/s write transfer rate/drive
18GB/s per row
72GB/s per system
Media load time 60-90 seconds
Power
208VAC +/-10% 220VAC +/-10%
230VAC +/-10% 240VAC +/-10%
277VAC +/-10%
Power consumption per row
Approx. 9kW Typical
Under 2 kW Idle
input Voltage (AC) +/-10% 208, 220, 230, 240, 277
Software interfaces
S3 interface
LTO drive interface
Optical drive interface
Reliability
Media reliability >100Yrs
Unlimited read frequency
Unlimited drive loads
Warranty: 5 years system warranty
Media & drive type
Media - 300GB Archival Disc
Drive - 300GB array head