Sony's Second Generation Optical Disc Archive System Is Faster And Goes Up to 3.3 TB
Sony is promoting use of optical discs for reliable long-term storage with the release of ther second generation of its Optical Disc Archive System, which adopts a 3.3TB optical disc cartridge developed jointly by Sony and Panasonic.
A new generation of high-capacity optical discs (ODC-3300R), developed jointly by Sony and Panasonic, serves as the storage media for Generation 2 of the Optical Disc Archive. This newest media, rated with a 100-year shelf life, doubles the capacity of a single cartridge to 3.3 TB.
Optical Disc Archive technology is designed for use in near-line applications, deep archive storage or disaster recovery systems. Hardware configurations range from stand-alone to large, scalable robotic archive systems. The main components of Optical Disc Archive Generation 2 include: a stand-alone USB drive unit (ODS-D280U), an 8 GB fiber channel library drive unit (ODS-D280F), for use in robotic systems, and the Optical Disc Archive media cartridge (ODC3300R).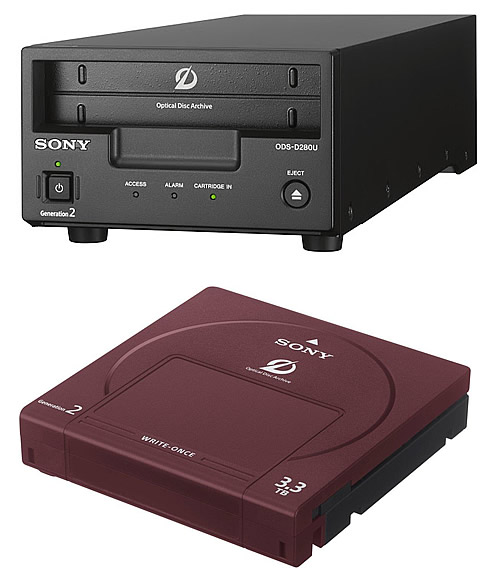 Each Archival Disc offers a capacity of 300GB. It is a double-sided (3 layers/side), write once optical medium, which is accessed using a Blue laser optical system (405nm, NA=0.85) and uses a Reed-Solomon error correction code - the same Error Correction Code (ECC) structure as Blu-ray.
To maximize the storage capacity of each layer, the standard uses land/groove recording. Each recording layer consists of spiral grooves bordered by concentric lands. Where earlier optical discs recorded only on the grooves, the Archival Disc standard essentially doubles the recording density by recording also on the lands.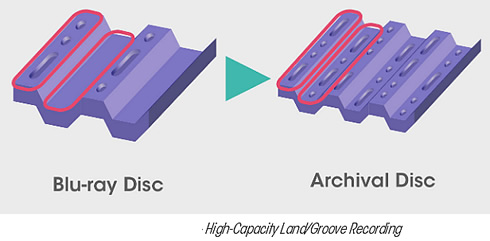 Each recording layer is sandwiched between protective layers, in a simple 3-layer design. The use of new oxide -based recording materials realizes improvements in both recording rate, and recording capacity.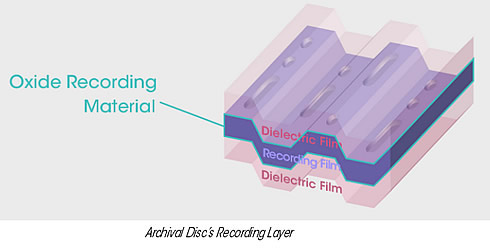 Sony says that the use of oxide also boosts the disc's durability. The materials employed can be procured at low cost, and low for manufacturing to be carried out utilizing at existing optical-disc production facilities.
The complete Optical Disc Archive Generation 2 system accepts compact cartridges loaded with 11 Archival Discs, offering a total storage capacity of 3.3 TB. Discs can be safely transported by carrying the entire cartridge, with no need to touch any disc surfaces. Cartridges have passed quality testing - including dust tests, UV exposure tests, abrasion tests, toxic gas tests, and water resistant tests - to ensure the reliability required for professional use.
Each of the drive units (USB drive unit ODS-D280U and 8 GB fiber channel library drive unit ODS-D280F) hold four laser head assemblies, each containing two heads - for a total of eight laser heads. With two assemblies positioned at the top and two at the bottom, the system can read/write both sides of the disc at the same time. Sony's original high-speed technology provides an average read rate of 2 Gbps (250 MB/s), and an average write rate of 1 Gbps (125 MB/s) with verify.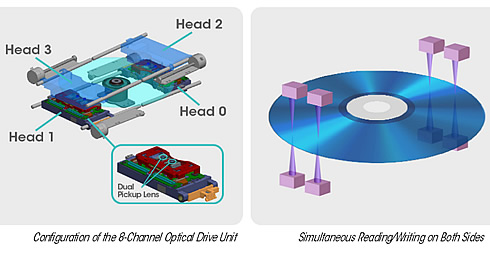 The new stand-alone USB Drive Unit (model ODS-D280U), fiber-channel library drive unit (model ODS-D280F) and Optical Disc Archive Cartridge (model ODC3300R) are planned to be available in summer 2016.
Sony believes that the Optical Disc Archive can serve as the core of highly productive archive systems capable of managing and storing high-volume data - including 4K video, future- generation video, older video assets, and multimedia video content. Sony will continue developing this technology and the plan for the 3rd generation Optical Disc Archive system is expected to have a capacity of 5.5TB per cartridge and transfer rates of up to 3Gbps and up to 1.5Gbps for read and write/verify, respectively.
Sony Optical Archive Inc. (US), a subsidiary of Sony Corporation, recently announced a new library system called Everspan. The new system incorporates the newest optical media and new drives for large-scale robotic systems targeted specifically at data centers.