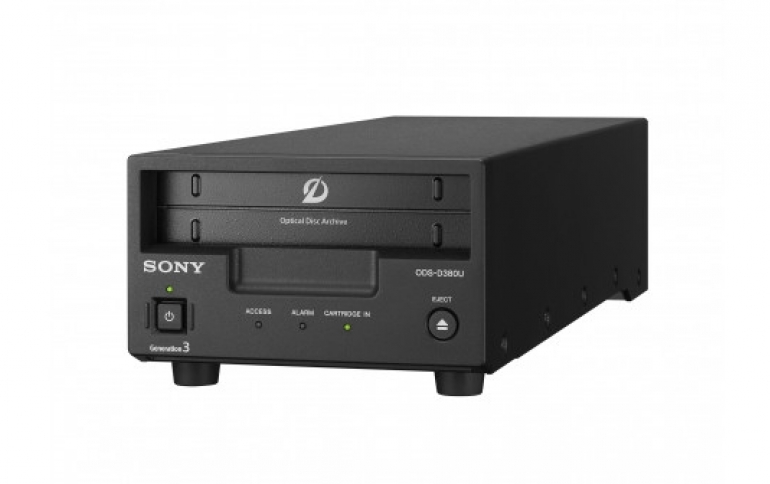 Sony's Optical Disc Archive Generation 3 Offers a Capacity of 5.5TB and 375MB/sec Transfer Speed per Drive
Sony Professional Solutions has launched the Optical Disc Archive Generation 3, the latest version of high capacity archive drive inclusive of USB desktop drive units (ODS-D380U), Fibre-channel library drive units (ODS-D380F) and media cartridges (ODC5500R) developed for secure, long-term enterprise data storage.
Each cartridge is comprised of 11 discs of "Archival Disc", co-developed with Panasonic, provides 500GB of storage per disc for a total capacity of 5.5TB, more than sixty percent increase when compared with Gen2. With an estimated lifespan of over 100 years, Optical Disc Archive Gen3 is a great solution for long-term, durable and reliable storage.
The new Gen3 enterprise class 8-channel optical drive reads and writes both sides of the double-sided media to enable high speed data transfer of 375 MB/s read and 187.5 MB/s write, 1.5 times higher when compared with Gen2. Data integrity is assured using "on the fly" verification combined with highly stable storage media. The included Fixity check feature provides auditable long-term data integrity.
The next-generation media is resistant to temperature and humidity changes and is superior at withstanding external factors including water, light and EMP (Electronic Magnetic Pulse) events. Optical Disc Archive Gen3 can also reduce long-term expenses thanks to its eco-friendly, low power consumption. In addition, its dependability, feature set and backward compatibility eliminate the need for data migration between multiple media generations. It is a good option for accommodating the demand for long-term cold archive storage.
Sony is currently developing an enterprise class library solution with Qualstar Corporation utilizing Gen3 technology. The high capacity solution will scale from 4.7PB up to 50PB per single library and can scale-out to multi-library cluster configurations capable of managing hundreds of petabytes of archive data. The new PetaSite EX solution was on display on Sony's booth 795 at SC19 in Denver, CO.
ODS-D380U, ODS-D380F, ODC5500R are planned to be available in January 2020. For mid-size archive solutions, the existing Optical Disc Archive PetaSite ODS-L30M library, from Sony, with increased capacity up to nearly 3PB per library system is expected to be Gen3 ready in January 2020.