New Sony Vaio P Series PC Feature Accelerometer, Touchpad
Sony's updated Vaio P Series of PCs is offering increased portabilty (1.3-pound), features an 8-inch display, an optical touchpad and an accelerometer. The VAIO P Series is the first notebook computer from Sony with built-in GPS and a new Digital Compass.
A new VAIO Location Search software offers a real-time map view without tying up your web browser. Your map position and orientation are displayed along with nearby Points of Interest and even local weather conditions.
The VAIO P is also the first notebook from Sony with a built-in accelerometer that responds to physical movements. Just give VAIO a gentle shake to 'flick' through pictures or the pages of a PDF document, or navigate back and forth through your web browsing history.
The sensor also recognises when VAIO P Series is turned on its side, automatically 'flipping' the screen for easy reading of documents or web pages in portrait mode. The notebook's additional mouse buttons are placed for comfortable page-turning when you're reading in portrait position ? just like a paperback book or magazine.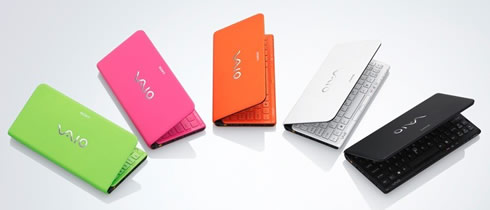 The new Sony VAIO P Series also features an array of built-in one-touch buttons that enable users to instantly access the web, adjust screen resolution and even tune-up their PC. A trackpad built directly into the LCD bezel and a mobile nav grip have also been added making it easier access content on-the-go.
The WEB button launches directly into the browser, allowing users to even press it when the PC is turned off. The ASSIST button launches Sony's own VAIO Care software, a program that lets users tune-up, maintain, update and troubleshoot the PC. A resolution button lets users increase or decrease screen resolution for optimal viewing.
The new laptop is powered by an Intel 1.6GHz Atom Z530 processor, it has a 1600 x 768, LED backlit 8-inch ultra-wide display (diagonal) and its weight is just over 600g.
The P-Series is available in five new colors ? electric orange, neon green, hot pink, icy white and classic black. It is available now for pre-sale at www.sony.com/pr/pseries and at select retailers in the U.S. for about $800.