NHK STRL Open House 2016 Kicks Off
The NHK Science & Technology Research Laboratories (STRL) will hold its anual Open House 2016 event (May26 to 29) to introduce the latest R&D efforts related to 8K Super Hi-Vision and future broadcasting technologies. August 1st, 2016 will mark the start of 8K and 4K Super Hi-Vision test satellite broadcasting in Japan (BS 17ch (12.03436GHz). NHK plans to to begin satellite broadcasting by 2018 and achieve widespread adoption by 2020, the year of the Olympic and Paralympic Games in Tokyo.
In the event, NHK will be showcsing the technology behind our full-featured 8K Super Hi-Vision - 120 Hz video with a wide color gamut, HDR (high dynamic range) support and 22.2 multichannel sound.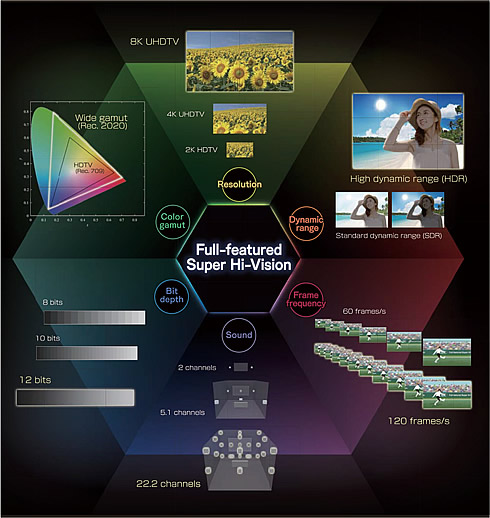 Large, ultrathin and ultralight displays will be the key to encouraging viewers to enjoy Super Hi-Vision at home. NHK is working on a sheet-type OLED display that promises to make immersive images of Super Hi-Vision part of consumers' daily life.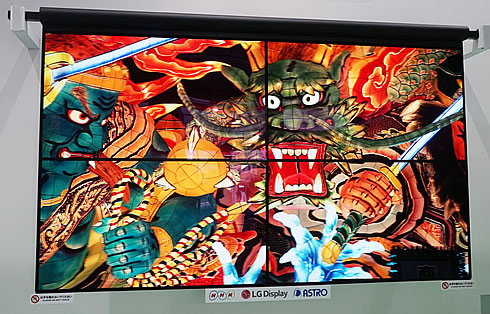 The OLED display you see above is actually a combination of four, 65-inch 4K OLEDs manufactured by LG. The display is just 1mm thick and supports 8k (7,680 x 4,320 pixel) content at 60fps.
Working with Nippon Shokubai Co., Ltd, NHK has developed a novel fabrication technology for producing solution-processed oxide TFTs at a low temperature that are suitable for application as film substrates and for creating larger displays. Applying this technology to pixel circuit formation is expected to enable cost-effective fabrication of large-area sheet-type displays.
The two companies has also created a new device called an inverted OLED, which has an inverted structure compared with a conventional OLED. Using a material that is less vulnerable to oxygen and moisture is expected to help extend the lifetime of sheet-type displays.
In order to solve the problem of motion blur of OLED displays, NHK has developed a driving technology which controls the light emission period line by line. Longer lifetime as well as an improvement in video quality can be expected as a result of suppressing instantaneous luminance changes.
8K-HDR Live Program Production
NHK and Sharp have worked together to develop an HDR 8K SHV display.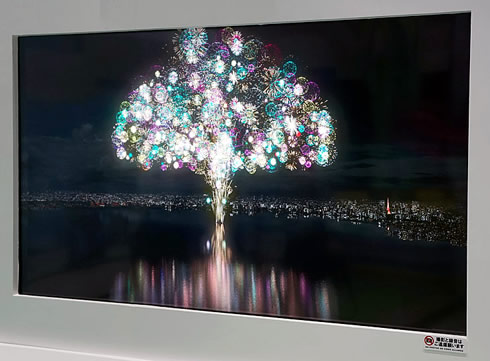 BBC and NHK have proposed and developed the the Hybrid Log Gamma (HLG) solution for making HDR programmes.
The HLG standard is royalty-free and was approved as ARIB STD-B67 by the Association of Radio Industries and Businesses (ARIB). HLG is compatible with standard dynamic range (SDR) displays.
NHK has already developed 8K cameras supporting the HLG system. The HLG format is a specification for conversion from light to electrical signals during the image capturing process. It allows for easy video adjustment because it can handle video signals in the same way as conventional program production and is therefore suitable for 8K HDR live program production, in which multiple cameras are switched back and forth to capture images. It also allows the effective utilization of existing content and equipment because of its compatibility with SDR.
NHK plans to establish a method of HDR 8K video production using the HLG system and contribute to HDR program production for 8K broadcasting.
NHK is also developing the production equipment required for a smooth migration to 120-Hz frame frequency systems. They will showcase an example of a production system using equipment supporting the 120-Hz frame frequency, which has been developed considering the compatibility with HDTV production systems and the conventional timecode.
Newly developed 8K devices include a compression recorder using a removable memory package, a four-input four-output signal router, a waveform monitor, a timecode separator and a 17-inch liquid crystal display.
NHK is working on the standardization of a new timecode supporting 120-Hz frame frequency for full-featured 8K. The timecode can also be read by existing devices because of its compatibility with the conventional timecode supporting 60-Hz frame frequency. NHK has also adopted a Precision Time Protocol (PTP) synchronization system that can coordinate clocks precisely using IP technology.
Future plans include the creation of a production environment using such equipment. The 120-Hz timecode will be implenmented into the system the practicality of a synchronization system using IP technology will befurher studied.
3D Television
NHK has have been working on developing three-dimensional television that can be enjoyed without special glasses.
NHK is attempting to establish an integral 3D system that uses lens arrays to produce natural 3D images. The main focus is on the capturing, encoding, and display technologies needed to create a high-quality 3D video system.
The research includes optical beam steering devices to improve the viewing zone and the resolution of integral 3D displays as well as ultrahigh-density display devices that broaden the viewing zone of holographic 3D images.
As part of NHK'sresearch on integral 3D technology, NHK hsas have created an improved 3D displaying device by combining multiple projectors. The researchers have also developed a new technology to capture 3D images of objects positioned over a wider area.
Capturing integral 3D images involves large lens arrays with numerous tiny lenses, but NHK has prototyped a device that uses a single camera on a translation stage. NHK is now now able to capture a wider area without being limited by the size of the lens array.
Generating high-quality integral 3D images requires many more pixels than for 8K display device. NHK's new technology integrates multiple high-resolution projectors over a lens array, resulting in higher resolution and a wider viewing area.
NHK hopes that a practicable 3D system will be ready by around 2030.
8K SHV stored in the holographic optical discs
NHK is working with Hitachi LG Data Storage to develop a high-density holographic memory for the long-term archiving of 8K Super Hi-Vision video.
A holographic recording prototype drive will be on display at Open House 2016. NHK says that the system's technology improves the quality of the reproduced data and presents a reproduced video of compressed 8K signals recorded on an optical disc.

While the photopolymer material used for the disc is expected to retain recorded data for more than 50 years, it causes optical distortion due to vibrations and changes in temperature and volume of the recording medium. To compensate for the distortion, NHK and HLDS have developed a technology to control the wavefront of the reference beam, enabling accurate data reproduction.
The recording density is inversely proportional to the square of the laser beam wavelength. Instead of the green laser beam (with a wavelength of 532 nm) that NHK had previously used, the new system implements a blue-violet laser beam (with a wavelength of 405 nm) and a suitable material for the recording medium, increasing the overall recording density.
Single-chip 8K Camera System
NHK has been conducting research to achieve a practical 8K Super Hi-Vision camera. A portable camera system has been already developed; it can capture full-resolution (RGB 4:4:4) 8K video with 33 megapixels each for red (R), green (G) and blue (B) by using a single image sensor.
The camera can also use a wide variety of cinema and 35 mm full-frame lenses because the optical format of the 133-megapixel image sensor is the same as 35 mm full-frame.
The camera weighs 6 kg, less than one-seventh of a conventional three-chip full-resolution 8K camera. Using a compact, built-in wavelength division multiplexing signal transmission device, it can transmit 100 Gbps output video signals over a single HDTV hybrid camera cable.
NHK has developed a camera control unit (CCU) with many capabilities such as real-time processing of 100 Gbps high-speed signals, correction of lateral chromatic aberration of the lens, and HDR (high dynamic range) capturing. The CCU outputs a U-SDI signal compliant with international standards.
NHK plans to make the camera system operational at 120 Hz frame frequency to enable the shooting of full-specification 8K video.
8K / 4K video encoding system
NHK is developing a high-efficiency video coding technique for the simultaneous service of video with different resolutions.
NHK says that the use of super-resolution reconstruction technique -- a technique to enhance the resolution of an image by supplementing edges and fine-grained texture -- enables accurate 4K-to-8K interlayer prediction. Interlayer prediction is a technique to predict a high-resolution image from a low-resolution image.
This will achieve the simultaneous service of 8K and 4K video simply by sending a small amount of supplementary data together with the compressed 4K video.
This system encodes and transmits low-resolution video reduced from the original high-resolution video. It also super-resolves the locally-decoded low-resolution video in different reconstruction modes at the transmission side and transmits the block-wise optimal mode selection as supplementary data. This system can achieve higher compression ratio than conventional scalable video coding because it can generate high-resolution video with only a small amount of supplementary data for super-resolution reconstruction.
Taking hardware implementation into consideration, NHK has figured out appropriate computation methods for super-resolution reconstruction and optimization to decide the best super-resolution mode. NHK also employed a parallel-series architecture with simple image processing templates to facilitate integrated circuit implementation in anticipation of installation in receivers.
This system allows viewers to view 4K video as is with ordinary TV sets. It can also provide 8K video by adding supplementary data, the amount of which is about 3 to 10% of that of the 4K video stream. The supplementary data contains video feature values of each frame as well as switching information for super-resolution reconstruction. The feature values are used to synchronize decoded video and supplementary data.
NHL plans to conduct demonstration experiments on an overall system including transmission systems such as channel coding, modulation and demodulation processes and also contribute to future video coding standardization.
NHK will also detail transmission techniques for SHV CATV, IP and terrestrial, among the numerous lectures and research studies that will be presented during the event.
On Tuesday, two of Japan's three big mobile carriers made announcements of successful tests.
Working with Nokia, NTT Docomo reported real-time wireless transmission of 8K video, demonstrating the viability of its proprietary technology for delivery of 8K video streams to smartphones and other devices.
For the tests, 8K video stored on a server was transmitted in compressed format to a base station over normal lines and from there transmitted in the form of radio signals to special 5G handsets.
NTT Docomo's technology was able to keep the time lag to within one-ten-thousandth of a second.
KDDI said it has succeeded in sending 8K video over optical fiber, providing the means to broadcast sporting events captured from multiple perspectives for simultaneous display on compatible televisions.