Nvidia Brings Maxwell Architecture to Notebooks
NVIDIA launched the new Maxwell graphics architecture during GAME24, and is now bringing it to gaming notebooks wiut the release of the GeForce GTX 970M and GeForce GTX 980M notebook GPUs. Maxwell, the company?s 10th-generation GPU architecture, solves some of the most complex lighting and graphics challenges in visual computing. And it does so with twice the energy efficiency of the previous generation.
NVIDIA?s 8th-generation GPU architecture, Fermi, delivered about 40% of the desktop equivalent in 2010. Kepler, Nvidia's 9th generation GPU, launched in 2010, closed the gap to 60%, giving gamers 1080p resolution and "ultra" settings for the first time in a notebook.
According to Nvidia, with Maxwell, that gap shrinks to 80% of the desktop equivalent and pushes the resolution well beyond 1080p - a great achievement when you compare the thermal and power differences in a desktop tower and a notebook chassis.
Maxwell doubles performance compared with the first Kepler notebook GPUs on "video card killers," like Battlefield 4 and Metro: Last Light. Nvidia is pushing playable resolution to 2500?1400+ at ultra settings. But most notebooks don?t have a native resolution that high, and this is where NVIDIA gives you more than just killer frame rates.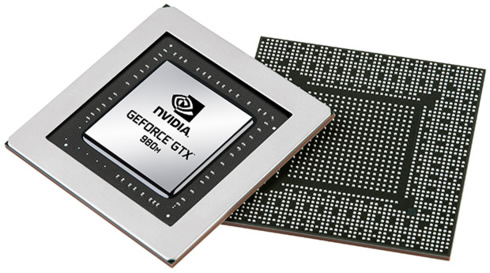 Maxwell?s Dynamic Super Resolution (DSR) technology can render games at 4K or other high-end resolutions. Then they?re scaled down to the native resolution on the notebook?s display. The results are an image that is much higher quality than one rendering directly to 1080p.
Nvidia is also addressing the batery life issues if the gaming notebooks with the next evolution of NVIDIA BatteryBoost. Instead of your notebook pushing every component to its max, BatteryBoost sets a maximum frame rate from 30 to 60 FPS. The driver-level governor takes over from there, running all your system components including CPU, GPU and memory at peak efficiency. All while maintaining a playable experience.
NVIDIA GeForce GTX 900M Specifications
 

GTX 980M

GTX 970M

Stream
processors (CUDA Cores)

1536

1280

Base GPU Clock (MHz)

1038 + Boost

924 + Boost

GPU Clock (boost)

1038 + Boost

924 + Boost

GPU Clock (boost)

1038 + Boost

924 + Boost

GDDR5 Clock

5GHz

5GHz

Memory Interface

256-bit

192-bit

Memory Configuration

Up to 4GB GDDR5

Up to 3GB

Memory
bandwidth
(GB/s)

160

120

eDP 1.2

Up to 3840x2160

LVDS

Up to 1920x1200

VGA

Up to 2048x1536

DisplayPort Multimode

Up to 3840x2160
Nvidia has also also made improvements to BatteryBoost in the six months since its launch. The first thing you?ll notice is many more systems achieving playable frame rates on battery. This was the result of collaboration with OEMs to enhance on-battery performance.
Another big update is an improved governor to enhance battery savings. Nvidia also added features to GeForce Experience, allowing gamers to set specific game settings for use while on battery, along with a one-click optimize-for-battery button.
GeForce GTX 980M and 970M GPUs also get all the same technology that their desktop counterparts get. That means 30% more AA performance at the same quality with NVIDIA Multi-Frame Anti-Aliasing (MFAA).
They also support Voxel Global Illumination (VXGI) technology, which better depicts indirect lighting ? including diffuse lighting, specular lighting and reflections. This enables gaming GPUs to deliver real-time dynamic global illumination for the first time.
Over a dozen SKUs are now available with GeForce GTX 980M and 970M. MSI has the GT72, GS70 and GS60 models. Asus is offering the G751. Gigabyte has the Auros X7 and P35 models. Boutique venders like AVADirect. MainGear and OriginPC are also selling gaming powerhouses with these new GPUs.
Here is what you may expect from the new GPUs, according to data provided by Nvidia:
Upcoming GeForce GTX 980M/970M Notebooks

Manufacturer

Model

GPU

Size

ASUS

G751

GeForce GTX 980M
GeForce GTX 970M

17"

MSI

GT72

GeForce GTX 980M
GeForce GTX 970M

17"

MSI

GS60

GeForce GTX 970M

15"

MSI

GS70

GeForce GTX 970M

17"

Gigabyte

P35

GeForce GTX 970M

17"

Gigabyte

Aorus X7

2x GeForce GTX 970M (SLI)

17"

Clevo

P150

GeForce GTX 980M
GeForce GTX 970M

15"

Clevo

P650

GeForce GTX 980M
GeForce GTX 970M

15"