Oculus Announces VR chats, Oculus Touch Pricing And A New, Standalone VR Headset
At the Oculus Connect 3 developer's conference, Facebook CEO Mark Zuckerberg and Oculus execs shared their vision for the future virtual reality, from VR selfies to a new VR platform on the horizon. Facebook CEO Mark Zuckerberg described why Facebook wants Oculus to be the next major computing platform and promised to get the Oculus Touch in your hands before the end of the year. He showed off extensive new VR chat features in Oculus Rift, including a trip to the ocean, a game of chess, a friendly fencing match, a live video call and a family selfie with a virtual avatar.
Zuckerberg announced that Facebook will invest $250 million in the Oculus developer community, on top of the $250 million that the company has already doled out.
Most importantly, he demoed a next-gen Oculus VR product: a new standalone VR product platform that's portable and features "inside-out tracking:" Much like Microsoft's HoloLens, the "Santa Cruz" VR prototype uses built-in positional tracking that relies on computer vision, tracking motion in-headset without any plug-in sensor bar camera. Mixed-reality headsets like the HoloLens use inside-out tracking, but no VR headsets on the market can do this yet. There are no plans for when inside-out tracking could appear in an Oculus VR product.
Oculus Avatars is a platform feature that lets you customize your VR identity for more memorable interactions. With more than one billion permutations available, you can build something that represents your own style. Avatars will be available for Rift at Touch launch and for mobile in early 2017.
Oculus announced two new social features, "Parties," which lets users start a voice call with up to eight people in virtual reality, and "Rooms," which lets people hang out with avatars of their friends and play games, chat or watch a movie. Zuckerberg did a live demo on stage using Oculus Rift, showing a host of new features, such as the ability to take a call on Facebook Messenger while in virtual reality. He also took a selfie with his wife Priscilla Chan, who called in on Messenger, in a virtual version of his home.
Both Parties and Rooms will ship for Gear VR in the coming weeks, with the Rift launch scheduled for early 2017.
Oculus is also lowering the minimum requirements for PC-based VR so more people can get in on the action. Now an Oculus-ready PC will start at $499. Oculus says you'll need only a dual-core Intel Core i3 processor and an Nvidia GTX 960 graphics card, instead of the quad-core Intel Core i5 chip and more powerful GTX 970 graphics that were required before. And a Cyberpower computer with an AMD graphic chip for use with the Rift starts at $499.
Oculus was able to lower the minumum PC requirements for good VR due the new Asynchronous Time Warp (ATW) and "Asynchronous Spacewarp" features, which both aim to reduce judder and keep Rift frame rate at 90 frames per second.
Asynchronous Time Warp (ATW) helps to reduce latency and prevent image judder caused by dropped frames. Oculus' ATW solution is designed to be automatic and transparent to users as well as to developers.
ATW works by tracking the user's head motion while each frame is being rendered, and re-projecting the last completed frame to the point of view of the user's latest head position. This helps ensure that the headset always has an up-to-date frame to display, even if the system was unable to finish rendering a completely new frame in time.
In addition, Oculus announced that the Oculus earphones will have drivers optimized for VR. The company claims they'll sound as good as $900 earphones and will available later this year for $49.
Oculus is also collaborating with Walt Disney Studios to create VR experiences with some of Disney's "most beloved characters" to be released later in 2016.
Oculus Touch controllers will cost $199 and start shipping December 6. Preorders will be available online and in retail on October 10, and all Touch preorders will include the games VR Sports and The Unspoken. Touch also supports room scale using a third sensor (available for purchase for $79 shipping on December 6).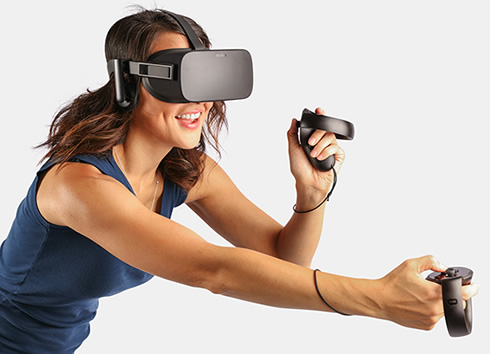 And new Touch titles include the first-person shooter Arktika 1 by 4A Games, Lone Echo by Ready at Dawn, Robo Recall by Epic Games and more.
Last but not least, Oculus will soon support Livestreaming to offer social-media friends a live broadcast view of what you're seeing in the headset.