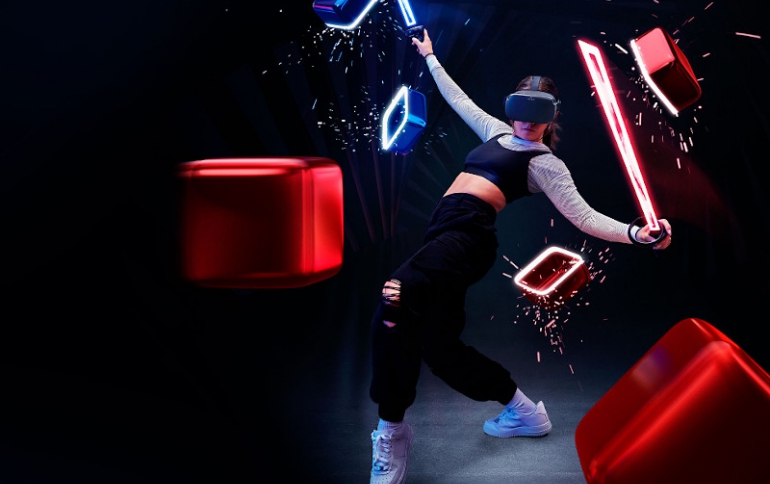 Oculus Said to Develop Lighter Version of the Quest VR Headset
Facebook's Oculus is reportedly developing a new version of its Quest standalone virtual reality headset, which will be smaller, lighter, and have a faster image refresh rate for more realistic content.
The new headset will also come with redesigned controllers and its weight could be close to a pound, according to Bloomberg. The existing model weighs about 1.25 pounds.
The updated refresh rate of the new Quest VR headset is at least 90Hz, up from current model's 60Hz. Pushing the frequency even more at 120Hz would consume more battery resources.
Facebook is also working on a redesigned controller that is more comfortable and fixes a problem with the existing controller, which has a battery cover that sometimes slides off.
Bloomberg's sources also claim that the new headsets in testing have four external cameras, versus five on the Rift S, and six degrees of freedom, which lets users look around in any direction and walk through virtual space as they would in reality. The new model will also still support the Oculus Link, a cable that lets a user connect the headset to a PC for improvement performance.
According to report, the new device has been delayed due to the impact of Covid-19 on product development and the global supply chain.
Facebook originally planned to launch the new model at the end of 2020, around its annual Oculus Connect conference, but the coronavirus pandemic could delay the headset from shipping until 2021.
Facebook declined to comment.
Facebook acquired Oculus in 2014 for $2 billion as a bet on VR as the future of digital communication. However, the company's VR headsets have failed to attract
broad consumer interest and content.
The Oculus Quest line is Facebook's mid-range VR headset that doesn't require a connection to a smartphone or PC. At $299, the current model is cheaper than Facebook's most-powerful headset, the Rift S, which connects to a computer.
Facebook was the No. 2 seller of VR headsets last year with about 28% of shipments, trailing Sony, according to data compiled by Statista.
Oculus is also building an AR headset, but it's unclear when it will be released.
Apple was also rumored to develop a VR headset in 2021 or 2022. An AR device is slated for 2023.