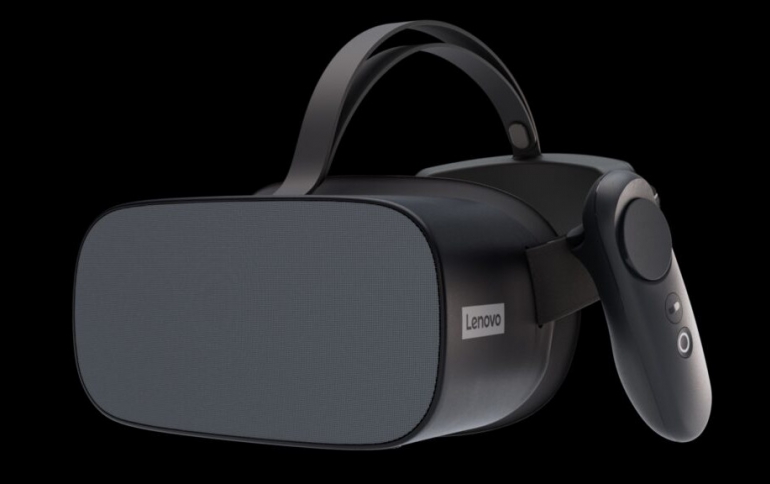 Lenovo Mirage VR S3 Standalone Headset with ThinkReality Released
Today, during the VR/AR Global Summit Online Conference, Lenovo announced the latest addition to its portfolio of commercial virtual reality (VR) solutions — the Lenovo Mirage VR S3 headset with ThinkReality.
The new VR solution for enterprise was unveiled during the keynote speech by Nathan Pettyjohn, Commercial AR/VR Lead, Intelligent Devices Group, Lenovo.
The Lenovo Mirage VR S3 is an all-in-one headset developed in conjunction with Pico Interactive, a technology company that develops VR and enterprise solutions. Specifically designed for enterprise, the Lenovo Mirage VR S3 features a 4K display, hands-free control for utilization with or without the provided controller, and an easy to clean face plate suitable for mass use. Built with integrated audio and up to three hours of battery lifei, the new VR headset is rugged, light weight and ready to scale within the enterprise.
The Lenovo Mirage VR S3 headset is supported by the Lenovo ThinkReality software platform. ThinkReality is among the first device- and cloud-agnostic AR/VR platforms enabling Lenovo's commercial customers to deploy and manage applications and content on a global scale, with global support.
With prebuilt functions and program logic, the ThinkReality Platform enables engineers to build sophisticated applications more easily and quickly.
Embedded in the new commercial VR solution is Lenovo's latest service offering, Lenovo Integrated Solutions Support (LISS), an extension of the Lenovo Services portfolio. A standard inclusion on the Lenovo Mirage VR S3, and all solutions within the ThinkReality platform, LISS is an end-to-end service program that supports the relevant hardware, software and services to provide an advanced level of care throughout the solution's lifecycle. With this program, expert technicians and engineers provide support for the entire Lenovo solution, including a dedicated phone line for quick access, a single point of contact for faster resolutions, proactive case management, and escalation assistance.
The Lenovo Mirage VR S3 is available the third quarter of this year in North America, China, Japan, United Kingdom, France, and Spain.
The Lenovo Mirage VR S3 headset is included in the Lenovo VR Classroom 2 education solution.