OCZ PC-4200EL Memory Review
1. Introduction - Specifications
OCZ PC-4200EL Memory Review

is a well known company producing quality memory for almost all lines of PC users, from amateurs to enthusiast overclockers. As a leading company in the memory field, it recently introduced a product called "PC-4200EL" that promised low latency times (CL2@400Mhz) along with the ability to run at a high speed of 533 MHz. Most PC-4000 and higher PC-4500 memory kits work only at high latency times of 3-4-4-8. OCZ's memory is of interest to users who wish to reach maximum overclocking speeds while at the same time getting the best memory performance. Through our tests we will find out just how the memory performs and what the maximum possible overclocking limit is?
- Memory Description & Specs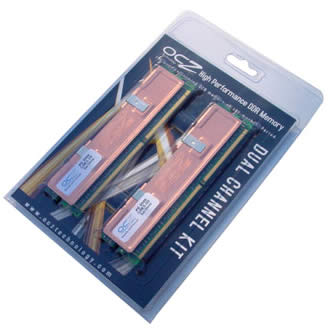 The OCZ PC-4200EL comes as a dual channel kit and according to OCZ is hand tested as a matched pair to ensure flawless performance on most motherboards. Each memory module has a copper heat spreader and can handle up to 2.9V without voiding the OCZ Lifetime Warranty! This is important, as it allows users to tweak their systems without worrying about destroying their memory while enjoying maximum performance!
The OCZ PC-42000 comes with the "EL" suffix after the model name. But what does "EL" mean? EL is the acronym from 'Enhanced Latency', and is a special design procedure applied to each memory module allowing it to run at tighter CAS latency timings than those specified under the current JEDEC standards.
The memory specifications according to the OCZ website are:
- 466MHz DDR
- CL 2.5-4-4-7 (CAS-TRCD-TRP-TRAS)
- Available in 512MB and 1GB Dual Channel Kits
- Unbuffered
- Copper Heatspreader
- Lifetime Warranty
- 2.8 Volts
- 184 Pin DIMM
The retail kits are available in a 512MB Kit (PN- OCZ533512ELDC-K) and a 1GB Kit (PN- OCZ5331024ELDC-K). We used the 512MB retail kit, which was obtained at the price of €220.00.

The retail kit also includes a case, stick-on badge, for those who want to use it to show-off their OCZ advanced memory powered system.