Panasonic Develops 85-inch 4k Touch Screen, Showcases New HEVC LSI
Panasonic is showcasing an 85-inch 4k touch-sensitive LCD monitor as well as the first, single-chip system LSI for playback of Main10 Profile HEVC video.
The 85-inch 4k LCD monitor has a 10-point touchscreen and is one of the world's largest LCD monitors equipped with a capacitive touch panel. Although Panasonic did not disclose technical details, it said that the monitor can be commercialized and delivered on demand. You should expect a price higher than $25,000.
With the launch of new series of ProXStream and WiGig in FY2014, Panasonic is cultivating potential customers. In the booth, Panasonic is displaying prototype of modules and demo products. A new HEVC playback system LSI is equipped with a 4K converter. The single-chip system supports playback of Main 10 profile HEVC content and supports the latest High-bandwidth Digital Content Protection (HDCP 2.2).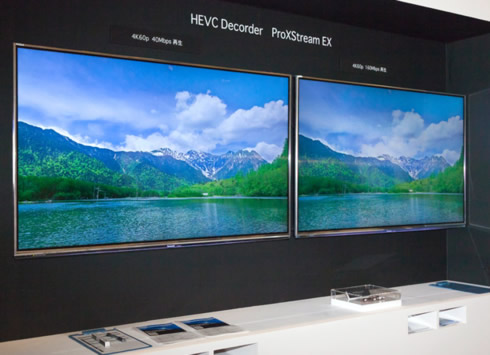 The Main 10 profile allows for a bit depth of 8-bits to 10-bits per sample with 4:2:0 chroma sampling. 10-bits per sample allows for 1024 shades per primary color (a total of 1.07 billion colors). A higher bit depth allows for a smoother transition of color which resolves the problem known as color banding.
Panasonic also presented a Wireless Gigabit WiGig compact module, with the ability to transfer data stored on a single CD in 3-4 seconds and a WiGig dongle
In addition, Panasonic showcased a 4K HEVC video authoring system in collaboration with DivX.