Panasonic Develops Secong Generation Freeze-ray Optical Disc-Based Data Archive System
Panasonic today unveiled its enhanced "freeze-ray" series Data Archiver, using 300GB Optical Discs, scheduled for release in the 2nd half of 2016. Panasonic says that the freeze-ray solution provides optimal cold storage for protecting data integrity and reducing costs in data centers thanks to the special characteristics of optical discs, including their longevity, immutability, backward compatibility, low power consumption and tolerance to environmental changes. The solution, incorporating hundreds of optical discs, is seen as a viable solution for data centers.
Panasonic's Optical Disc-Based Data Archive System has already been adopted in corporations and public institutions that require long-term data storage. "freeze-ray," which was developed through evalidation and testing to be deployed in the data centers of a large-scale Cloud Service Provider in the US, was announced in January at CES 2016 in Las Vegas, as an Optical Disc-Based Data Archive System based on 100GB Blu-ray Disc.
The second generation system follows the introduction of the first "freeze-ray," which was co-developed by Panasonic and Facebook.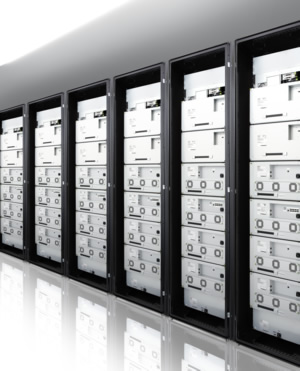 Panasonic's main contribution to the effort was its high-density, Blu-ray optical technology, key devices (optical discs, drives and related robotics) and library software to control the system in the data center. Facebook collaborated by providing its expertise in designing, deploying, managing and servicing storage systems in data centers. In addition, Facebook provided technical and real-world data center feedback at every stage of the development. Both companies have been working on two generations of the freeze-ray solution. Facebook is deploying the first-generation 100 GB Blu-ray Disc-based archive system into its data centers now, and expects deployment of the second-generation 300GB Archival Disc-based archive system later in 2016.
The new system has a density of up to 1.6 PB per standard 19-inch rack.per standard 19" rack. Optional density can be configured in the range of Min 547.2 TB - Max 1,915.2 TB (1.9 PB).
Freeze-ray adopts WORM (Write Once Read Many) and contactless optical discs, which have a life time of 100 years or more based on accelerated tests conducted by Panasonic.
Panasonic is offering a software designed to control the system. It conforms to MMC and SMC standard and is installed in a server, enabling direct access to the system's optical disc drives and robotics.
The system has one or more drives to allow multiple access. In addition, if failure occurs in one of the drive, the drive system can continuously operate. Even in the event that the host system (upper layer of data archiver) suddenly freeze or the power supply stop, it has been confirmed that the system can be recovered through the hardware testing and forced error testing.
In the future, Panasonic plans to increase the capacity of the Archival Disc to 500GB and eventually 1TB per disc, which will enable an even larger-scale freeze-ray system, including petabyte capacity increases.
100-GB Model
300-GB Model
Optional Spec for 300-GB Model
Media
100-GB Blu-ray Disc
300-GB Archival Disc

-

Capacity per rack
547.2 TB (0.5 PB)
1,641.6 TB (1.6 PB)
Range: 547.2 TB - 1,915.2 TB (1.9 PB)
Drives per rack
12 units
12 units
Range: 6 - 18 units
Number of Magazines
 
456 Magazines
152 Magazine - 532 Magazine
Drive type
 
300GB drive with double side OPU

-

Drives per rack
12 units
12 units
Range: 6 - 18 units
Transfer speed per rack
216 MB/s
(18 MB/s per drive)
720 MB/s
(60 MB/s per drive)
Range: 360 MB/s - 1,080 MB/s
Interface
DC-API
DC-API

With optional Data Archiver Manager middleware:

REST API (Swift, S3), NAS (NFS, CIFS)
SCSI (MMC, SMC)

Disc access
Single disc access
Single disc access

With optional Data Archiver Manager middleware: RAID Access (RAID 0, 5, 6)