Panasonic Introduces 4K Wearable Camcorder
Panasonic has today unveiled the HX-A500, a wearable camcorder capable of shooting 4K 25p video. Lightweight, compact, te camera can be easily attached to your body, head, to a helmet or a bag. It is also both waterproof, for up to 3 metres for 30 minutes, and dustproof.
Comprising of two body parts connected by a cable, the main operating unit weighs approximately 119g and the camera section only 31g.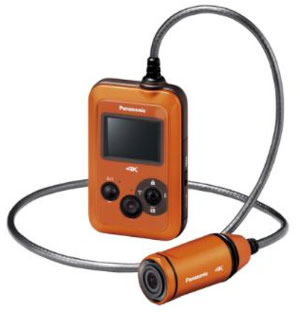 It comes with a 1.5-inch LCD monitor and is also equipped with NFC (Near Field Communication) capability, meaning it is just a swipe away from a Wi-Fi connection via your smartphone or tablet. Through the Panasonic Image App you can then record and edit your video remotely, share your creations via social media, as well as broadcast them live using UStream.
Enabled by a new image processor, the Crystal Engine Pro+, the HX-A500 provides 4K video recording at 25 frames per second and also packs image-enhancing technologies such as a new high sensitivity BSI sensor.
The HX-A500?s Levelling Correction function automatically detects when the recording is at a tilt and levels out final images, while the Image Stabilisation function keeps blur to a minimum. The new slow motion function means the HX-A500 is also ideal for analysing sporting techniques, such as your golf swing, at one of threespeeds: 200 frames per second (848x480); 100 frames per second (1280x720); or 50 frames per second (1920x1080).
Available from May 2014, the A500 will be priced RRP £379.99.
Technical details:
- Dual Body style
- 4K / 25FPS Picture Quality
- 1.5" Wide LCD monitor (115,200 dots)
- Wifi with NFC
- Weight 31g (camera unit)
- IPX8 waterproof (3m (10ft)/30minutes)
- EIS Image Stabilisation
- Level Shot Function
- Slow motion video: 1920x1080/50fps / 1280x720/100fps / 848x480/200fps
- Loop recording
- Real Time Broadcasting (UStream)