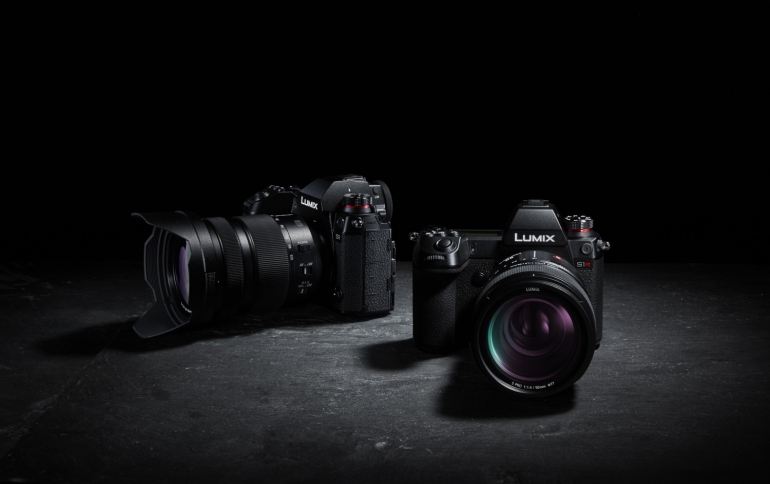 Panasonic Launches New LUMIX S Series Full-frame Mirrorless Cameras LUMIX S1R and LUMIX S1
After the development announcement at Photokina 2018, Panasonic is introducing the full specifications of its first full-frame Digital Single Lens Mirrorless cameras, the LUMIX S1R and S1, with a 35mm full-frame CMOS sensor.
The new cameras are based on the L-Mount standard, which boasts a large inner diameter and compact dimensions for a flange focus to realize optimum size and performance as a mirrorless camera system.
The LUMIX S1R integrates a 47.3-megapixel full-frame CMOS sensor (36mm x 24mm). In addition to the precise reproduction capability in detail, this sensor achieves a high S/N ratio by taking advantage of its high light-condensing efficiency despite the large number of pixels. The LUMIX S1R features a High Resolution mode for the first time as a mirrorless full-frame camera to enable 187-megapixel photo shooting.
The LUMIX S1 comes with a 24.2-megapixel full-frame CMOS sensor (35.6mm x 23.8mm). The camera records 4K 60p/50p video and enables full-pixel readout of signals in 4K 30p/25p. Furthermore, the LUMIX S1 will comply with 4:2:2 10-bit 4K 30p/25p internal video recording and 4K 60p/50p HDMI output as well as V-Log, with a software upgrade key (to be sold separately) following soon in 2019.
Panasonic's Contrast AF system with DFD technology has evolved through the development of numerous mirrorless cameras to make the AF system of the LUMIX S1R/S1 even more practical. It achieves not only the industry's fastest level of focusing speed but also a tracking performance that is made possible by the adoption of Advanced AI Technology that accurately recognizes moving target subjects. The LUMIX S1R/S1 incorporates a Body I.S. (Image Stabilizer) to compensate for the hand-shake movement. Combining the Body I.S.(5-axis) and the O.I.S. (Optical Image Stabilizer, 2-axis) in the LUMIX S Series lenses, the Dual I.S. 2 boasts even more powerful compensates for virtually any types of blur.
The S1R provides a 5.76M-dot OLED electronic viewfinder, with 60 fps or 120 fps selectable refresh rate. It's also equipped with a 3.0" 2.1M-dot touch screen that tilts on three axes. The camera also provides a top panel status LCD.
The Panasonic Lumix DC-S1R will be available in early April for $3699 body-only or $4599 with the new 24-105mm F4.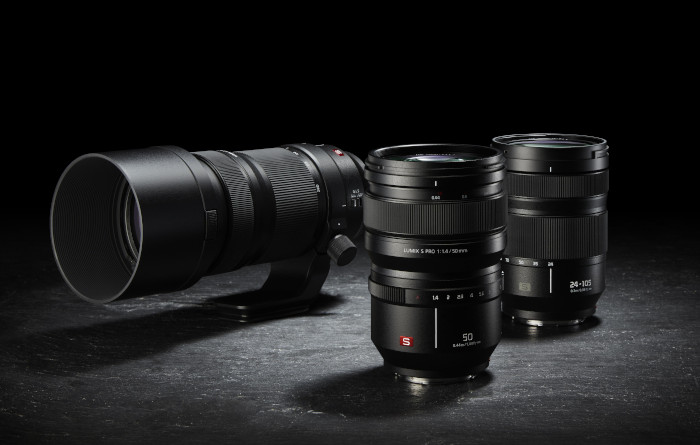 Panasonic also introduced three new interchangeable lenses based on the L-Mount system for the LUMIX S Series Full-frame Digital Single Lens Mirrorless Camera.
LUMIX S PRO 50mm F1.4 (S-X50) - A large-aperture fixed focal length lens that forms the core of the LUMIX S Series of lenses
LUMIX S PRO 70-200mm F4 O.I.S. (S-R70200) - A telephoto zoom lens that features high resolution with clarity across the entire zoom range
LUMIX S 24-105mm F4 MACRO O.I.S. (S-R24105) - A standard zoom lens with macro shot capability covering wide-angle to medium telephoto
The L-Mount is a lens mount for mirrorless cameras that was launched by Leica and is equally suitable for both the APS-C format and full-frame cameras.
The Lumix S Pro 50mm F1.4 features 13 elements - two aspherical and three ED - and an 11-blade aperture. Panasonic claims that one of the aspherical elements is among the largest ever created, with a diameter of over 40mm. The lens has two focus motors - linear and stepping - designed to operate with 480 fps sensor readout.
The Lumix S Pro 70-200 F4 OIS's stabilization works in conjunction with the S1/S1R's in-body IS to provide up to 6.5 stops of shake reduction. It has 23 elements, including aspherical, UHR, UED and ED. It uses a linear motor with a 480 fps AF control. As with the 50mm F1.4, the 70-200 is weather-sealed, has a focus clutch and is designed to reduce focus breathing.
The Lumix S 24-105mm F4 Macro OIS, which will serve as the kit lens for both the S1 and S1R. It too is stabilized, and has one ED, two aspherical ED, two aspherical and three ED elements. The 24-105 uses a linear motor, again with 480 fps AF control. The minimal focus distance on this general-purpose lens is 0.3m, with a maximum magnification of 0.5x.
All three lenses are dust and moisture-sealed, and the two 'S Pro' models include a focus clutch for quick switching between auto and manual focus.
The three new lenses will ship in early April. The 50mm F1.4 is priced at $2299, the 70-200 F4 at $1699 and the 24-105mm F4 at $1299. Buying the S1/S1R kit effectively lowers the price of the 24-105mm F4 to $899.