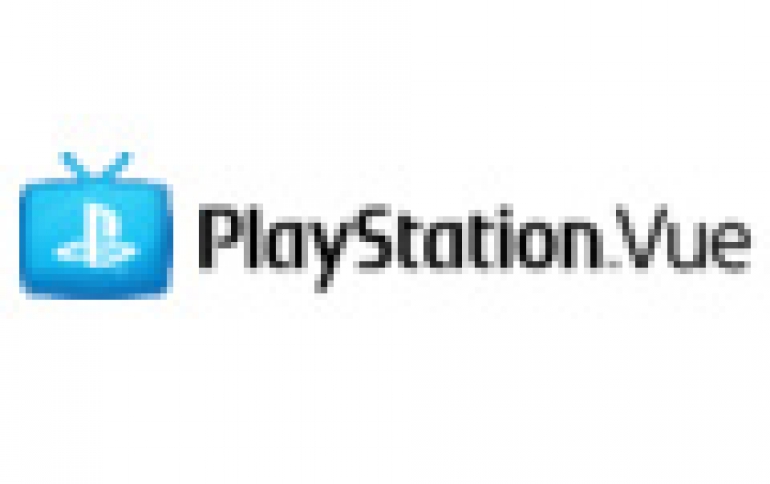 PlayStation Vue Launches Today, Offering Access To Live TV And On-demand Content
Sony's PlayStation Vue, a cloud-based TV service, will launch today on PlayStation 4 and PlayStation 3 computer entertainment systems. Offering live and on-demand TV content over the Internet, PlayStation Vue is available initially in New York, Chicago and Philadelphia, starting at $49.99 per month. In addition, PlayStation Vue will also include new network partners such as Fox News Networks, AMC Networks, and Turner Broadcasting.
"The TV experience needs a revolution and PlayStation Vue changes the rules by embracing how today's viewers want to discover and enjoy content," said Andrew House, President and Global CEO of Sony Computer Entertainment Inc. and Group Executive in charge of the Network Entertainment Business. "PlayStation Vue modernizes the TV viewing experience, taking the best of live TV and on-demand content and bringing it to the PlayStation ecosystem in a way that gives control back to viewers and enables them to spend more time watching their favorite programs and less time channel surfing using outdated menus."
PlayStation Vue enables viewers to watch all channels live and see what is trending. User are able to tag shows to watch later with the service's DVR feature. Every episode aired thereafter will be available for up to 28 days in the cloud with no storage limit or scheduling conflicts to manage.
The service will offer live and on-demand content from more than 85 channels at launch, including many local broadcast stations. These include the following networks and channels:
CBS - At launch, PlayStation Vue will offer the CBS Television Network's live linear signal in its owned-and-operated markets. On-demand prime-time programming will be available as well.
Discovery Communications - Discovery Channel, TLC, Animal Planet, Investigation Discovery, Science, OWN: Oprah Winfrey Network, Velocity and 11 more brands.
Fox - Fox Networks Group's portfolio of national entertainment programming services, including - FX, FXX, FXM, National Geographic Channel and Nat Geo WILD. Additionally FOX Sports' national and regional programming services - FOX Sports 1, FOX Sports 2, BTN, Fox's regional sports networks, including YES Network. Plus the live linear signals of the Fox owned and operated broadcast television stations.
Fox News Network - Fox News Channel and Fox Business Network.
NBCUniversal - NBCUniversal's portfolio of national programming services – Bravo, Chiller, Cloo, CNBC, CNBC World, E!, Esquire, Golf Channel, MSNBC, NBCSN, NBC UNIVERSO, Oxygen, Sprout, Syfy, Universal HD and USA. Additionally, the agreement includes the NBC and Telemundo owned television stations, as well as multiple NBC Sports Regional Networks.
Scripps Networks Interactive - HGTV, Food Network, Travel Channel, DIY Network and Cooking Channel.
Turner Broadcasting -TBS, TNT, Cartoon Network, Adult Swim, CNN, CNN en Espanol, Boomerang, Turner Classic Movies (TCM), HLN and truTV.
Viacom –-BET, CMT, Comedy Central, MTV, Nickelodeon, Nick Jr, TV Land, Spike, VH1 and more.
AMC Networks - AMC, IFC, SundanceTV and WE tv (available next month).

Sony is offering three PlayStation Vue packages:
The Access package costs $49.99 per month and includes broadcast networks like CBS, FOX, and NBC as well as more than 45 of the most popular channels such as Discovery Channel , FX, Fox News Channel, USA Network, Food Network, TNT, Nickelodeon and AMC (available next month).

The Core package costs $59.99 per month and includes all the channels in the Access package, plus local regional sports networks such as YES Network in New York, Comcast SportsNet Chicago, and Comcast SportsNet Philadelphia, as well as additional sports and movie networks.

The Elite package costs $69.99 per month and includes all the channels in the Access and Core packages as well as more than 25 lifestyle, music and family channels.
Starting today, PlayStation Vue is available in New York, Chicago and Philadelphia on PlayStation 4 and PlayStation 3 systems from PlayStation Store. Additional markets will launch later this year. PlayStation Vue will also become available on iPad and other devices in the near future.
PlayStation Vue will compete with Dish Network Corp, which unveiled a $20-a-month video streaming service, named Sling TV, targeted at younger consumers who shun pricey cable and satellite subscriptions. Netflix Inc and Amazon Inc have been offering on-demand online video content through licensing deals with media networks for years.
Wireless carrier Verizon Communications Inc is gearing up to launch its own online video service this summer.
Apple is in talks with programmers to offer a slimmed-down bundle of about 25 channels, including ABC, CBS and Fox networks this fall, the Wall Street Journal reported on Monday, citing people familiar with the matter. That would be available across all devices powered by Apple's iOS operating system, including iPhones, iPads and Apple TV set-top boxes, the newspaper said.