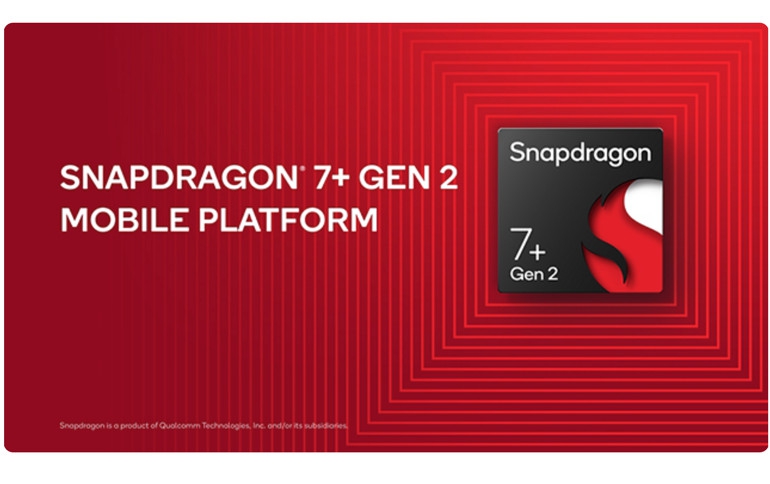 Qualcomm Unveils Game-Changing Snapdragon 7-Series Mobile Platform
Qualcomm Technologies announced the new Snapdragon® 7+ Gen 2 Mobile Platform—delivering premium experiences brand new to the Snapdragon 7-series. Snapdragon 7+ Gen 2 provides exceptional CPU and GPU performance fueling swift, nonstop gaming, dynamic low-light photography and 4K HDR videography, AI-enhanced experiences and high-speed 5G and Wi-Fi connectivity.
"Snapdragon is synonymous with premium mobile experiences. Today's launch of the Snapdragon 7+ Gen 2 illustrates our ability to bring some of the most in-demand flagship features to our Snapdragon-7 series—making them accessible to more people," said Christopher Patrick, senior vice president and general manager of mobile handsets, Qualcomm Technologies, Inc. "We are committed to delivering the most innovative solutions to meet the needs of consumers, our customers, and the industry at large."
Snapdragon 7+ Gen 2 brings exceptional performance to the top of the 7-series fueling a host of legendary experiences. The Qualcomm® Kryo™ CPU boasts peak speeds up to 2.91GHz, for over 50% improved performance1, while the Qualcomm® Adreno™ GPU provides 2x improved performance1. Snapdragon 7+ Gen 2 achieves up to 13% improved power efficiency across the system for extended daily use. On-device AI is integrated across the entire platform.
Gaming: Supported by select Snapdragon Elite Gaming™ features like Auto Variable Rate Shading (VRS), Snapdragon 7+ Gen 2 optimizes power and performance by rendering content in focus at full resolution and the scene's background at a lower resolution. Volumetric Rendering also adds unrivaled realism to game scenes with particle graphics like fog and smoke. Snapdragon 7+ Gen 2 features Snapdragon Sound™ with Qualcomm® aptX™ for lossless music streaming and lag-free sound for gaming.
Capture: Snapdragon 7+ Gen 2 features an 18-bit Triple ISP, allowing users to capture in mega low light mode—snapping 30 images and merging the best parts into one shot for brighter, clearer, more colorful photos after dark. Consumers can capture over 4,000x more camara data2 for extreme dynamic range with vivid color and clarity. Snapdragon 7+ Gen 2 supports up to 200MP photo capture and staggered HDR video capture with triple exposure from two cameras simultaneously.
AI: The integrated Qualcomm® AI Engine, which has over 2x improved AI performance with 40% better performance per Watt than its predecessor1, offers AI-enhanced experiences for utmost simplicity. Also featured is the Qualcomm® Sensing Hub with a dedicated AI processor, powering contextually aware use cases such as user activity recognition and acoustic scene detection. Snapdragon 7+ Gen 2 enables AI Super Resolution to intelligently upscale game scenes or photos for superior visual quality from a low-resolution image (1080p to 4K).
Connectivity: Powered by the Snapdragon X62 5G Modem-RF System, Snapdragon 7+ Gen 2 offers blazing download speeds of up to 4.4 Gbps and outstanding power efficiency—supporting more networks, frequencies, and bandwidths globally. For the first time in the Snapdragon 7-series, this platform includes support for 5G/4G Dual-Sim Dual Active (DSDA) so consumers can utilize two SIMs when traveling or to separate their work and personal communications. Snapdragon 7+ Gen 2 features the Qualcomm® FastConnect™ 6900 Mobile Connectivity System to deliver blazing fast, extremely responsive Wi-Fi — at up to 3.6 Gbps.
Snapdragon 7+ Gen 2 will be adopted by key OEM brands including Redmi and realme, with commercial devices expected to be launched this month. For more information about Snapdragon 7+ Gen 2 visit https://www.qualcomm.com/products/mobile/snapdragon/smartphones/snapdrag...