RIM Introduces New BlackBerry 7 Touchscreen Smartphones
Research In Motion on Wednesday unveiled two new and powerful versions of its touchscreen BlackBerry Torch, including an all-touch model, as it seeks to regain ground lost to Apple and Google. The company announced plans to launch 5 new BlackBerry smartphones based on the BlackBerry 7 Operating System (OS). RIM, in conjunction with carriers and distribution partners around the world, is rolling out two new BlackBerry Bold models and three new BlackBerry Torch models, all running the new BlackBerry 7 OS.
The launch of this family of handsets will be RIM?s largest global launch ever and more than 225 carriers and distribution partners have already commenced or completed over 500 certification programs for these 5 new handsets.
The new BlackBerry Bold 9900 and 9930 are RIM?s thinnest smartphones ever, each offering a large keyboard and touch display. The new BlackBerry Torch 9810 smartphone builds on the popularity of the BlackBerry Torch 9800 and combines a touch display with a slide-out keyboard. The BlackBerry Torch 9850 and 9860 introduce an all-new, all-touch design featuring the largest display on a BlackBerry smartphone to date.
BlackBerry 7 introduces a next generation BlackBerry browser with a faster, more fluid web browsing experience. Combining the improved performance of the advanced WebKit browser engine together with the hardware enhancements found in the BlackBerry 7 based smartphones delivers browsing results that are up to 40% faster than BlackBerry 6 based smartphones and up to 100% faster than BlackBerry 5 based smartphones. Additional enhancements to this next generation BlackBerry browser have also optimized zooming and panning for smoother web navigation and optimized HTML5 performance.
RIM?s new BlackBerry 7 based smartphones also feature Liquid Graphics technology, with each smartphone combining a dedicated high-performance graphics processor with a fast CPU and high resolution display.
In addition, BlackBerry 7 based smartphones continue the tradition of delivering an integrated suite of phone, email, messaging and social apps. Recent enhancements include the newest release of BBM (BlackBerry Messenger) which now extends the real time BBM experience to a range of other apps. The updated Social Feeds (2.0) app has been extended to capture updates from media, podcasts, and favorites all in one consolidated view. The new Facebook for BlackBerry smartphones (2.0) app introduces features like Facebook chat and BBM integration that makes it easier for users to connect with their Facebook friends in real time.
BlackBerry 7 OS also includes a number of other pre-loaded applications. The Premium version of Documents To Go is now included free of charge, offering users document editing features as well as a native PDF document viewer. BlackBerry Protect is also pre-loaded, offering customers the peace of mind that personal data can be backed up and secured in the cloud. BlackBerry Balance is now integrated in BlackBerry 7, allowing users to enjoy the full BlackBerry smartphone experience for both work and personal purposes without compromising the IT department?s need for advanced security and IT controls. And further, the popular universal search capability has been enhanced with support for voice-activated search, so users can now simply speak to begin searching their device and the web for information.
In addition to supporting the new BlackBerry 7 OS, each smartphone also features a range of hardware enhancements including a 1.2 GHz Qualcomm processor, HD video recording, 24-bit high resolution graphics, and advanced sensors enabling new augmented reality applications such as Wikitude that can be integrated with BBM 6.
The BlackBerry Bold 9900 series is the thinnest BlackBerry smartphone yet (at only 10.5mm) and the first to offer a keyboard and touch display integrated within the iconic BlackBerry Bold design. The new BlackBerry Bold 9900 and 9930 are also the first BlackBerry smartphones to include built-in support for NFC (Near Field Communications), a new technology that is enabling many new capabilities, including the ability to pair accessories or read SmartPoster tags with a simple tap of the smartphone. The BlackBerry Bold 9900 series is crafted with premium materials including a brushed stainless steel frame.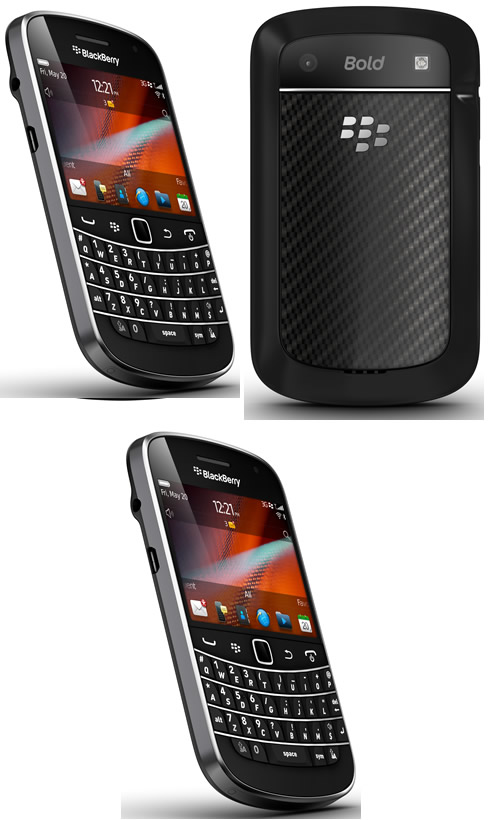 Building on the design of the BlackBerry Torch 9800, the new BlackBerry Torch 9810 is faster and more fluid with high performance hardware features and the new BlackBerry 7 OS. It features a 3.2", high resolution touch display and a distinctive BlackBerry keyboard that easily slides out to allow faster typing.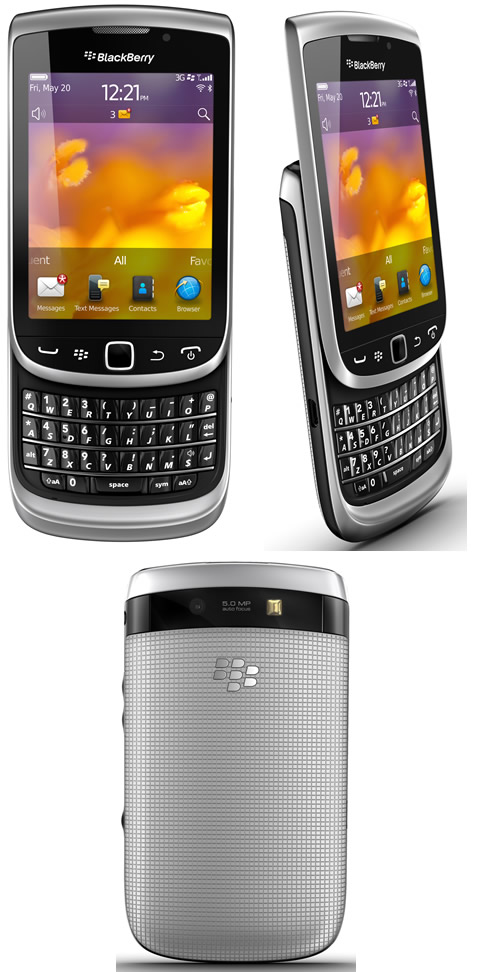 The BlackBerry Torch 9850 and 9860 smartphones offer the BlackBerry 7 experience in a new all-touch design. With a new 3.7" display, the largest ever on a BlackBerry smartphone, the new all-touch BlackBerry Torch 9850 and 9860 smartphones are optimized for displaying web pages, photos, videos, and powerful gaming experiences and still deliver real-time communication and collaboration experience.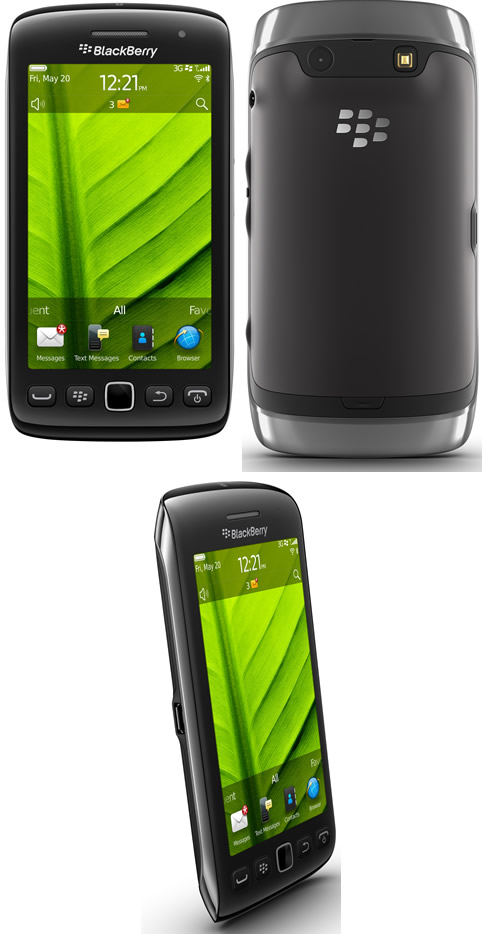 The new BlackBerry smartphones will begin to be available from carriers around the world starting later this month, RIM said. The slider Torch will be exclusive to AT&T in the United States, the carrier said.