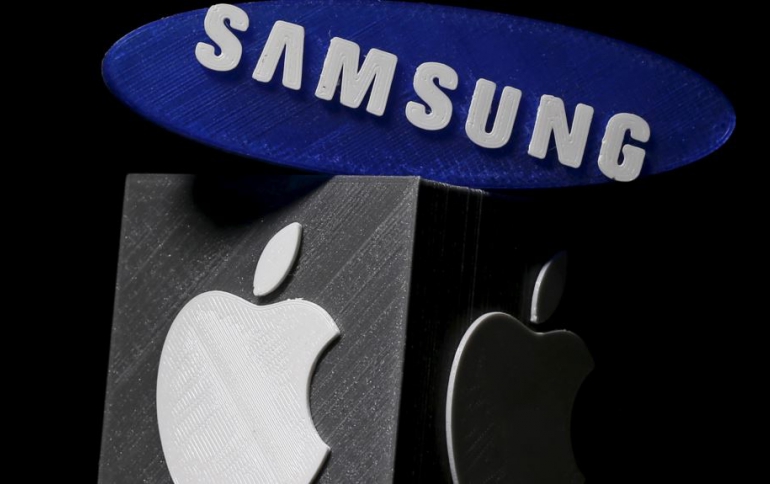 Samsung Should Pay Apple $539 million in Patent Retrial
After nearly five days of deliberations, a U.S. jury on Thursday said Samsung Electronics should pay $539 million to Apple for copying patented smartphone features, in the final throes of the companies' U.S. court struggle over smartphone technology.
Samsung and Apple have been in court over patents since 2011, when Apple filed a lawsuit alleging Samsung's smartphones and tablets "slavishly" copied its products. Samsung was found liable in a 2012 trial, but a disagreement over the amount to be paid led to the current retrial over damages where arguments ended on May 18.
Jurors in federal court in San Jose, California, decided only on damages Thursday. The basic question for the jury was: Should Samsung have to pay damages based on sales of its smartphones or just their components that infringed the iPhone maker's patents? It was already established that the South Korean company infringed three of Apple's design patents -- covering the rounded corners of its phones, the rim that surrounds the front face, and the grid of icons that users view -- and two utility patents, which protect the way something works and is used.
Samsung previously paid Apple $399 million to compensate Apple for infringement of some of the patents at issue in the case. The jury has been deliberating the case since last week.
Because of that credit, if the verdict is upheld on appeal it will result in Samsung making an additional payment to Apple of nearly $140 million.
"We believe deeply in the value of design," Apple said in a statement. "This case has always been about more than money."
"Today's decision flies in the face of a unanimous Supreme Court ruling in favor of Samsung on the scope of design patent damages. We will consider all options to obtain an outcome that does not hinder creativity and fair competition for all companies and consumers," Samsung said.
Samsung sought to limit damages to about $28 million, saying it should only pay for profits attributable to the components of its phones that infringed Apple patents.
Apple's case against Samsung raised the question of whether the total profits from a product that infringes a design patent should be awarded if the patent applies only to a component of the product.
The two companies remain far ahead of the competition globally in phone sales.
In the first quarter this year, Apple held 16 percent of the smartphone market, while Samsung accounted for 23 percent, according to data from IDC.