SK Telecom Demos Elastic Cell, Withdraws From European Market
SK Telecom has shut down its European office after 12 years in business in order to focus on the Southeast Asian markets. In addition, the company is working wsth Ericsson and demonstrated the Elastic Cell technology, which is expected to become a key enabler for 5G. The company closed SK Telecom Europe, located in London, late last month. Even so, it is still maintaining its two investment companies, i.e., SK MENA Investment in the Netherlands and SK Latin America Investment in Spain.
SK Telecom has incorporated five medical subsidiaries in China.
The Korean telecom company on July 21 demostrated the Elastic Cell technology, also known as Flexible Cell. This is a new technology that enables multiple cells near the handset to cooperate for every transmission thereby creating a user-centric environment, compared to the current cell-centric one where each handset communicates with only one specific cell.

A serving cell receives information on nearby cells from a handset and selects a group of cells that can improve the network quality in the cell-edge for transmission while temporarily turning off the cells that cause interferences. As a result, Elastic Cell can ensure more seamless data transmission by preventing possible quality degradation that can occur when the handset moves across cell boundaries.

According to SK Telecom and Ericsson, the demonstration confirmed that the technology can improve data transfer rate by up to 50 percent at the cell boundary areas compared to the existing LTE network. With an aim to commercialize Elastic Cell by 2016, SK Telecom will continue to advance the technology.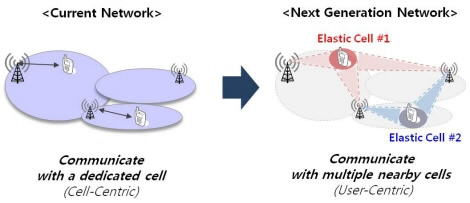 Once applied, Elastic Cell will enable SK Telecom to provide an optimized network service to each individual device regardless of its location while bringing the company one step closer to achieving the goal of '1Gbps data throughput anywhere' which is also one of major issues in the minds of 'METIS (Mobile and wireless communications Enablers for the Twenty-twenty Information Society)', an EU project for 5G research, and 5G Forum, an industry-academia R&D partnership for 5G in Korea.

Earlier on July 6, the two companies signed a memorandum of understanding at Ericsson?s headquarters in Sweden for joint research on 5G technologies.
In related news, SK telecom is facing a lawsuit by Toshiba, which is seeking for 109.1 billion yen (US$1.07 billion) in damages over the alleged theft of flash memory-chip technology.
SK hynix said it would fight for the dismissal of the complainant's claim.
Toshiba filed the civil lawsuit against the firm with Tokyo District Court four months ago.
Toshiba is also seeking to have SK Hynix destroy all information about the NAND technology in question and cease production and sales of NAND memory products using that technology.
Toshiba and U.S. partner SanDisk Corp filed separate civil lawsuits against SK Hynix seeking damages over the suspected theft of data related to their flagship flash memory chip technology used in smartphones and tablet computers.