Smartphones, HDTVs Are the Most Planned CE Purchases This Year
Smartphones and HDTVs are the top consumer electronics products U.S. households plan to purchase over the next 12 months, according to a new study released today by the Consumer Electronics Association (CEA). According to the study, more than one in five (22 percent) U.S. households say they plan to purchase smartphones in the next 12 months. HDTVs (17 percent) and digital cameras (15 percent) are next on the list. Mobile computing will continue to be a popular purchase this year as well. Both tablet computers and notebook/laptop computers are expected to be purchased by 14 percent of U.S. households, CEA found.
Tablet computers were also a leading growth category over the past 12 months, CEA said. U.S. household penetration levels for tablets increased 14 percentage points from last year and represents the largest increase in the industry. Blu-ray players and digital media players also saw double digit growth in household penetration numbers.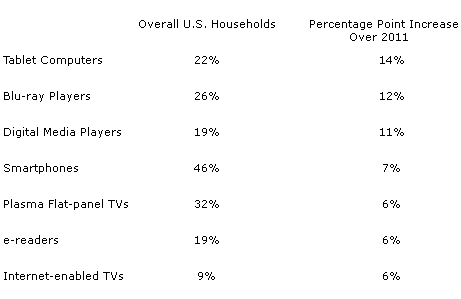 "Consistent with past research and trends we are seeing, tablets and smartphones will continue their dominance in the marketplace over the coming year," said Chris Ely, CEA's manager of industry analysis. "As consumers continue to integrate these mobile connected devices into their everyday lifestyles, we expect to see an increase in ownership of all-in-one devices and related content."
As ownership rates for connected devices increases, more households are subscribing to video rental and streaming services. CEA estimates that nearly 31 million U.S. households (26 percent) will be watching content streamed online and growth will continue this year as nine percent of new households are expected to subscribe to a video rental and steaming service this year.
Televisions remain the most commonly owned CE device, with 99 percent of U.S. households owning at least one TV. The average U.S. household owns 2.9 televisions. Nearly seven in ten (68 percent) U.S. households report owning at least one HDTV. In addition, half (54 percent) of U.S. households report they own at least one LCD TV and approximately one-third (32 percent) report they own at least one plasma TV.
Of the 37 CE devices surveyed by CEA, the average U.S. household owns 24, the same number as last year, and spent $961 on consumer electronics over the past 12 months, down more than $200 from last year. The average adult individually reports spending $552 on CE in the past 12 months, down $100.
"The average household continues to own electronics at a high rate, with ownership of all-in-one devices seeing significant growth," said Ely. "Consumers continue to purchase electronics, but we see a decrease in overall spending as they are buying at a bargain, seeking deals and discounts on the devices they desire, and taking advantage of declining price points for certain product categories."