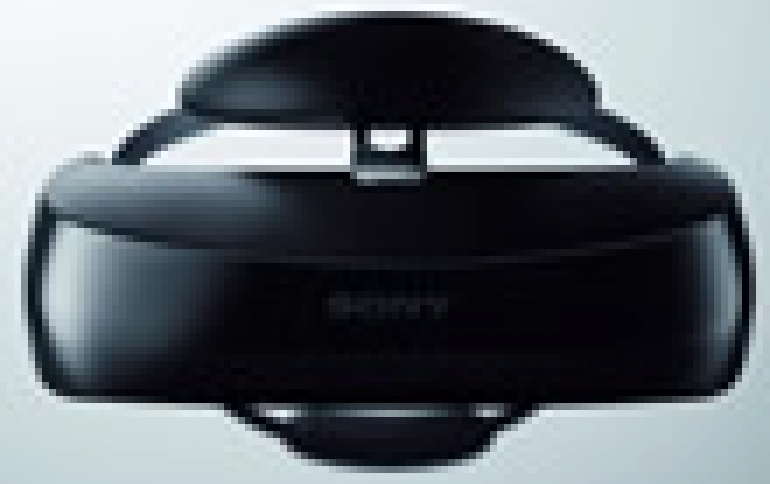 Sony HMZ-T3W Head Mounted Display Coming Soon
Whether you're a movie lover or a dedicated gamer, the new Sony HMZ-T3W Head Mounted Display brings your favourite content to life with super-size HD images and wireless freedom. Sony's headset is bringing your own super-size cinema with you on holiday or while you're travelling. You can also hook up your console, PC, mobile device or smartphone and enjoy a new view of movies, games and apps with a massive virtual screen size that's equivalent to viewing a 750-inch cinema screen from 20m away.
The compact battery box keeps the HMZ-T3W powered for hours as you enjoy videos or games on the move. You can even charge the battery of your smartphone or tablet as you watch and play when connected via MHL.
The ergonomically-styled head mounted unit features flexible headbands that adjust instantly to fit anyone. There's a large, cushioned head pad to reduce wear pressure, plus easy lens adjustment for relaxed viewing.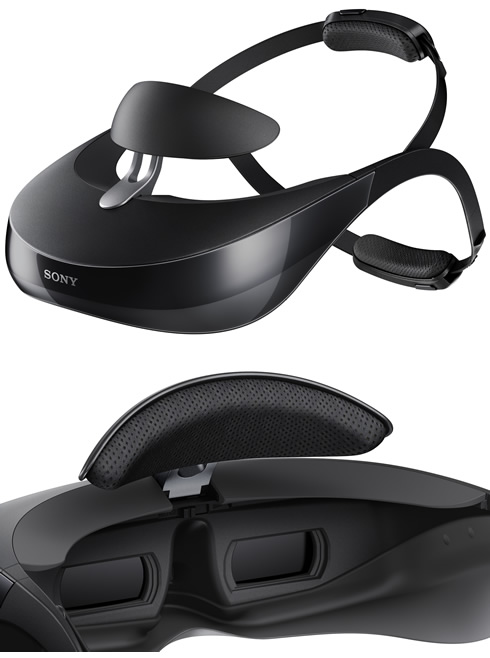 The HMZ-T3W liberates you from your PC or AV rack. New WirelessHD lets you enjoy personal entertainment anywhere in the room with uncompressed HD video with near-zero latency and digital sound.
7.1 channel virtual sound adds an extra dimension of realism to movies and games. Listen through the supplied 16mm driver in-ear phones, or team the HMZ-T3W with your own headphones. Sony's Virtual Surround Technology creates a 360° soundstage with dialogue, music and effects placed around you.
The new HMZ-T3W Head Mounted Display from Sony is available in Europe from November 2013.
Display device

OLED panel x2 (1280x720 resolution)

Virtual image size

750 inches at 20m distance

3D ready

Yes

Field of view

45 degrees

Headphone driver

16mm

Headphone frequency response

4-27000 Hz

Headphone sensitivity

106dB/mW

Picture Modes

Vivid, Standard, Cinema, Game 1/2/3/4, Custom 1/2

Picture Settings

Clear Black, Picture, Brightness, Colour Temperature, Sharpness

24p True Cinema

Yes

Picture Control for Dark Adaptation

Yes

Preset Audio Modes

Standard, Cinema, Game, Music, Off

HDMI/MHL Input(s) and Output(s)

Processor Unit: 3 inputs (HDMI) / 1 through-output(HDMI) / Battery Unit: 1 input (MHL/HDMI)

HMD Output(s)

1 output (HDMI)

HDMI CEC Control

Play, Pause, Next, Previous, Fast forward, Fast rewind

Other features

Video through-out, Auto power off, Wearing sensor, Prolonged viewing warning, password function

Dimensions (WxHxD)

Approx.189 x148 x270mm (Head Mounted Unit - with bands) /

80 x26 x119 (Battery Unit) / 150 x 31 x 107mm (Processor Unit)

Weight

Approx. 320g (Head Mounted Unit – cable not included) / 210g (Battery Unit - cable not included) / 250g (Processor Unit)

Battery life (with in-built lithium battery)

3h (wireless connection) / 7h(HDMI connection) / 3h (MHL connection)

Supplied accessories

In-ear headphones, headphones attachments (S/M/L), 2x AC adaptors, AC cable, 1.5m HDMI cable, ambient light shield, carrying case