Sony SmartEyeglass Developer Edition SED-E1 Available In March
Sony's SmartEyeglass prototype takes a step forward with its commercialisation and launch starting from next month. The SmartEyeglass Developer Edition SED-E1 has bee desifgned for developers, who will get access to both the physical sample and official supporting software developer kit.
Pre-order starts from today in United Kingdom and Germany, with SmartEyeglass Developer Edition available from our Sony Developer World portal from early March for around €670. At launch SmartEyeglass Developer Edition will also be available for purchase ($840) in the United States and Japan. It will also be available only for Sony's enterprise customers in France, Italy, Spain, Belgium, Netherlands and Sweden.
The "SmartEyeglass" transparent lens eyewear connects with compatible smartphones (Android 4.4 or higher) to superimpose information such as text, symbols, and images onto the user's field of view.
The device is equipped with a diverse range of sensing technologies, including a CMOS image sensor, accelerometer, gyroscope, electronic compass, brightness sensor, and microphone. It utilizes these features, together with GPS location information obtained from the connected smartphone, to provide information tailored to the user's immediate circumstances.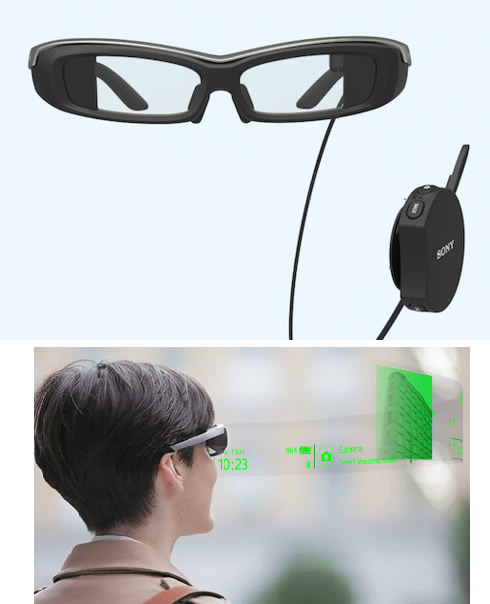 Sony has leveraged its hologram optics technology to develop a lens that achieves a high transparency of 85% and a thickness of just 3.0 mm, without the use of half mirrors that obstruct the user's vision.
Holographic waveguide technology entails the propagation of image light that is output from the optical engine, using holographic optical elements embedded in both sides of a glass plate. The light is propagated through the 1 m) glass plate and then delivered to the eyes.
Furthermore, the monochrome display ensures that while energy consumption is lower than a color display, high luminance (up to 1,000 cd/m2) is achieved, realizing a binocular display with clearly legible text under a wide range of conditions.
The exchange of information, from sensing data to images, between the SmartEyeglass and a wirelessly connected smartphone means that, depending on the smartphone app, the device has the potential to be used in a wide range of scenarios.
Specifications
HMD type
Binocular see-through with a separate controller
Resolution
419 (H) X 138 (V) pixel
Angle of view
Diagonal 20° (Horizontal 19° x Vertical 6°)
Image color
Monochrome green with 8 bit grey scale
Frame rate
15 fps
Brightness (max.)
1,000 cd/m2
See-through transmittance
More than 85%
Sensors
Accelerometer, gyroscope, electronic compass, brightness sensor, microphone, noise-canceling microphone
Camera
Still: 3M pixel
Video (soundless): JPEG Stream - QVGA-equivalent 15 fps (requires a camera API; for more information, refer to the SDK)
Sound
Speaker in controller
Power source
Built-in lithium ion battery
Battery life
Not using the camera: approximately 150 minutes
Using the camera: approximately 80 minutes
Connectivity with Android device
Bluetooth v3.0, IEEE802.11b/g
Android OS requirements
Android 4.4 or above
Maximum external dimensions
Eyewear: when folded - approximately 180 mm × 39 mm × 72 mm (width/height/depth); when unfolded - approximately 180 mm × 39 mm × 182 mm
Controller: approximately 54 mm × 21 mm × 60 mm (not including protruding part)
Cable: approximately 63 cm (length)
Weight
Approximately 77 g (glasses excluding cable); approximately 44 g (controller)
Operating temperature range
5℃ to 35℃
Storage temperature range
-15℃ to 50℃