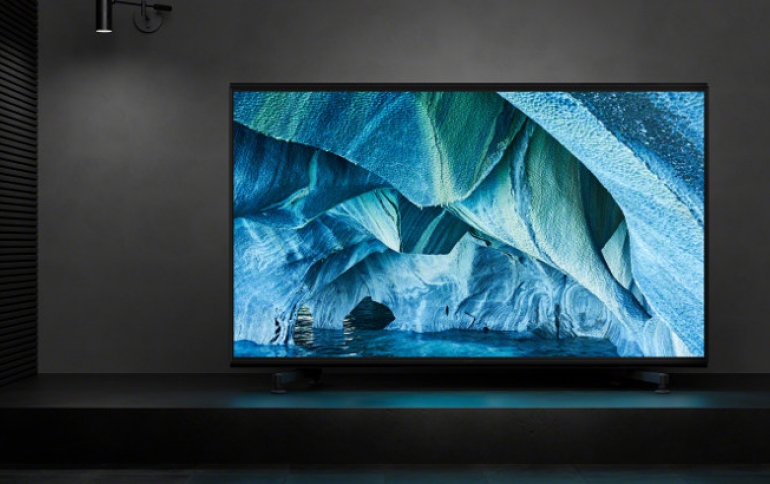 Sony Unveils Newest Products at CES 2019
Sony Corporation President & CEO Kenichiro Yoshida spoke at the Sony press conference held on Monday, January 7, stating that "Sony is a Creative Entertainment Company."
"We at Sony partner with content creators who make the music, the movies, the television shows and the games that engage billions of eyes and ears and minds around the world. We'd like to showcase how Sony's professional grade technologies support creators across the entertainment industries to produce compelling content. You will also see how our consumer products connect creators and users, by enabling people to enjoy content at the highest possible quality," he said.
He also introduced that "Communities of Interest," communities of people who share similar interests, emotional values and experiences, are formed around Sony's entertainment content and hardware products such as PlayStation and α, interchangeable-lens digital cameras. He closed by asserting that "with our technology, Sony is also there to deliver the very best entertainment experience to the fans, and fill the world with emotions."
Next to take the stage were Tom Rothman (Chairman, Motion Pictures Group, Sony Pictures Entertainment (SPE)) and Kristine Belson (President, Sony Pictures Animation, SPE). They went on to describe how Sony's technology and products help turn creators' vision into reality. They then introduced examples such as Sony's CineAlta Camera VENICE and α9 full-frame mirrorless camera that were used in the creation of TV shows and films. They also highlighted Sony's new TV lineup, including the BRAVIA MASTER Series that adapts the creators' artistic intent and delivers content to users.
Additionally, Rob Stringer (CEO, Sony Music Entertainment) took the stage and pointed to the "Lost In Music" brand campaign as an example of combining music and Sony's latest technology. He then introduced that Sony will deliver new music experiences to music fans with 360 (THREE SIXTY) Reality Audio.
Visual Entertainment
Sony's booth at this year's CES showcases the BRAVIA MASTER Series' new lineup and shows off Sony's high picture and audio quality technology.
The BRAVIA MASTER Series ZG9 8K HDR Full Array LED TV (98"/85"), Sony's first 8K HDR Full Array LED TVs, feature the latest-generation Picture Processor X1 Ultimate equipped with 8K an ultra-resolution algorithm custom database, enabling the 8K X-Reality PRO to up-convert any content closer to true 8K quality. Additionally, Sony's Backlight Master Drive technology features a newly developed LED module and control algorithm optimised for 8K.
Additionally, Acoustic Multi-Audio featuring the four speakers located above and below the screen allows viewers to hear the sound coming from the screen, and not where the speaker is located, achieving a high level of audio quality.
The new flagship BRAVIA MASTER Series AG9 4K HDR OLED TVs (77"/65"/55") are approximately half the thickness of previous models when wall-mounted, blending in with any space. In addition to the Picture Processor X1 Ultimate, it features a Pixel Contrast Booster panel control technology, which faithfully reproduces everything from the deepest blacks to the highest luminosity colours with stunning vibrancy. Alongside Acoustic Surface Audio+ technology that produces sound from the screen itself harmonising the image and audio for a surround-sound experience and TV Centre Speaker Mode, it is also compatible with Dolby Atmos, the latest audio format.
The BRAVIA MASTER Series TVs feature Netflix Calibrated Mode. Additionally, these TVs are part of the IMAX Enhanced certification program that is the result of collaboration between Sony's engineers together with IMAX, DTS.
Both the ZG9 Full Array LED and the AG9 OLED TVs feature Sony Android TV. To make the TV and home even smarter, the ZG9 and AG9 TVs have Google Assistant built-in. Additionally, both TVs have built-in microphones that will free users' hands. The TVs also work with popular smart speakers such as Sony's own LF-S50G and SRS-XB501G, Google Home or Amazon Echo devices. With smart speakers, users can control their TV and stream content by simply using their voice – with more features to come later this year.
Sony Android TVs will be compatible with Apple AirPlay 2 and HomeKit. AirPlay 2 and HomeKit support will launch in ZG9, AG9, XG95, XG85 models in 2019.
In addition, Sony announced the AG8 4K HDR OLED, XG95/XG90 4K HDR Full Array LED, XG85 4K HDR LED, and WG6 Full HD HDR LED TVs, also to become available in 2019.
Music Entertainment
To support co-creation between artists and Sony's technology, Sony introduces 360 Reality Audio, a new music experience which creates "sound fields" that make listeners feel as if they are immersed in sound from all directions. This new experience brings new ways to enjoy music adding to the rich sound quality created by High Resolution Audio (Hi-Res) and audio functionality as seen in Sony's noise canceling technology.
360 Reality Audio is made possible through object-based spatial audio technology. It can add distance, angle, and other positional information to a sound source such as vocals, chorus, instruments, etc. to produce a three-dimensional sound field. The different sounds and musical elements can be projected anywhere inside a 360-degree space around the listener. This creates a rich music experience that feels just like being at a live concert. Compatible content will be produced in collaboration with major music labels and is expected to be made available through music distribution services.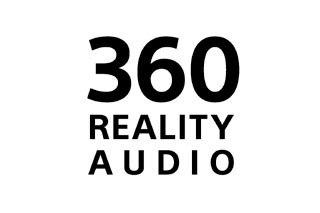 Bernhard Grill, Director, Audio and Media Technologies, Fraunhofer IIS, says, "We are excited to be part of this innovative project which allows consumers to listen to music in a completely new way. Sony's 360 Reality Audio, based on MPEG-H 3D Audio, is providing audiences with a highly creative, cutting-edge music experience. Thanks to the underlying support of MPEG-H object-based audio, the vocals, instruments and effects can be placed all around the listeners, immersing them like never before. With 360 Reality Audio, Sony offers a pioneering service for music lovers and creatives alike."
Sony plans to release a format optimized for music distribution. With the cooperation of the Fraunhofer IIS, part of Europe's largest organization for applied research, the format will be compliant with MPEG-H 3D Audio, an open audio standard.
The plan is to distribute 360 Reality Audio compatible content on the premium plans offered by music distribution services.
Sony is also looking into the potential for a variety of audio devices to support this new music content, but it will initially focus on technological development of Sony's headphones and speakers.
For headphones, a dedicated device will not be needed for the user to play back 360 Reality Audio compatible content. However, to deliver the best possible musical experience, it will be necessary to measure the hearing characteristics of the individual user's ear and apply signal processing accordingly to the reproduced sound. Sony is developing an app that will enable users to take photos of their own ears with a smartphone to create an optimized musical experience based on an analysis of the hearing characteristics of user's ears.
Other manufacturers' audio products that support the distribution format from Sony will also be able to play back 360 Reality Audio content. For headphones, in particular, it will be possible to enjoy the content simply by using apps offered by the participating music service providers.
The booth also features a multi-speaker system composed of 13 speakers and a demo using MDR-Z7M2 headphones. A wireless speaker system prototype which delivers a 360 Reality Audio experience are also showcased.
The display also features the Signature Series Hi-Res compatible audio products, which harness Sony's high audio quality technology cultivated over many years, and last autumn's WH-1000XM3 wireless headphones which feature noise canceling performance. Sony announced that the award-winning WH-1000XM3, WH-1000XM2 and WI-1000X will now be optimised for Amazon Alexa with firmware updates available from the end of January. Firmware updates for the WH-1000XM3, WH-1000XM2 and WI-1000X will be available from the end of January 2019.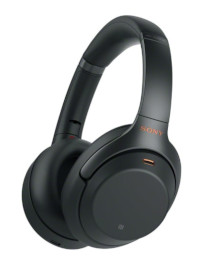 Responding to the artistic intent of photographers and film creators, Sony shows off the α9 and α7 series full-frame mirrorless camera, which allows for new imaging expressions, and a full array of custom designed mirrorless lenses including G Master, along with professional photographic artwork.
Additionally, with just one mount (E-mount), you can cover a diverse array of still and video cameras, and Sony is also expanding its product lines that can leverage a rich spectrum of custom designed lenses. On display are the α interchangeable-lens digital camera (compatible with E-mount lenses that support full-frame and APS-C size image sensors), XDCAM memory camcorder, and a professional cinematic camera, CineAlta VENICE.
PlayStation
PlayStation, Sony's largest "Community of Interest", continues to build on the strength of PlayStation 4 (PS4), which recently broke 91.6 million units in worldwide sell-through, and PlayStation Network, which features over 90 million monthly active users globally.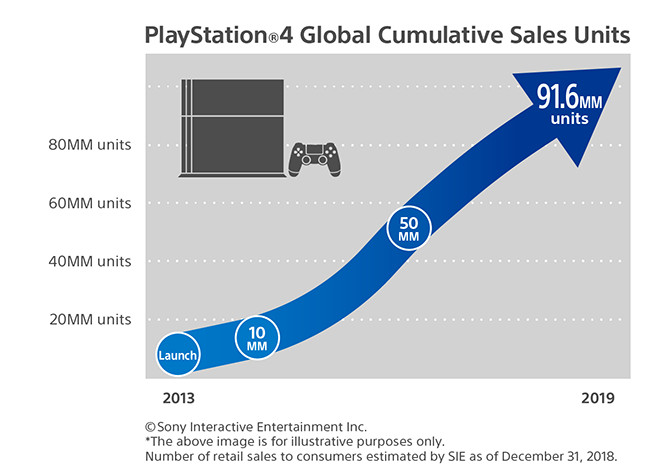 Sony's new home audio visual range
Sony's new X8500 soundbar supports Dolby Atmos and DTS:X. This 2.1ch single soundbar delivers object-based cinema sound which puts you in the middle of the action. Thanks to Sony's Digital Signal Processing technologies such as Vertical Surround Engine, up to 7.1.2ch surround sound can be experienced from the X8500 without the need for extra speakers. The built-in dual subwoofer delivers deep bass sound and with Cinema Mode on, one of the seven optimised sound modes, you can experience every film at its best.
The X8500 has eARC support for high quality audio codecs to pass through from your TV to your soundbar. BLUETOOTH wireless connectivity is also available, which allows you to connect your soundbar wirelessly to your TV.
With 320W of high power sound, the new HT-S350 soundbar delivers surround and powerful bass with its wireless subwoofer. It features Sony's S-Force PRO Front Surround technology, together with 5.1ch Decode support. Connect your soundbar to your TV via HDMI ARC for easy remote operation. This soundbar also has the BLUETOOTH connectivity function like the X8500.
The X8500 and S350 have a stylish bar design with perforated metal. The X8500, with a built-in dual subwoofer, has subwoofer ducts on the side of the bar, while the S350 has a matching subwoofer with a large duct.
The X800M2 supports 4K Ultra-HD Blu-ray playback and HDR formats including HDR10, Dolby Vision and Hybrid Log Gamma. 4K upscaling is also possible with the X800M2.
The new X800M2 also supports the latest audio formats including Hi-Res Audio. The X8500 and X800M2 support seamless pass-through of high quality Dolby Atmos and DTS:X content.
The X800M2 is also compatible with high definition formats including SACD and DVD-A. It also supports 4K streaming services including Netflix, and YouTube.
The HT-X8500 will be available from the end of March 2019 with an SRP of €400.
The HT-S350 will be available from the beginning of May 2019 with an SRP of €260.
The UBP-X800M2 will be available from May 2019 with an SRP of €350.
Sony also today announced the new UBP-X800M2 4K Ultra HD Blu-ray player.
The X800M2 supports 4K Ultra HD playback, HDR10, Dolby Vision, and Hybrid Log Gamma (HLG). Additionally, 4K upscaling is also possible with the X800M2, transforming non-4K content to near-4K quality content.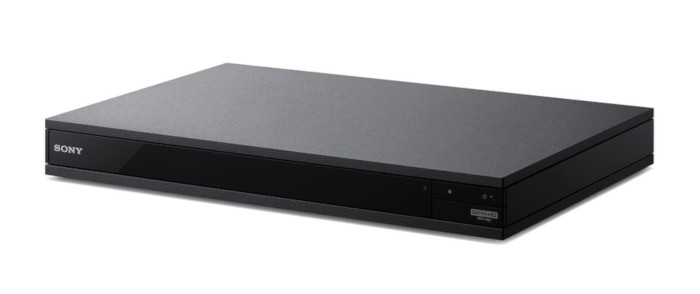 The X800M2 also supports the latest and highest quality audio formats, including Hi-Res Audio and DSD. The X800M2 is compatible with all major disc formats, including SACD/DVD-A, as well as 4K streaming services such as Netflix and YouTube. Users can stream their favorite shows via the Blu-ray player in ultra-high definition.
The UBP-X800M2 will be available in spring 2019.
Sony's new PS-LX310BT turntable
Whether you are revisiting your old records or building up your collection with new releases, transport your vinyl into the present day with the new Sony PS-LX310BT turntable. Sony fuses the vinyl sound quality with the convenience of connecting to a wired or wireless device.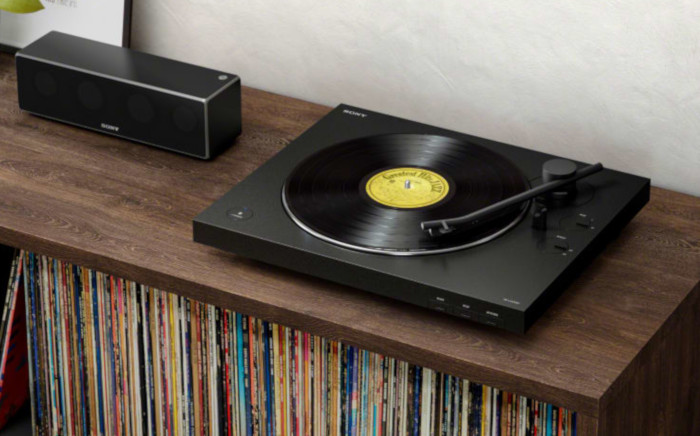 The LX310BT brings the sound of vinyl to any wireless speaker, soundbar or headphones with the addition of a BLUETOOTH transmitter built in. Pairing your device is easy with the use of the dedicated BLUETOOTH button, and thanks to the full auto play function, music is instantly played from your last paired device when you press play. Additionally, for those preferring a wired connection, the turntable also has an audio cable.
The LX310BT allows for different gain selects. This ensures wide compatibility of vinyl when using different playback systems and BLUETOOTH connections for volume adjustment. There is also a built-in phono pre-amp, which can be selected for use with amplifiers offering only line level connection.
The LX310BT boasts an aluminium die cast platter for sound balance and a newly-designed tone arm for sound stability.
The PS-LX310BT model will be available from April 2019 with an SRP of €200.
Sony's new high power audio speakers
Sony's new line-up features high power audio systems capable of filling even large party spaces, thanks to 360-degree sound and a new Jet Bass Booster. Jet Bass Booster, available on the V82D, V72D, V42D and V02, creates deep bass thanks to a tapered speaker duct shape. This means that air velocity is faster and the bass is projected further with even more impact.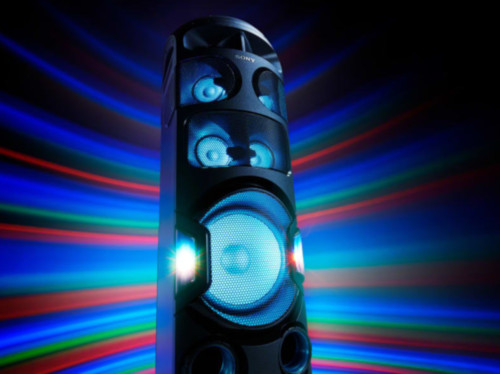 The V82D and V72D support 360-degree sound. Each speaker is engineered with rear tweeters, angled speakers and a spread sound generator.
Sony's LIVE SOUND mode has also been introduced to the V82D, V72D and V42D so you can conjure up memories of seeing your favourite artists live. This mode creates a wider sound stage thanks to Digital Signal Processing technology, producing three-dimensional sound.
The V82D and V72D speakers also both boast a 360-degree party light to illuminate the night. The V42D can brighten smaller party spaces with its new wider-angle party lights. All three models' lighting syncs to the beat.
You can control the party by movement with gesture control, including new vertical style gesture possibilities, to change the pitch of music or microphones.
Designed for outdoor parties and barbeques, the new GTK-PG10 speaker spreads high power sound with a dedicated outdoor party mode. With the top panels open, the built-in tweeters face upwards and outwards which spreads the sound wider for outdoor parties. The DSP (Digital Signal Processor) automatically adapts audio settings to optimise outdoor performance.
It is easy to carry so that you can party just about anywhere, with a cube shape and built-in handles which makes it easy to transport by car to your party. It is tripod compatible and has a built in rechargeable battery so you can enjoy up to 13 hours of listening flexibility. The outdoor speaker also incorporates a table and cup holder on the splash-proof top panel. There is also a mic input so you can sing enjoy karaoke with your friends and family. The speaker also has an FM tuner function and USB play and charge.
The MHC-V82D is available from April 2019 with an SRP of €750.
The MHC-V72D is available from April 2019 with an SRP of €630.
The MHC-V42D is available from April 2019 with an SRP of €420.
The MHC-V02 is available from April 2019 with an SRP of €230.
The GTK-PG10 is available from April 2019 with an SRP of €290.
Sony Glass Sound Speaker
Sony has also announced a new Glass Sound Speaker, the LSPX-S2, a minimalistic portable home speaker that uses its design to produce stunning sound quality.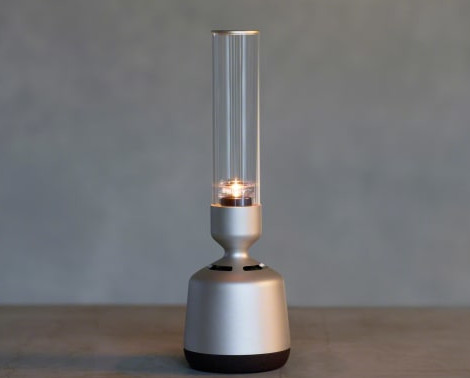 The speaker features Sony's Advanced Vertical Drive technology - which allows the speaker to reproduce 360-degree sound. The organic glass body itself vibrates after being tapped by the actuator under it to spread the sound vertically in a 360-degree direction. The organic glass tube tweeter has a wider surface (compared to conventional speakers) to create clear sound with minimal loss of volume. Additionally, the speaker is Hi-Res Audio compatible.
The Glass Sound Speaker has a small, compact body with 8 hours battery life. With BLUETOOTH connectivity you can quickly pair your smartphone to your speaker to kickstart your relaxing retreat. The speaker is also NFC One-Touch compatible for even faster pairing. Thanks to the "Push & Play" function, just press the dedicated button on the speaker to stream songs via Spotify Connect with no need to go through your phone to access your music. You can also use Wireless Multi-roomto connect with up to 10 other compatible Sony audio devices over Wi-Fi.
The LSPX-S2 Glass Sound Speaker is available from May 2019 with an SRP of €600.
Sony's new EXTRA BASS speaker range

Sony is also refreshing its EXTRA BASS wireless speaker line up with the addition of the SRS-XB12, SRS-XB22 and SRS-XB32 portable speakers, along with the new GTK-XB72 high power speaker.
The XB22 and XB32 have dual passive radiators, which work together with stereo full range speakers to enhance low-end tones, despite the compact size. The XB12 uses a single passive radiator to achieve a similar effect.
With LIVE SOUND mode now available on the XB22, XB32 and XB72, you can enjoy a three-dimensional music. LIVE SOUND mode expands the service area of the sound via angled speakers and Digital Signal Processing technology, producing three-dimensional sound.
Thanks to the easy-to-grab design and a built-in accelerometer, the XB22 and XB32 now feature a Party Booster. The speakers react when you tap on them and create lighting and sound effects. Additionally, you can enjoy a range of fun party features on the XB72 via the companion Fiestable app.
With multiple colours and flashing strobe lighting effects, the XB32 and XB72 give the party a nightclub atmosphere by syncing the lights to the beat of the music you love.
The speakers have an IP67 rating which means that they are resistant to water and dust. The XB12 has a rubber-like coating while the XB22 and XB32 pair this coating with a washable fabric. The XB32 and XB22 are also rustproof and shockproof.
With a long battery life of up to 24 hours and a portable and compact design with a carry handle, your music can follow you anywhere. The XB32 can even charge your smartphone, so there's no excuse to stop the party.
The SRS-XB12 is available from April 2019 with an SRP of €60.
The SRS-XB22 is available from May 2019 with an SRP of €120.
The SRS-XB32 is available from May 2019 with an SRP of €170.
The GTK-XB72 is available from April 2019 with an SRP of €350.