Sony's New CMOS Image Sensor Supports Multiple Connections to a Single MIPI Input Port
Sony Corp. has developed the IMX418 CMOS image sensor for sensing applications. The sensor is the first to support multiple sensor connection on a single Mobile Industry Processor Interface (MIPI) input port.
The sensor is also equipped with a global shutter function.
Sony expects this product to find application in a variety of products that use multiple image sensors. These include head mounted displays (HMD), drones, autonomous robots and other products that perform simultaneous localization and mapping (SLAM) and obstacle detection based on information obtained with image sensors.
In normal situations, image sensors and the AP that processes the images captured with those image sensors are connected via MIPI, requiring a MIPI input port for each image sensor. This means that devices equipped with multiple image sensors need to connect to the AP through multiple MIPI input ports.
Sony's new sensor is equipped with an interface capable of connecting multiple sensors to the same wiring and transferring the image data that was simultaneously captured and recorded on multiple sensors in sequence to a single AP MIPI input port. This allows for a reduction of wiring but also the connection of more image sensors than the number of the available MIPI input ports.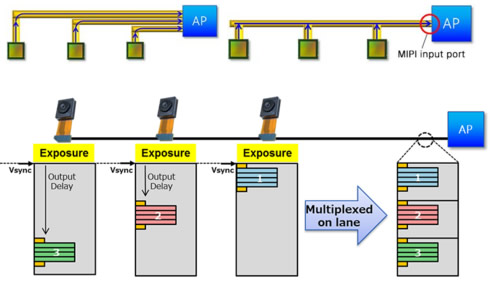 In terms of the method for transferring recorded image data from each sensor to the AP, it is possible to select either frame-by-frame or line-by-line, depending on how the data is to be processed. The diagram below shows how image data captured on multiple sensors through simultaneous exposure is transferred to the AP in sequence, frame by frame.
The new product builds on the advantages of Sony's CMOS image sensor equipped with a global shutter function, which has been used mainly in the industrial device market, now realized a global shutter function for mobile devices by supplying lower voltage drive and lower power consumption for use in mobile devices.
The sensor employs an angle of view with a 1:1 aspect ratio, which minimizes image information loss due to device tilt, whether the camera is mounted on the front, back, top, bottom, left or right of an HMD, drone, or autonomous robot.
Sony will start shipping the new sensor this month for 1,500 JPY (chip) 2,000 JPY (chip-sized package).
Specifications
Model
IMX418
Effective pixels
1016 (H) x 1016 (V) 1.0 megapixels
Image size
Diagonal 5.0 mm (1/3.6-type)
Unit cell size
3.45μm (H) x 3.45μm (V)
Frame rate
120fps (Max)
Chief ray angle (CRA)
34.8°
Voltage
Analog
2.8V
Digital
1.2V
Interface
1.8V
Output
MIPI D-PHY 1.2 (2 lane)
Image format
Black and white RAW (10 bit/8 bit)
Shipping format
Chip, chip-sized package