Spanning Car, Connectivity and Cloud, Intel Announces New GO Platforms For Self-Driving Vehicles
Intel is trying to convert its dominance of computers into a stake in the growing market for chips used in cars, is offering automakers new products aimed at making its technology crucial to the effort to develop self-driving vehicles.
The company introduced at CES Intel GO, a new brand for its automotive solutions spanning car, connectivity and cloud. New with the Intel GO brand are multiple development kits that scale in performance from Intel's next-generation Intel Atom processor to Intel Xeon processors, as well as the first 5G-ready development platform for automated driving.
With this car-to-cloud system, Intel is providing carmakers and suppliers flexibility in their designs while reducing the time and cost of bringing new experiences to market. Comprised of both hardware and software development kits, the full Intel GO system includes:
Two versions of Intel GO In-Vehicle Development Platforms for Automated Driving, delivering scalability and power-performance optimization. Scaling from next-gen Intel Atom processors to high-performance Intel Xeon processors plus Arria 10 FPGAs, these two platforms provide the computing horsepower to perform a range of automated driving functions including perception, fusion and decision-making.
Intel GO Automotive 5G Platform offers the first 5G-ready platform for the automotive segment allowing automakers to develop and test a wide range of use cases and applications ahead of the expected rollout of 5G in 2020.
Intel GO Automotive SDK provides important tools specific to the automated driving industry - including deep learning tool kits - and offers a consistent development experience to help engineers maximize hardware capabilities while speeding the pace of design.
Intel has been investing in the automotive sector for years. The company's automotive heritage includes 49 car wins with more than 30 Intel-based vehicle models on the road today.
Industry leaders like BMW, Delphi and Baidu have all announced plans to use Intel technology in their autonomous vehicles. In fact, BMW together with Intel and Mobileye announced today that a fleet of approximately 40 autonomous BMW cars - with Intel GO solutions inside - will be on the road by the end of 2017.
Automated vehicles will both generate and take in huge amounts of data in order to navigate and react to sudden changes. Today's communications systems simply were not designed to handle the massive bandwidth required to support this. That's where 5G comes in, delivering faster speeds, ultra-low latency and vehicle-to-vehicle (V2V) connectivity for the era of automated driving.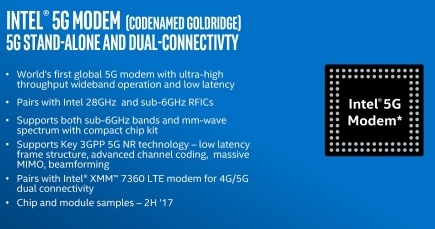 Because 5G is so important to the realization of our driverless future, Intel announced a new Intel 5G Modem - the first global 5G modem supporting both sub-6 GHz bands and mmWave spectrum. This modem includes a compact, low-power chip kit and delivers speeds expected to exceed 5 Gbps and ultra-low latency to enable self-driving cars to make split-second decisions.
Of course, fully autonomous driving will never come to fruition without the data center, where all development for automated driving begins. Huge amounts of sensor data has to be stored, and machine learning and deep learning algorithms are developed, simulated, tested and optimized for deployment to the vehicles.
Intel is offering the Intel Xeon and Intel Xeon Phi processors, which power more than 97 percent of the servers deployed for machine learning workloads, and give developers aconsistent programming model between their development environment and their training and inference (scoring) environment.