Panasonic Unveils New Ultra HD Blu-ray Players
Panasonic is showcasing at CES in Las Vegas the more affordable DMP-UB400 and DMP-UB300 UHD BD player, following the release of high-end UB900 and the UB700 models.
While exact prices for the DMP-UB400 and DMP-UB300 have yet to be confirmed, they're certainly going to cost more in line with budget decks like the Samsung K8500.
Looking at the specifications Panasonic has revealed on the UB400 and UB300, both decks still boast exactly the same picture quality engine sported by the UB700 - which itself only varied from the imaging system offered by the flagship UB900 in not sporting Panasonic's Edge Adaptive Chroma Processing system.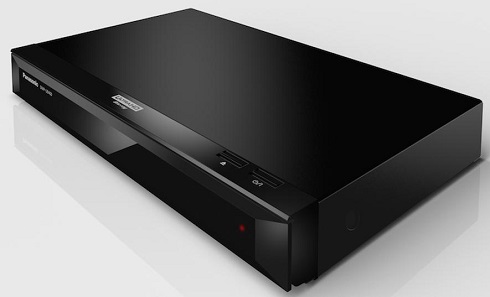 This means both new models still get Panasonic's 4K High Precision Chroma Processor for advanced color performance; Panasonic's 4K Direct Chroma Upscaling for converting all images from 10-bit to 12-bit for reduced color banding noise, and Panasonic's proprietary Dynamic Range Conversion system for more intelligently down-converting HDR to SDR.
Both models also appear to avoid the chroma production errors and also carry a new HDR picture feature for Panasonic UHD BD decks, whereby the players let you adjust the image to compensate for the light conditions in your room.
Both the new UB400 and UB300 decks meet the industry's Ultra HD Premium standard. They also support Panasonic's HDMI Low Clock Jitter Process, and support playback of the same wide-range of audio formats, including WAV, FLAC, ALAC, AAC, MP3, WMA and DSD.

Both decks also still support 4K streaming of Netflix (including HDR), YouTube and Amazon, and both decks still offer USB playback support.
While the UB400 still retains a twin HDMI output, the UB300 only has a single HDMI, meaning you can't output the video from one HDMI and the audio from another.
The UB300 also differs from Panasonic's other UHD BD players in not supporting wi-fi, the remastering of digital audio, or Panasonic's 'High Clarity Sound premium'.
Neither the UB400 or UB300 enjoy the THX certification obtained by the UB900, and both of the new models ship without the SD card slot sported by the UB700 and UB900 decks.
The last difference between the UB400 and UB300 comes from the fact that neither of the new models carry fluorescent displays like the UB700 and UB900 do.