TASCAM's New Model 12 Integrated Production Suite Covers Audio and Multimedia Creators, Desktop Production, Live Performance and More
TASCAM introduced the Model 12 Integrated Production Suitem, a multitrack recording mixer for audio and multimedia creators featuring an integrated 12 track multitrack recorder, USB audio interface, 10 input mixer, MIDI connectivity, click output, and DAW controller.
Combining the feel and interface of analog recording and mixing with the workflow and quality associated with digital production, the compact Model 12 has been designed for desktop-style audio and multimedia production, small format live performances as well as podcasting and live streaming.
Applications include music production, multimedia production, remix/EDM creation, songwriting, and live performance where a solo artist plays along with tracks and/or beats.
10 inputs allow connection of a range of audio sources, from microphones to instruments and/or rhythm/beat sources. Channels 1-6 feature combo XLR/1/4-inch inputs utilizing TASCAM's Ultra-HDDA (High Definition Discrete Architecture) microphone preamplifiers with 48-volt Phantom power. Stereo channels 7/8 and 9/10 feature combo XLR/1/4-inch Left channel inputs with adjoining Right channel 1/4-inch inputs. Channel 9/10 also allows portable device connection such as mobile phones and tablets with connection via a 1/8-inch TRRS mini connector or Bluetooth 5.0 connection.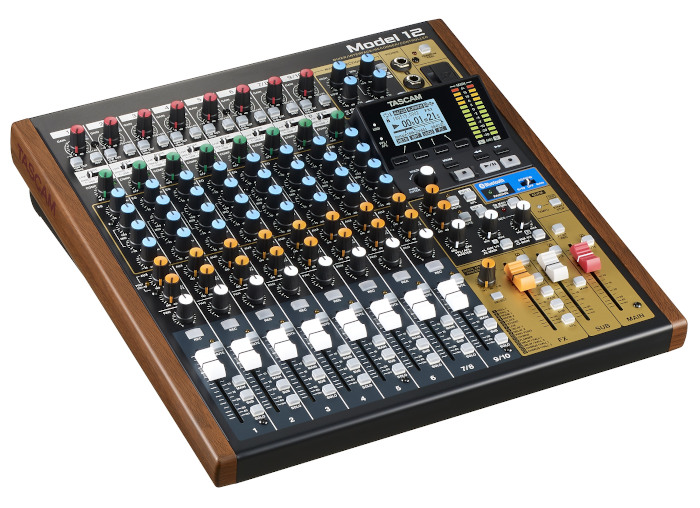 The Model 12's internal 12-track multitrack recorder records WAV files (up to 48kHz/24-bit) directly to SD, SDHC and SDXC cards (up to 512 GB capacity). Basic external DAW control (Faders, Mute, Pan, Solo, Record arming, Play, Record, Stop, FF/Rew, Jog) is available using HUI/MCU protocol emulation. The internal recorder allows simultaneous recording/playback of 12 tracks (10 tracks and stereo master) to and from SD cards. Punch in/out is also available.
The Model 12 also incorporates songwriting features and live play functionality. A dedicated Click Output feature facilitates streamlined operation for playing live or for recording environments when overdubbing parts. An internal metronome with TAP TEMPO is also included as a guide click.
The Model 12's built-in USB Audio Interface can send/receive (12-in/10 out) audio data with up to 24 bit/48kHz recording quality to and from a wide range of popular DAWs, including GarageBand and more.
Via the onboard Channel Mode, an input source switch on each channel (including stereo paired channels) is selectable to live input, internal multitrack recorder (MTR) or USB. This enables mixing of live performance inputs with recorded tracks from the internal MTR or an external DAW.
Outputs include stereo MAIN (XLR) and SUB (1/4" balanced) stereo outputs, AUX1 and AUX2 (1/4" balanced) outputs and two individual 1/4-inch STEREO phones outputs. Integrated MIDI IN/OUT functionality is offered including MIDI sync and MTC, as is a dual FOOTSWITCH feature for external footswitch control of the onboard digital recorder, punch in/out and more when recording or performing live.
Each channel strip features 60mm faders with 16 TASCAM selectable and editable effects (including reverb, delay, chorus, flange), a 1-knob compressor, and a 3-band EQ with a sweepable mid-range frequency and 100Hz Low-cut Filter.
Two AUX Outputs are offered on each channel for flexibility in monitoring and effects routing. Selectable Mute, MAIN/SUB, and SOLO (PFL/In-place) switches are available on each input channel for versatile audio and signal routing options during recording or mixing.