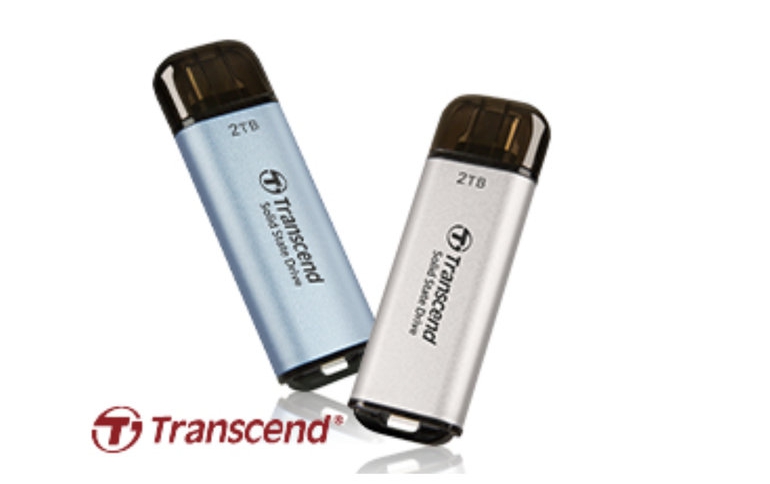 Transcend Unveils Ultra-Fast & Ultra-Mini Portable ESD300 SSD
Transcend Information Inc. (Transcend®), a leading manufacturer of digital storage and multimedia solutions, is thrilled to present its latest super-mini portable SSD, the ESD300. Boasting a lightning-fast USB 10Gbps transfer rate, super-compact size, ample storage capacity, and a USB Type-C connector, the ESD300 ushers in a new era of seamless data transfer and incredible storage efficiency. With broad compatibility across USB-C devices and various operating systems, the ESD300 sets a new standard for on-the-go data accessibility and convenience.
The Size of a USB Drive, Yet With The Powerful Performance of an SSD
Transcend's ESD300 portable SSD guarantees a fast USB 10Gbps transfer rate, unleashing maximum R/W speeds of up to 1,050/950 MB/s. Equipped with the capabilities of a solid-state drive (SSD) and enhanced with built-in SLC Cache technology as well as onboard ECC, the ESD300 is the ultimate storage solution for 4K videos, high-resolution photos, gaming files, and other critical data. Encased in a robust aluminum casing designed for efficient heat dissipation, you can rest assured that your data is safeguarded with the highest level of protection.
USB Type-C Connector for Great Convenience
Transcend's ESD300 comes with a versatile USB Type-C connector that bridges the gap across a myriad of external devices, such as laptops, tablets, smartphones, and gaming consoles. Its compatibility spans various operating systems, including Windows, macOS, iPadOS, and Android. Without the need for extra cables, data transfer and movement between multiple devices become effortless.
Extreme Portability, Without Compromise
The standout feature of Transcend's ESD300 is its unparalleled compactness. Weighing in at a mere 9 grams, this portable SSD might resemble a USB flash drive in size, yet it offers an astonishing 2TB of expansive storage capacity, making the task of expanding device storage remarkably simple.
Empowerment Through Software: Transcend Elite
Transcend Elite, an advanced software tool, offers an array of essential functions such as drive backup and restoration, data encryption, cloud backup, and more. Compatible with both Windows and macOS, Transcend Elite enhances the management of your ESD300 portable SSD, making it more efficient and user-friendly.
Transcend's ESD300 portable SSD is backed by a five-year limited warranty and is manufactured in Taiwan with rigorous quality control to ensure the highest product quality.