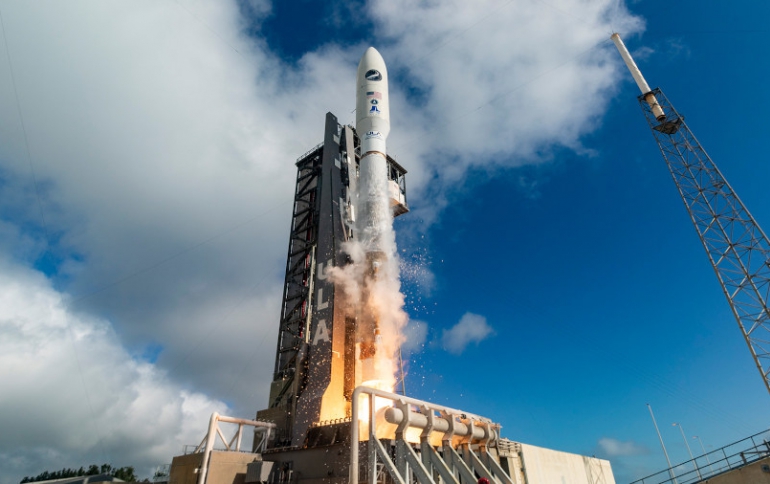 United Launch Alliance Launches the Sixth Orbital Test Vehicle for the U.S. Space Force
A United Launch Alliance (ULA) Atlas V 501 rocket carrying the USSF-7 mission for the U.S. Space Force lifted off on May 17, 9:14 a.m. EDT, from Space Launch Complex-41.
This marks the 84th successful launch of an Atlas V rocket, 139th launch for ULA, the second launch for the U.S. Space Force and the sixth flight of the X-37B Orbital Test Vehicle (OTV-6).
Along with OTV-6, this mission deployed FalconSat-8, a small satellite developed by the U.S. Air Force Academy and sponsored by the Air Force Research Laboratory (AFRL) to conduct experiments on orbit. The mission also carried two NASA experiments, including a material sample plate to determine the results of radiation and other space effects on various materials, and an experiment which will assess space effects on seeds used to grow food. Another experiment sponsored by the Naval Research Laboratory will examine the ability to transform solar power into radio frequency microwave energy which could be transmitted to the ground.
This mission launched aboard an Atlas V 501 configuration rocket that included a 5-meter-diameter payload fairing.
The Atlas booster was powered by the RD AMROSS RD-180 engine, and the Centaur upper stage was powered by the Aerojet Rocketdyne RL10C-1 engine. The RL10 engines, manufactured by Aerojet Rocketdyne, harness the power of high-energy liquid hydrogen.
The RD-180 main engine is delivering more than 860,000 pounds of thrust at liftoff and an impressive range of continuous throttling capability . Designed and manufactured by NPO Energomash, the liquid oxygen/liquid kerosene, two-thrust-chamber RD-180 engine is a complete propulsion unit equipped with hydraulics for control valve actuation and thrust vector gimbaling, pneumatics for valve actuation and system purging, and a thrust frame to distribute loads.
ULA's next launch is NASA's Mars 2020 mission carrying the Perseverance rover on an Atlas V rocket. The launch is scheduled for July 17 from Space Launch Complex-41 at Cape Canaveral Air Force Station, Fla.
To date ULA has a track record of 100% mission success with 139 successful launches.