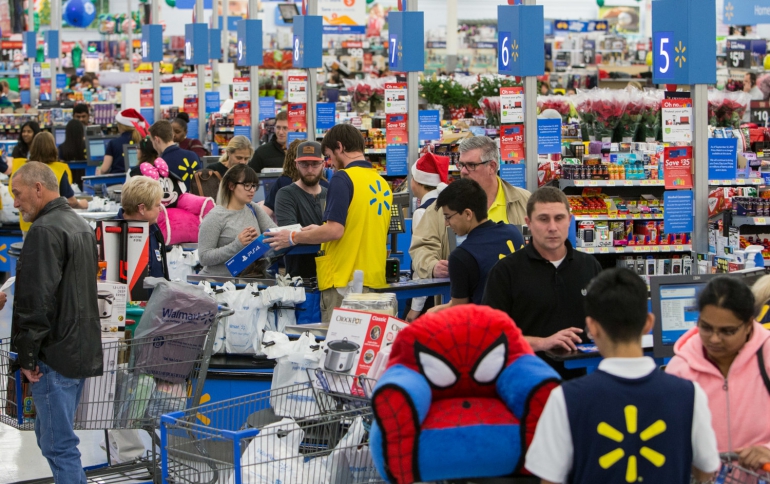 Walmart to Overtake Apple as No. 3 Online Retailer in US
Heading into the competitive holiday shopping season, Walmart is poised to capture an even larger portion of this year's online retail sales.
According to eMarketer's latest retail forecast, Walmart will overtake Apple to become the third largest ecommerce retailer in the US this year. The shift comes after eMarketer increased its share projections for the big-box retailer.
eMarketer estimates that by the end of 2018, Walmart (which includes Walmart, Sam's Club and Jet.com) will capture 4.0% of all online retail spending in the US, totaling $20.91 billion. In their July forecast, eMarketer had estimated that Walmart would capture a 3.7% ecommerce share this year.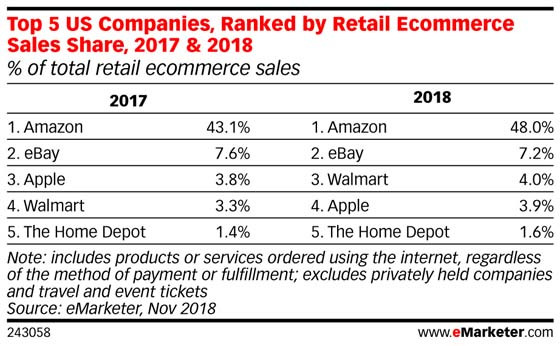 Walmart has one of the fastest growing ecommerce businesses. This year, its online sales will grow 39.4%. Wayfair, an online-only retailer, beats it slightly with a 40.1% growth rate. Meanwhile, Apple will grow just over 18% this year—less than last year— as domestic sales for smartphones and other consumer electronic devices begin to slow down. Its ecommerce share will remain virtually unchanged at 3.9% this year.
Walmart continues to make smart acquisitions to extend its ecommerce portfolio and attract younger and more affluent shoppers. But the company has also caught its stride with a fast-growing online grocery business, which is helped in large part by the massive consumer adoption of click-and-collect.
As fast as Walmart's ecommerce business is growing, it still pales in comparison to juggernaut Amazon. The year, the online giant will take in more than $252.10 billion domestically, up just over 29% from 2017. That means Amazon will have a 48.0% share of US ecommerce.
As large as Amazon already is in the US, it is still growing at an astounding pace—ecommerce sales will jump nearly 30% this year. Domestic growth is coming from three categories: apparel and accessories, health and beauty and food and beverage, according to eMarketer.