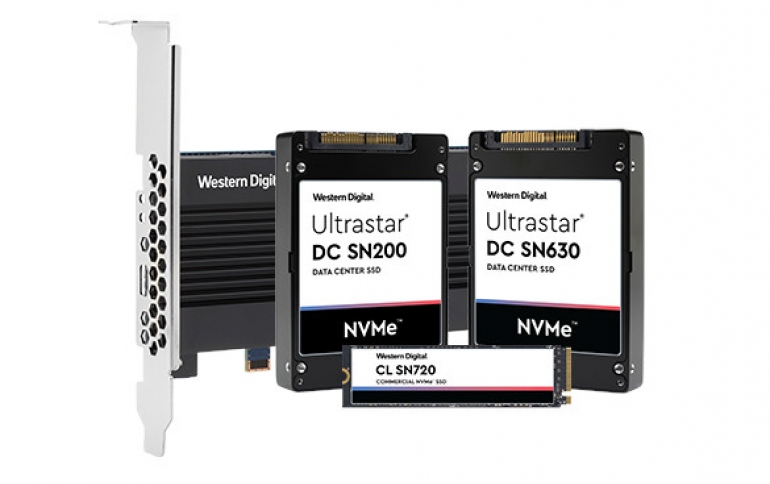 Western Digital Expands NVMe SSD Portfolio
Western Digital has added the new Ultrastar DC SN630 NVMe and the CL SN720 NVMe SSDs to its portfolio products for data center and cloud customers.
Each leverages internally developed controller and firmware architectures, 64-layer 3D NAND technology, and are designed to replace lower-performing SATA SSDs.
The Ultrastar DC SN630 NVMe SSD is a 2.5-inch small form factor (SFF) enterprise-grade NVMe SSD optimized for cloud storage, which delivers more than three times the IOPS for mixed workloads compared with legacy SATA drives. The Ultrastar DC SN630 SSD will be available in two configurations. For mixed-use workloads, the Ultrastar DC SN630 SSD comes in capacities between 800 gigabytes (GB) and 6.4 terabytes (TB) with two drive-writes per day (2DWD), and for read-intensive workloads, capacities are available from 960GB to 7.68TB with 0.8DWD.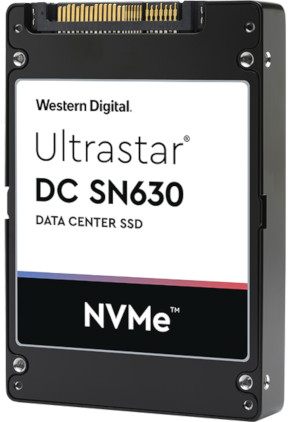 Western Digital CL SN720 NVMe SSD is an NVMe SSD purpose-built for the performance requirements of boot and edge applications. It enables high random read IOPS performance, optimal endurance with encryption capabilities, and extended enterprise validation for server operating systems' boot and edge data center applications. With capacities from 256GB to 2TB in the M.2 form factor, the Western Digital CL SN720 NVMe SSD is designed for edge servers, content delivery networks, cloud-based gaming, and IoT platforms and gateways.

The CL SN720 is shipping now. The Ultrastar DC will be available in April.
CL SN720 performance
Sequential Read, (max. MB/s, 64KiB, QD32): up to 3,250
Sequential Write, (max. MB/s, 64KiB, QD32): up to 1,400
Random Read (max IOPS, 4KiB, QD128): up to 330K
Random Write (max IOPS, 4KiB QD4): up to 2.7K
Mixed Random Read/Write (max IOPS 70%R/30%W, 4KiB, D128): 7K
Latency (μs, 4KiB Random Read QD1, 99%): 0.1
Ultrastar DC SN630 NVMe performance
Sequential Read, (max MiB/s, 128KiB BS, QD128)

960GB: 2,100
1,920GB: 2,299
3,840GB: 2,299
7,680GB: 1,900

Sequential Write, (max MiB/s, 128KiB BS, QD128)

960GB: 1,000
1,920GB: 1,350
3,840GB: 1,350
7,680GB: 1,150

Random Read (max IOPS, 4KiB BS, QD128)

960GB: 310,000
1,920GB: 400,000
3,840GB: 352,000
7,680GB: 320,000

Random Write (max IOPS, 4KiB BS, QD128)

960GB: 45,000
1,920GB: 60,000
3,840GB: 65,000
7,680GB: 60,000

Mixed Random Read/Write (max IOPS 70%R/30%W, 4KiB)

960GB: 121,000
1,920GB: 200,000
3,840GB: 200,000
7,680GB: 140,000

Unrecoverable Bit Error Rate (UBER): 1 in 1017
Endurance (Drive writes per day, DW/D): 0.8