2020 NRF: Intel Pushes Further into the Retail
Intel and its parters are showcasing business solutions for retailers at NFR 2020, powered by Intel edge, artificial intelligence and vision technologies.
NRF runs from Jan. 12 to 14 at the Jacob K. Javits Convetion Center in New York City.
Intel announced a collaboration with AREA15, one of the first purpose-built experiential retail and entertainment complexes. Traditional retailers and malls face a reinvent-or-die reality. "AREA15 is an experiential retail and entertainment complex offering live events, immersive activations, art installations and much more," according to Intel. Located just a few minutes from the Las Vegas strip, Area15 will open in 2020. Area15 offers customizable space for a curated collection of experimental entertainment, retail and other businesses.
The alliance with AREA15 will initially focus on immersive experiential retail design with the launch of the Intel Experience Incubation Hub, a multiuse venue for innovation and collaboration. It will allow retail ecosystem partners — from creatives to technologists — to test new design concepts and technologies.
Early collaborators and experiences featured in the Experience Incubation Hub include Artist TRAV, Papinee, Pressure Point Creative, ThenWhat Inc. and Variant.
Intel's booth at NFR 2000
At NFR 200, Intel, together with its partners, are giving retail the edge.
UST Global, CloudPick, RBS - Frictionless Checkout " Using Intel's computer vision and processors, motion detection, product sensing and recognition, payment integration with retailer's mobile application—UST Global, CloudPick and RBS have created a shopping experience in which, using just a mobile device, a customer may simply select items and walk out.
Hisense: Seamless POS - What if you could autonomously recognize your customers' faces, and each item in your store—allowing everything from facial payment, to customized shopping experiences? The Hisense modular POS kiosk allows all this and more: from "grab and go" shopping to more reliable inventory management and loss prevention, to increasing employee productivity. This tech goes beyond the kiosk, increasing customer satisfaction, employee productivity, and operational efficiency.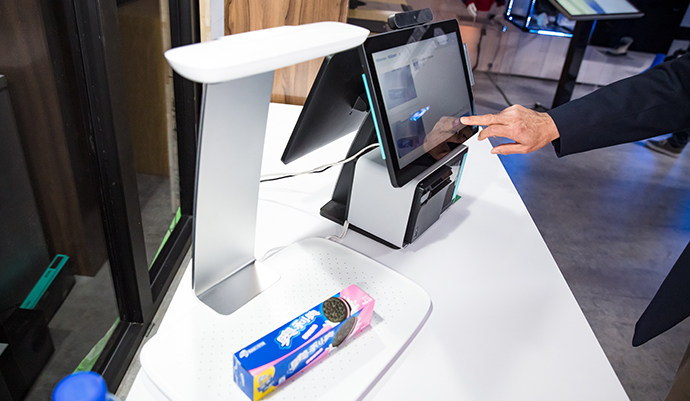 Swyft: Smart & Secure Delivery - Why should customers wait for an unsecure package at home, when they can collect it securely—while visiting your business? Swyft Open Delivery API is a system designed so retailers can add a shipping pick-up locker as a service for their customers.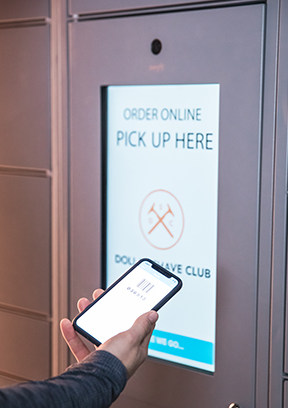 Variant Sustainable On-Demand Customization - Imagine customizable, on-demand, sustainably sourced fashion retail...anywhere. Variant Malibu's pro-prietary visual tool the Customizer can deliver a retail experience wherever you need one. Variant has created a zero-inventory, on-demand business model that removes costly barriers to entry, encourages designer creativity, and empowers retailers by allowing them to co-create exclusives.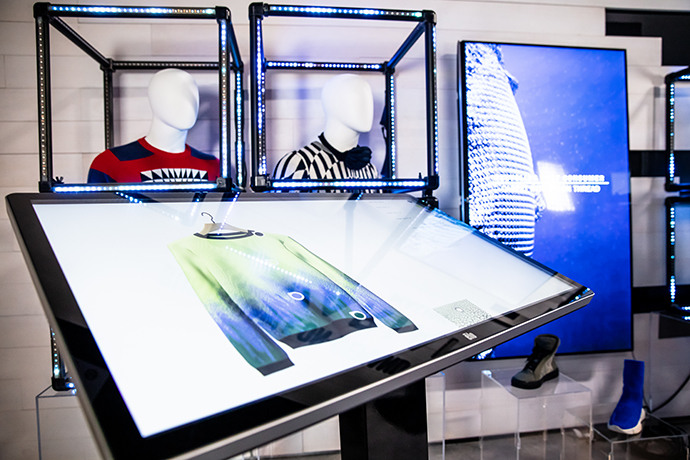 Crown Digital: The Seamless Cup - Imagine a world where robotics, artificial intelligence and data analytics combine to solve real-world pain points. Meet Ella, Crown Digital's Robotic Coffee Barista: incorporating AI built based on the Intel OpenVINO Toolkit, Ella will change the way food and drinks are served in the future...freeing human employees from tedious tasks, while improving product quality, consistency, and customer experience.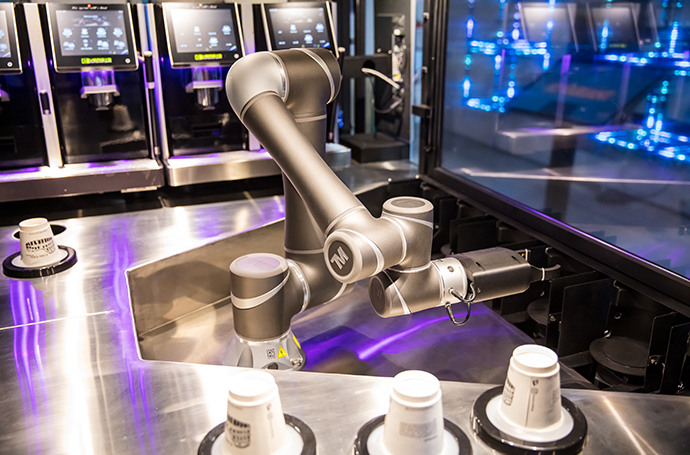 FLOOID: Intelligent Loss Prevention - Loss prevention at self-checkout is only the beginning. A collaboration of six partners, inspired by the spirit of Intel's Open Retail Initiative (ORI), a demo pulls together elements like a POS real-time transaction log, CV-based object detection, scale solutions, RFID, and data fusion—all in a single pane of glass. Using open source middleware (via EdgeX Foundry, a vendor-neutral open source project building a common open framework for IoT edge computing) to merge all the data a retailer needs, Intel and its parners show you how to create a singular picture of what's possible in solving today's real retail problems: developing data-driven solutions by augmenting, rather than replacing, existing assets.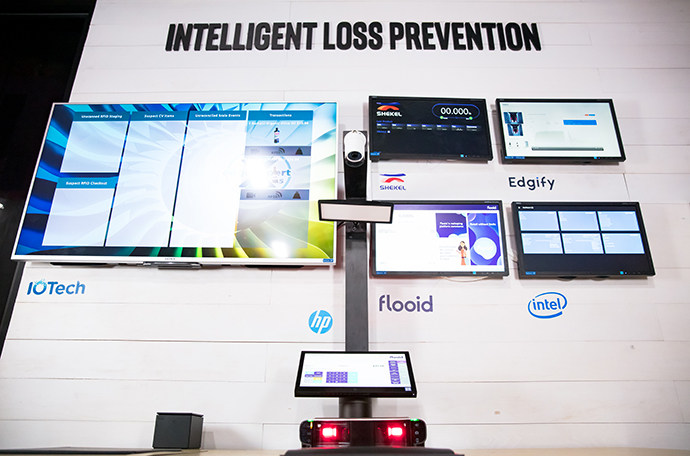 Aopen: AI for Parcels - With current advances in computer vision and AI, it's time to reinvent the process of sending parcels. Powered by technology from meldCX, Intel, Google, AOPEN and Microsoft, the Smart Parcel Kiosk solution is set to transform the customer experience of mailing a package. Intel shows you how it operates; how it gathers data analytics about customer behavior; how it streamlines the developer process; and how it can turn every related interaction into a point-of-purchase.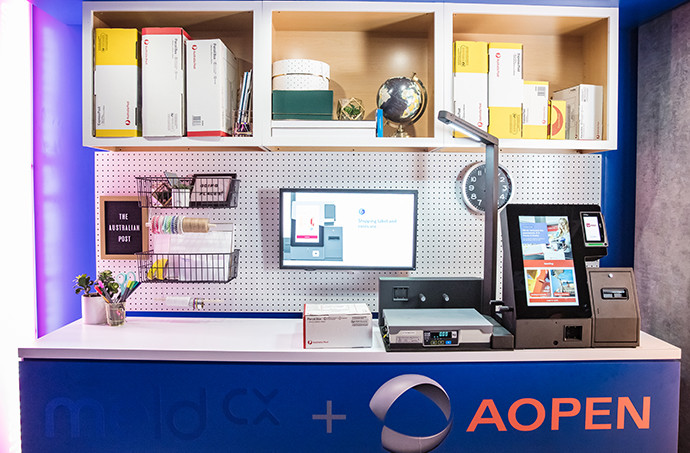 Userful: Intelligence On Display- Discover how Userful's Intelligent Media Orchestration—enabled by edge computing, AI, and a visual networking platform—can give new life to the retail hardware you already have. Unlocking new value and capabilities by rethinking the use of your existing store technology: leveraging edge computing, and Userful's networking platform, to pull together and orchestrate media, data, and devices across the store.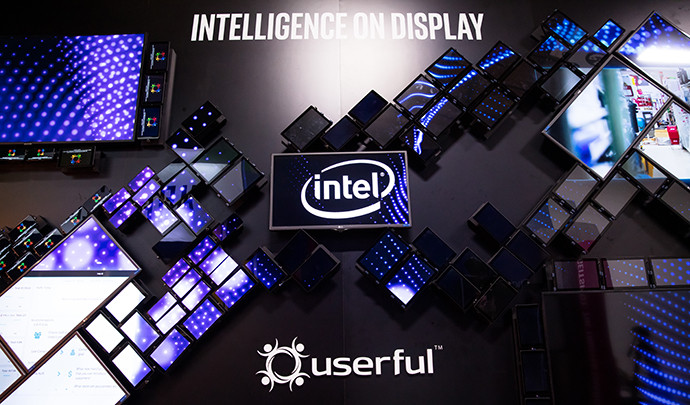 Acquire Digital: Partner Technology Map - Acquire Digital's Wayfinder Smart Information Hub was created to provide a digital interaction similar to that found online. Smart Hub assists users with relevant information and helps guide customers to decisions, while gathering metrics and analytics about how your customers behave in physical environments.
ChargeItSpot: The ChargeItSpot - ChargeItSpot provides free, secure cell phone charging to consumers at your retail location. Which gives you the chance to surprise and delight customers, while lifting sales, foot traffic, and customer affinity. All this while keeping customers on-premises an average of 2.3x longer, converting at a 1.65x higher rate, and spending 1.47x more at checkout.
The Looking Glass Factory: The Immersive Edge - The new Looking Glass 8K Immersive Display represents the biggest and highest resolution holographic light field display available on the market today. You can experience first-hand the world's first large format 8K holographic display, with no VR or AR headset required—allowing groups to view and interact with 3D.
LumoPlay: Interactive Visual Solutions - LumoPlay's cost-effective, "headset-free" Augmented Reality brings your customers interactive, touch- and motion-activated experiences—and it works with any digital sign or TV projector, to place visuals virtually anywhere you need them: from floors to walls to window displays. The system's printing function can track customer behavior right through to the point of purchase.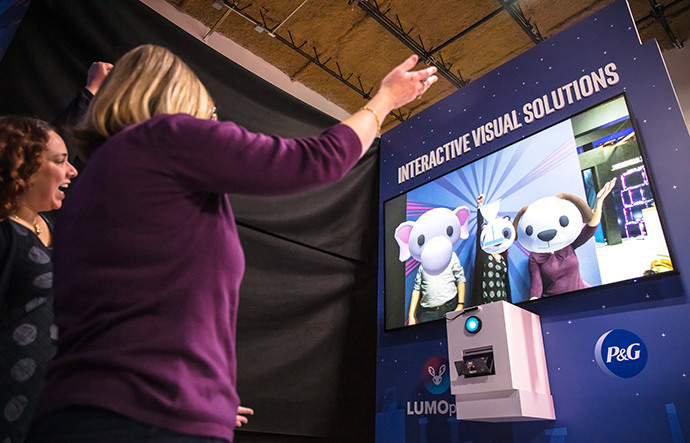 Symmetry Labs: Immersive. Intelligent. Illuminative - Symmetry Labs demonstrate how their SugarCubes flagship product can showcase both their LED hardware and software capabilities—showing you how to quickly create a customized, interactive art installation that will get customers through the door. With SugarCubes hardware and Symmetry's software, lighting can be more than just a backdrop. It can be a performance of its own—on par with a musical concert, or a public art display.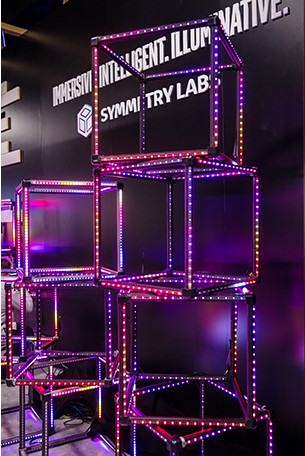 Papinee: Imaginative & Interactive Storytelling - Be transported to a fantastical world of awe—from sight, to smell, sound, touch, and even taste. This experiential demo provides a hint of the magical world of PAPINEE, the storytelling company. PAPINEE's multi-sensory educational and entertainment experiences are coming soon to the U.S. market, and Intel will be exploring ways to bring the experience to life.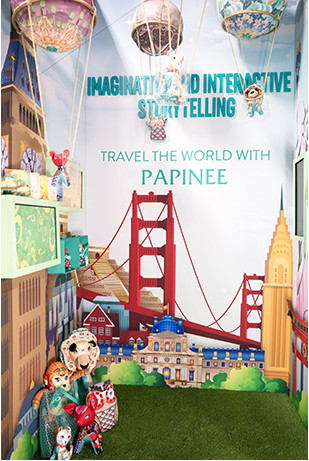 Intel also announced the Open Retail Initiative, which enables velocity in retail technology adoption and solution deployment at the edge by championing an open source community of retail solution partners, empowering vendor choice via interoperability across solutions.
Make your vision a reality on Intel platforms—from smart cameras and video surveillance to robotics, transportation, and more—by developing applications and solutions that emulate human vision, with the Intel Distribution of OpenVINO toolkit. Based on convolutional neural networks (CNN), it's a comprehensive set of tools for replying vision-oriented solutions (including at the network's edge), delivering higher computing and graphics performance: people counting, heat map analysis, facial recognition and loss prevention to help you process real-time video recording and transcoding, human detection and counting, signage management and much more.