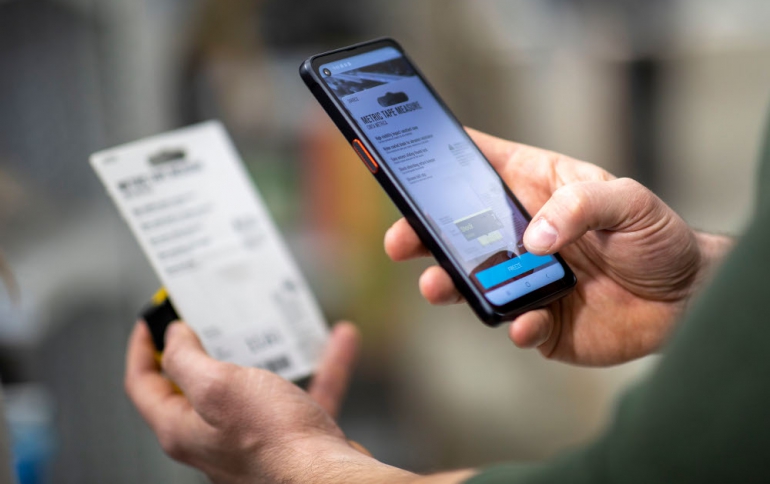 NRF 2020: Samsung, Microsoft and Verizon to Bring Galaxy XCover Pro Smartphone to Workers
Samsung on Sunday announced at NFR it is working with Microsoft and Verizon to bring the new Samsung Galaxy XCover Pro to the U.S. market.
The XCover Pro is optimized for a variety of industries including retail, healthcare, logistics and manufacturing and provides several business-ready capabilities in a single form factor.
With its premium design, business features, and Walkie Talkie integration with Microsoft Teams, the Galaxy XCover Pro offers customers durability and productivity.
The device is push-to-talk ready, enabling instant communication between the shop floor and the back office. Building on the existing partnership between Microsoft and Samsung, Microsoft is the first partner to leverage the XCover Pro's push-to-talk feature, through an integration for the device with Microsoft Teams that provides direct access to Teams' new Walkie Talkie capability from a programmable key on the side of the device.
The Galaxy XCover Pro builds on Samsung Galaxy smartphones' legacy features including a great display, long-lasting battery and protection by the Samsung Knox security platform.
The device is IP68 water and dust resistant, capable of withstanding drops of up to 1.5m, even without a case, and is MIL-STD 810G certified for reliable protection against extreme altitude, humidity, and other severe environmental conditions. Pogo pin charging support and compatibility with third-party charging docks ensure the phone is powered as soon as the workday begins, and a 4,050mAh battery lasts long after the day is done. For times when even more power is needed, the battery is replaceable.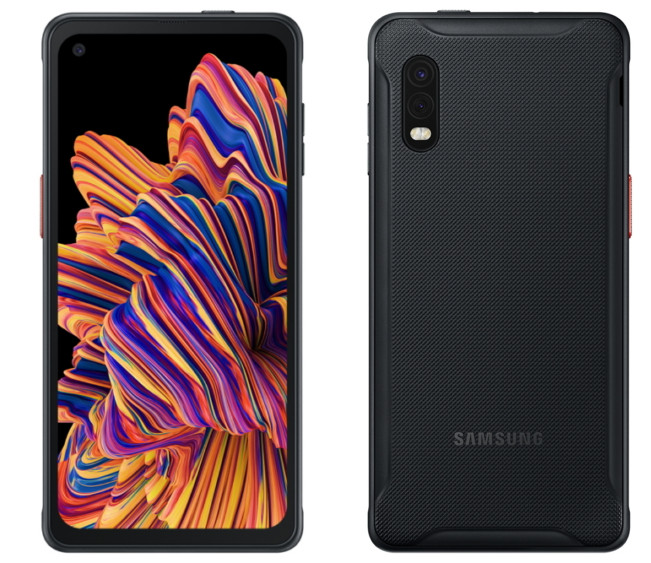 The Galaxy XCover Pro also features two programmable keys. This functionality makes complicated workflows simple letting users open the scanner, turn on the flashlight or launch a CRM app all without swiping through apps, scrolling through menus, or even looking at the screen.
Finally, by removing the physical home button, Samsung has enhanced the simplicity of the phone design while maintaining its ruggedness. The Galaxy XCover Pro offers an edge-to-edge 6.3" FHD+ Infinity Display with an enhanced touchscreen able to work in any condition, including rain or snow. For users in the field, glove mode allows for gloves-on use and the new voice to text message feature provides real-time dictation and messaging for simple communication.
Samsung also empowers workers across all industries with software and hardware solutions from Infinite Peripherals, KOAMTAC, Scandit and Visa. Retail associates can track inventory and process payments, with barcode scanning available. They can take advantage of ready-to-use mobile point of sale (mPOS) whose payment modules are available based on SDK for mPOS solution vendors.
Galaxy XCover Pro will also have Samsung POS, a mobile-based point of sale (POS) solution that has been approved by Visa's Tap to Phone pilot program. This joint solution benefits sellers by helping them stay in touch with how consumers prefer to pay and removing the need for a dedicated POS hardware with a software solution . Tap to Phone's software terminal builds on EMV chip transaction to generate the same functionality while giving assurance that financial data remains safe and secure. Users will be able to make payments in seconds by simply tapping their contactless card, phone or watch to the Galaxy XCover Pro.
In addition to its ruggedness, the Galaxy XCover Pro is also built with data security in mind and is protected by Samsung's defense-grade multi-layered Knox platform. With Samsung Knox, mobile professionals can take advantage of security features like hardware-backed protection, data isolation and encryption and boot- and run-time protection. The device also features a fingerprint reader and facial recognition for touch-free accessibility while out in the field.
In select markets, The Galaxy XCover Pro will be available as an Enterprise Edition, providing two years of market availability and four years of security updates.
The Samsung Galaxy XCover Pro will be in the U.S. market in the first half of 2020 for a price of $499.99.
imension
159.9 X 76.7 X 9.94mm (218g)
Display
6.3" FHD+, Wet Touch, Glove Mode
AP
Exynos 9611 (2GHz Octa-core)
Memory
4GB + 64GB, microSD up to 512GB
Camera
Single Front Camera: 13MP, FF, F2.0
Dual Rear Camera: 25MP, AF, F1.7 + 8MP, FF, F2.2
Battery
4,050 mAh, user replaceable, Fast Charging (15W)
OS
Android 10.0
SIM
Dual SIM (EUR), Single SIM (NA)5
NFC
NFC (EMV L1)
Augmented Reality
Google AR Core
Design
Full Screen
Rugged
IP68, 1.5m drop (MIL-STD 810G certified)
Sensor
Accelerometer, Proximity, Compass, Gyroscope
Pogo Pin
Charging only
Biometric Security
Fingerprint (side)
mPOS
mPOS Ready
Hot Key
Two Programmable Keys
Service LED
Available
Other Retail Solutions
At this year's National Retail Federation (NRF), Samsung is also featuring its latest retail soultions.
Samsung booth attendees will first notice the The Wall upon arrival, along with Samsung outdoor and semi-indoor signage, including the dual-sided OM46N-D.
The Wall is Samsung's next generation display technology. Its slim depth and flush surface allow the display to enhance any environment's aesthetic, and the modular, large-format functionality can extend to hundreds of inches in size while delivering high brightness, contrast and wide viewing angles. With its bezel-less design, it enables the individual modules of The Wall to fit together. Retailers can add or remove unlimited LED screens to and from The Wall to create a customized shape or design without impacting performance or presentation quality.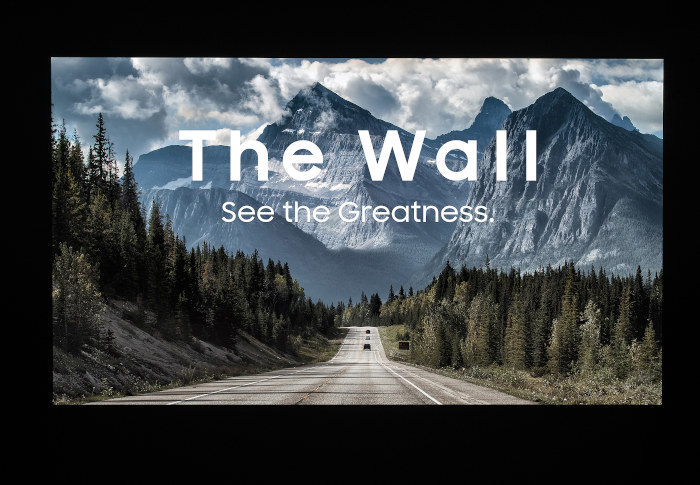 MagicINFO Analytics, powered by Brightics AI, turns displays into a platform to deliver business insights. It allows users to optimize and automate store promotions and campaigns based on real-time integrated data. Using MagicINFO Analytics, retailers can analyze big data and in-store customer behavior to display the most relevant content customized for customers' needs. MagicINFO Analytics also delivers performance reports, allowing retail managers and marketers to better understand promotion results, informing future marketing campaigns.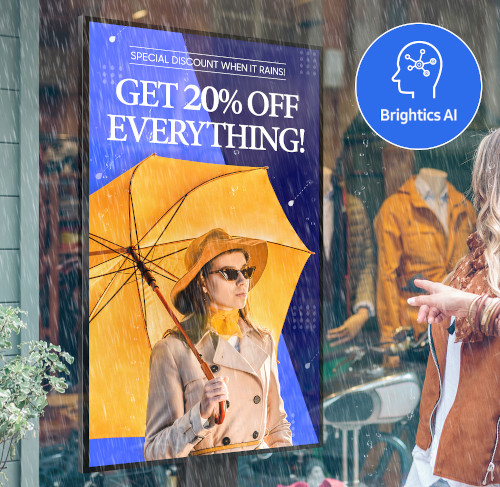 The Samsung Flip 2 digital interactive display is the newest addition to the Flip lineup. Introduced in late 2019, the Flip 2 is tailored to meet display demands in retail, corporate, education, sports and hospitality. It helps business owner and managers bring ideas to life by allowing them to write, design and share their ideas dynamically and digitally. Simply by clicking the note layer button, restaurant owners and managers can write over any content displayed, without affecting the original content. Available in 55" and 65" versions, the Flip 2 has the ability to be leveraged horizontally or vertically.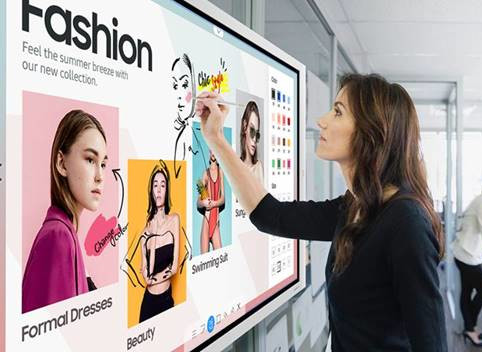 The CTG7 monitor's curved display lets retail associates maintain a constant focus across the entire screen. This is designed for retail settings where associates are showcasing to customers how they can tailor products to their specific needs for custom orders that may not be available in the store. With the CT67, associates can then place orders in real-time. The CTG7 series offers 27- and 32-inch panels at 2,560 x 1,440 resolution.
At NRF 2020, Samsung also announced that the Galaxy Tab Active Pro ruggedized tablet can now be outfitted with Veras Affinity, a new AI-powered, associate-driven clienteling solution introduced by Veras Retail. With this new solution, frontline workers can access insights to provide customers a more personalized experience. For instance, AI capabilities provide associates with more choices to recommend to customers, based on past transactions, in-store interactions, and customer-specific milestones.