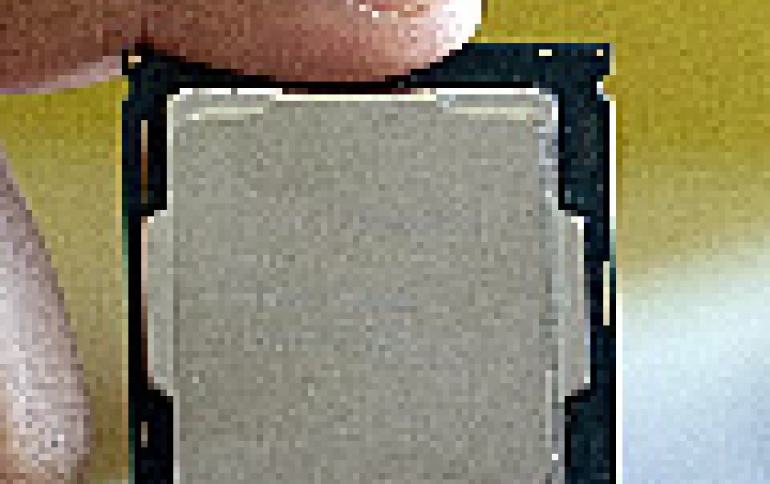 8th Gen Intel Core Desktop Processors Available Today
The 8th Gen Intel Core desktop processors are available to purchase starting today, offering a range of performance options for consumers, including unlocked "K" processors at each Intel Core brand.
The new desktop processor family includes the new 8th Gen Intel Core i7 processor, which is, according to Intel, its best desktop gaming processor ever, along with the first-ever 6-core Intel Core i5 desktop processor and 4-core Intel Core i3 desktop processor. These processors deliver frame rate improvements of up to 25 percent compared with 7th Gen Intel Core processors. Content creators can expect 65 percent faster editing compared with a 3-year-old machine.
The new "Coffee Lake" chips are based on the same 14nm process the company introduced with its Broadwell line of laptops CPUs in 2014. Since then, Intel has used the 14nm process on Skylake, Kaby Lake, and now Coffee Lake.
Despite the similar process, however, Intel says it's made enough improvements along the way to call Coffee Lake a "14nm plus plus" chip. But with Coffee Lake, you're getting two more cores for the nearly the same price as Kaby Lake and Skylake.
Here's the full line up of "8th generation" CPUs from Intel.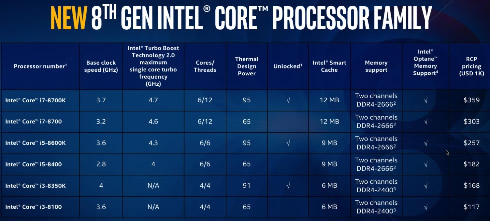 The Core i7-8700K is Intel's response to AMD's breakthrough series of Ryzen 5 and Ryzen 7 CPUs, and a viable alternative to the Zen-based CPUs.
Although Coffee Lake is essentially an improved Kaby Lake CPU, the main change is its incompatibility with older motherboards, despite using the exact same physical LGA1151 socket.
The reason dehind that is that the new chips support DDR4/2666 instead of of DDR4/2400. The higher-clocked RAM required more tightly controlled layout of the wires or "traces" on the motherboard, which mandated new designs.
Coffee Lake also adopts the "per core" overclocking first introduced with the Core i7-6950X Broadwell-E. This allows a user to overclock just individual cores based on the workload.
All this added up to the Z370 chipset you'll find on new motherboards, the company said.
The 8th Gen Intel Core desktop processors are available through multiple retailers, along with new Intel Z370 chipset-based motherboards from all major motherboard manufacturers.