Acer Announces new 7 and 7.9-inch Iconia Tablets, C720P-2600 Chromebook
Acer will refresh its Android tablet line-up at CES with a new 7.9-inch and 7-inch models (Iconia A1-830 and Iconia B1-720). The company will also have on display the new Chromebook C720P-2600, which has an 11.6-inch touchscreen.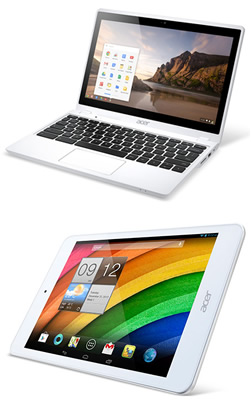 The 7.9-inch A1 comes with an aluminum backing and an IPS display (1,024 x 768 resolution). It runs Android Jelly Bean 4.2.1 with an Atom processor and 1GB of RAM under the hood. There's 16GB of on-board memory expandable to 32GB via micro-SD card, and the rear camera lets you shoot at a 2,560 x 1,920 resolution.
The A1-830 be available in early 2014 for $149.
The Iconia B1-720 costs $130 and features a 1.3GHz dual-core processor with 1GB of RAM. The 7-inch tablet will hit North America later this month, alongside an optional protective case.
Acer's new Chromebook C720P-2600 has an 11.6-inch touchscreen and runs on Intel's dual-core Celeron 2955U chip based on the Haswell architecture. The laptop weighs 1.35 kilograms and delivers 7.5 hours of battery life.
The Chromebook has minimal storage at 32GB, but has a USB 3.0 port to attach a portable storage drive. The laptop will come with 100GB of storage for two years on Google Drive. Other features include a webcam, Wi-Fi, an HDMI port, an SD card slot and 2GB of DDR3 memory.
The $299.99 Chromebook will be available in the second week of January.