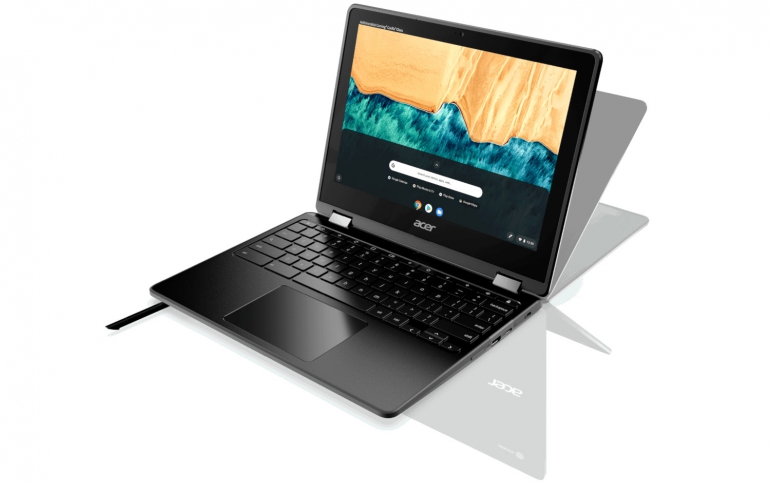 Acer Debuts Two 12-Inch Chromebooks for Classrooms
Acer today debuted its first 12-inch Chromebooks, the Acer Chromebook Spin 512 and Acer Chromebook 512, for students.
The new Chromebooks feature a 3:2 aspect ratio display -- a ratio that falls between the ratio used in books and mobile media, and similar to using pen and paper.
The convertible Acer Chromebook Spin 512's (R851TN) 360-degree hinge lets students use the Antimicrobial Corning Gorilla Glass display in four modes: clamshell, tablet, display and tent. An included dockable Wacom electro-magnetic resonance (EMR) stylus makes note-taking and sketching natural and can be stored in the device slot. The Acer Chromebook 512 (C851/C851T) features a traditional notebook design with touch and non-touch options.
The 12-inch HD+ displays feature 1366 x 912 resolution and IPS technology.
Powered by up to a quad-core Intel Pentium Silver N5000 Processor or a quad core Intel Celeron N4100 Processor, a fast boot time gets students working quicker and they use less power while providing extra performance. In addition, the Acer Chromebook 512 offers a dual core Intel Celeron N4000 processor.
The Acer Chromebook 512 can be opened a full 180 degrees to lay flat on a desk for sharing with other students during classes or for school projects.
The Acer Chromebook Spin 512 features an 8MP world-facing webcam on the cover, while the clamshell version has an optional 5MP. Also, students can connect with others during video chats and Google Hangouts with the Acer HD webcam located above the display.
The new Acer Chromebook Spin 512 and Acer Chromebook 512 are compliant with the stringent U.S. MIL-STD 810G military standards. They can take handle drops from heights of up to 122 cm (48 inches) and handle up to 60 kg (132 pounds) of downward force thanks to a reinforced design and shock-absorbing bumper. In addition, the new Acer Chromebooks are designed for use by younger children; they have been certified to meet two leading toy safety standards: the ASTM F963-16 and UL/IED 60950-1.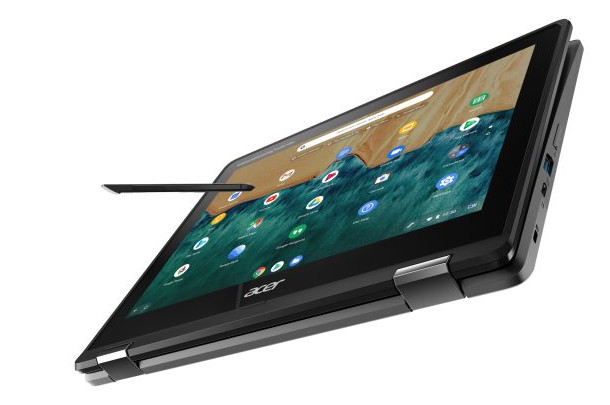 The keyboard is spill-resistant with a gutter system that routes water away from internal components and drains out the bottom of the chassis, providing protection against spills of up to 330 ml (11 fluid ounces) of water. Plus, the touchpads are moisture-resistant.
The Acer Chromebook Spin 512's touch display is covered with Antimicrobial Corning Gorilla Glass, a cleaner, tougher cover glass made possible by an antimicrobial compound that resists the growth of odor and stain causing microorganisms on touch displays.
Students can connect to the Internet with Intel Wireless-AC 2x2 802.11ac MU-MIMO (Multi-User Multiple-Input and Multiple-Output) connectivity.
Peripherals can be connected via Bluetooth 5.0 or by the two USB 3.1 Type-C Gen 1 ports, which can be used to charge the device as well as other products, transfer data quickly up to 5Gbps, and connect to an HD display. The Acer Chromebooks also include two USB 3.0 ports.
The Acer Chromebook Spin 512 has hinges that open a full 360-degrees, enabling four different usage modes. These include tablet mode for reading digital textbooks, notebook mode for keyboard input, display mode to get closer to the screen, and tent mode for viewing videos and presentations and collaborating. The four usage modes gets the most out of the 8 MP auto-focus world facing camera and the 88 degree wide-field-of-view HDR webcam.
The Acer Chromebook Spin 512 includes a dockable Wacom EMR stylus that lets students take notes, create projects, capture ideas, and interact with apps and websites.
The Acer Chromebook Spin 512 and Chromebook 512 provide long battery life of up to 12 hours.
The new Acer Chromebooks will be available with either 32 or 64 eMMC storage and 4 or 8GB of RAM in Q2, in EMEA and North America.