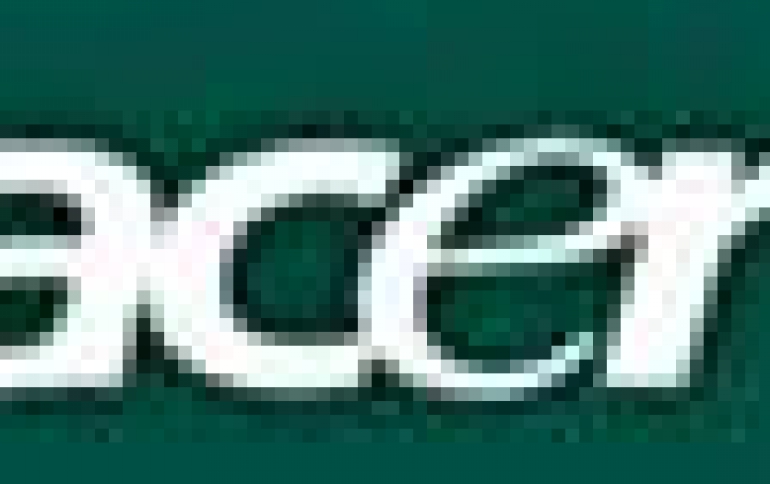 Acer launches new TravelMate 8100 series
Acer on Tuesday announced the launch of its TravelMate 8100 series (TM 8100) based on Intel's latest Intel Centrino mobile technology platform (formerly codenamed Sonoma). The TravelMate 8100 series is Acer's first notebook featuring the latest Intel 915 PM Express Chipset and sports an Intel Pentium M processor with 533MHz FSB. Compared to the earlier. The TM 8100 series ensures a 33% increase in data transfer speeds and a graphics rendering rate which is four times faster that the TM 8000 series. Additionally, proprietary Acer SignalUp and Acer GridVista technologies are incorporated into this notebook for more reliable wireless connectivity as well as optimized and feature driven display management. The TM 8100 will only be available on a minimum order basis with a starting price of Rs1.2lakhs.

The TravelMate 8100 is powered by an Intel Pentium M processor with a 533 MHz FSB which benefits the user with the increase in data transfer. The TravelMate 8100 is equipped with 256 or 512 MB of DDR2 533 memory which is upgradeable to 2GB. The notebook also supports PCI Express(tm) bus architecture providing a 4x rise in discrete graphics processing speed. The TM 8100 also features an ATI MOBILITY(tm) RADEON X700 graphics card, 15.4" SXGA and wide aspect LCD screen, 5-in-1 card reader, DVD/CD-RW combo and 80GB HDD. The notebook has a pure Folio design and is fitted with an innovative non-slip carry-grip making it easy to carry around with comfort. The Acer TravelMate weighs 2.86 kg and measures about 30.5 mm in thickness.